My FaerieLady blog has found a new home... on my new domain :-)
http://faerielady.faerieladyfibers.com
is up and running for your viewing (dis)pleasure! Feel free to wander on over there, and please blogline/blogroll that blog, as while this one will stay up (have you SEEN what happens to blogger blogs that are closed?? Can we say horrible, horrible stuff...).
I don't want to lose the great people I've come to know through this blog... so please, please update your links!
Love and hugs,
The FaerieLady
FaerieLady posted at 8:08 PM
0 Speak to the Faerie Queen
Just life. Two tests (one today, one tomorrow) followed by an algebra exam next Tuesday, have rendered the FaerieLady almost incomprehensible and unable to coherantly string together more than 5 words in a simple sentence. LOL
However, there has been some progress over here at Chez FL...
First off, I re-started the Jaywalker sock, using Opal Rainforest sock yarn in Owl on U.S. size 1s (2.25 mm). I am already diggin' this sock, as I did the substitution for picot and like it a TON of a lot better than I do the ribbing that I worked on the other...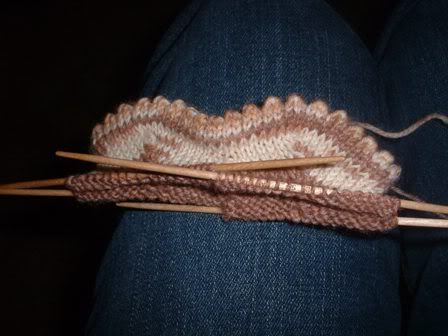 I've also been blending just a teeny bit, and using my carder some. I am also dyeing more Sock ToTs yarns. Other than that, I'm just staying busy and staying sane :-)
Talk atcha laters...
FaerieLady posted at 3:59 AM
2 Speak to the Faerie Queen
Spoiled rotten, that is!
I have the most wonderful, outstanding, absolutely AWESOME Secret Pal for the SP7 Exchange. I'm sure that some who still read this lamentable blog know about my prior ordeals with the secret pals exchange from all the angles in which I'm participated (i.e. sending, receiving, and hosting). I've had several very good, sweet, nice, partners... among them the Knitting Diva, Margene, and Heidi. However, I've also been shafted with partners that never emailed, never sent, and never mentioned receiving their goodies.
For me the joy usually resides in the giving... and when you have a shitty recipient, there's not much you can do to make the love spread. However, this time is so different for me as the recipient that I have no clue where to start.
Wanna see?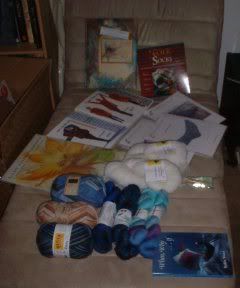 ">
OMG. Do you see that?? I couldn't *believe* the size of the box that it all came in, and am so overjoyed that I actually almost fell up the stairs in my hurry to get it inside and get it open! This is the wonderful caring sweet and awesome stuff that came out of that box...
SOCK YARN! Lookit all that sock yarn! *Two* skeins of Opal! How did you know that I have been lusting after that brown? It's called Eule, or Owl, in Opal Rainforest (excuse me if my german is off). I have been lusting after this, and I'm not usually the browns type! The other Opal looks to be a blue self striping, but I can't tell which line it comes from :-) One skein of Regia Strato Color in shades of blue and gray. One skein of Fleece Artist in "Deep Sea Hornpipe" which is a beautiful handpainted yarn in deep blues and grays. Then there's a skein of Cherry Tree Hill in Super Glitz in "Moody Blues", which is blues, black, and has a silver metallic thread running through. Then there are 2 skeins of Lorna's Laces shepherd sock in River, shades of blue and purple.
That's just the sock yarn! There are three sock patterns, the Cabled Glitz Sock, Putting on the Glitz, and Glitzy Lace Sock patterns!
Then two skeins of sportweight Cormo yarn, perfect for dyeing! Total yardage, around 750 yards! Wow!
THREE books! The Knit Stitch, The Purl Stitch, and Folk Socks! All three of which were on my Amazon wish list! Then The Pressed Fairy Book, which is absolutely *hilarious* and "When Why If" by Robin Wood and Lady Cottington's Pressed Fairy Calendar.
C'mon, you know, you KNOW that I am absolutely spoiled rotten.... and I love EVERY SINGLE THING.
Aninocentangel, you are the bestest most wonderful Secret Pal. I can't believe that you ever thought for a second that I would be anything other than completely, totally overjoyed at receiving this box.
FaerieLady posted at 9:15 PM
5 Speak to the Faerie Queen
First, imagine bright pink and purple splotched roving. Hard to imagine, hmm? Well, there's a picture for your viewing pleasure. Please shield your eyes, as this sucker is BRIGHT. Seriously. It may look a little faded out in the picture, but it's definitely bright.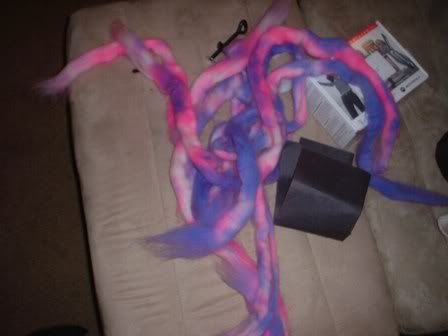 Tonight, after the first judicious use of the drum carder... it looks like so...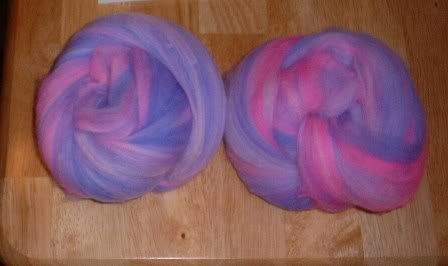 Absolutely scrumptious!
Ok, going to bed now before I stay up waaaay too late playing with my new toy...
FaerieLady posted at 9:14 PM
6 Speak to the Faerie Queen
The Home Front: (i.e. FaerieLady's apartment)
Current situation... mess. Complete and utter disaster area. Fiber orders (base and luxury) have come in and need to be organized. Dyes have been re-situated. Separation of fibers into useable lots for the carder will commence with the arrival of the new (severely discounted, go me!) scale that should be here any day. Other than the fact that I'm missing someone very close to me very much and am trying to find the good thoughts in life anyway, and it's not exactly peachy around here. However, hopefully the carder (which has arrived!) shall help remedy that at least a teensy bit.
The Knitting Front:
I have become slightly inspired by the Rogue pullover that
Cassa
brought over. She was having problems with grafting the hood, and well I'm a very good grafter. I don't understand why people make it seem like it's harder than it really is... grafting isn't some kind of mysterious thing, and I *hate* the fact that most people are led to believe (and think themselves) that it is confusing or something that should be avoided at any cost. But anyways, she brought over her Rogue (minus the sleeves) because she's taking part in the KO or FO can't remember which, and wants to finish Rogue as her project. Her Rogue is out of Bartlett yarn, which I do have to admit is not one that I would use (however, it was what she had and I do understand THAT one). So, I'll be either starting Rogue, Eris, or another sweater pattern (to be decided later, maybe tomorrow) because while I love the portability of my sock projects, I need something bigger to sink my teeth into.
The pattern so far in the forefront other than Rogue is
BPT
and
Mariah
.
Ok, gotta get the kiddo up and head to work... Laters!
FaerieLady posted at 4:01 AM
1 Speak to the Faerie Queen
The merino/silk blend that I spun... here's the pic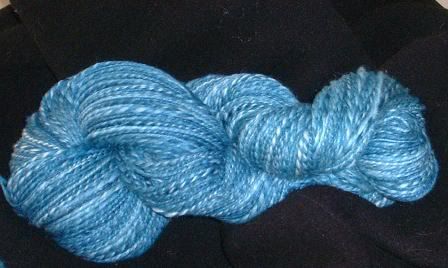 Specs... approximately 500 yards of two ply light worsted weight. Thinkin' good ol'
Clapotis
would look great in this. I might fall victim, a year after the fact, and knit myself one. I think it will show off the beautiful color and shine of this handspun.
Laters!
FaerieLady posted at 8:18 PM
4 Speak to the Faerie Queen
However, there will be pictures later, I promise!
First... I finished spinning and plied the merino/silk that I had posted a picture about previously. I have one skein drying, one skein needing to be dunked and set out to dry. I really like it. It's between dk and worsted weight plied, a good weight for so many things... I'm thinking about making a mini Clapotis out of it. I'll post a pic of the yarn when it's all dry.
I also spun and plied about half the yarn for a pair of mittenettes for J's mom. She asked for a pair, and I've been completely unmotivated to spin it. The fiber itself is a pain in the ass to spin; it drafts horribly. It's a wool/silk blend, but I have no idea what the wool is. It's definitely *not* merino!
Exciting news... I have a drum carder on the way, and I purchased a website! The website will be up and running when I get 'round to it... I have to figure out the software and I can guarantee that certain people will be asked a lot of stupid questions about it... LOL. Said website will have a subdomain for my blog.
Sock progress... the lace sock is still where it was when I photographed it. The hollyberry sock is past the heel and on the instep. The boot sock is to the heel turning part. I got my match for SockapalOOOza, and she was extremely vague, listing only "surprise me". This is a cause for huge amounts of stress on my part, because I'm terrified that she won't like what I choose. GAH.
Ok, enough. I have an apartment to clean. Laters!
FaerieLady posted at 7:14 AM
1 Speak to the Faerie Queen
My
Word Cloud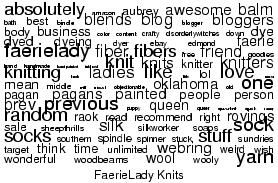 FaerieLady posted at 8:02 PM
1 Speak to the Faerie Queen
Yes, the FaerieLady has finally fallen off her rocker. Those of you who know me in person know that, for me, the fall is a very short one, considering my ability to hover only a couple inches from the bottom of the cliff *anyway*, however this should prove it to the masses. See pictures below...
Current socks in progress, from left to right:
Blueberry Waffle Socks
, yarn is Elann's Peruvian Baby Cashmere held doubled, knitted on U.S. 3s. Three repeats until I turn the heel. Next up, standard cuff down st st sock in Knitpick's Sock Garden in the Hollyberry colorway, knit on U.S. 2s. This sock is FAR more garish in person, however the striping is rather cool. This sock is ready to have the heel turned. Last sock is a lace patterned sock in Elann's Sock It To Me Collection Colori in Highland colorway, second sock about 2 repeats from the toe, knit on U.S. size 1s.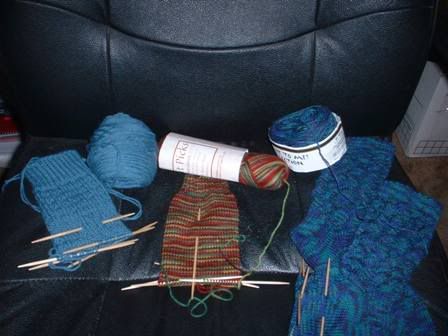 Next up has already been planned... have to finish one of the pairs already started before I can start either of these two...
The red yarn is for the
Red Hot Sizzlin' Socks
knitalong. I succumbed to that instead of the knitting olympics. That's KnitPicks merino style, needles are casein U.S. size 3s, a gift (RAOK) from Danielle at
Poetic Purl
many moons ago. The other is the creamy brown Sock ToTs yarn, and that will be knitted up on my fave needles of all time, Brittany Birch, in size 1s.
See, I'm crazy. Completely fruit loops. Tis all good though... LoL!
Laters!
FaerieLady posted at 8:30 PM
5 Speak to the Faerie Queen