The person that I sent to during Secret Pal 2 has disappeared off the face of the earth (including moving her blog), so I'm not going to mention her here. Not because I have anything against her, but because to be quite honest she wasn't a very good experience. I kept my part of the deal, and for that I'm glad.
However, my Secret Pal 2 who spoiled me absolutely *rotten* is Karen at
KnitNPurlDiva
! She's so wonderful :-) *hugs* Karen! I hope you're having a wonderful day.
Now, I'm going to try to go to sleep. I've been trying unsuccessfully for a couple hours. No biggie... sometimes I have insomniac episodes. How else do you think I get so much done? Sleeping is overrated...
FaerieLady posted at 11:46 PM
1 Speak to the Faerie Queen
Ok, this post is going to be *very* picture heavy. My mail has been full, and I haven't really had time to sit down and post. I've been keeping up with blogs (in a roundabout sort of way) but I haven't actually sat down and thought about posting. I know it's mostly because I have two exams next week… ack! But here are some things definitely worth posting.
Secret Pal 3 Strikes!
Isn't this awesome? She mailed me Elizabeth Zimmerman's
Knitting Without Tears
. I've already read the first half of it, and I really like this woman's style! Thank you so much SPIII!
RAOK from Patti!
Patti from 2BoysMomma sent me this lovely card… I admit to gales of laughter upon the sight of a rabbit with stripes… it doesn't so much look like a zebra as it does a bunny in jail! Poor bunny  Isn't it so cute?? Thanks Patti!
This RAOK is from Lynn at Iwasknittogetherinmymotherswomb. She is such an enabler, feeding my felted bag habit! Here is a pattern of the Tote Around, a purse that's actually round! Wow! I love this pattern. Included are two little Gund sproingy toes, a witch and a black cat for D to play with! How cute! She loves them by the way… right now, they are suction cupped to her desk, and she spends every fifteen to twenty minutes poinging them so they'll jiggle around… too cute!
This card almost made me cry… From Alyx at String Theory, … the card says "May your life be crowded with unexpected joys" (h. Jackson brown jr.), and inside the card she wrote a very sweet note to me. She included a magnet that she found that says "No Act of Kindness, No matter how small, is ever wasted." –Aesop. Alyx, this card and magnet will forever occupy a prime spot on my refrigerator. Thank you so much, from the bottom of my heart.
I finally, *finally*, finished the novelty scarf. Here I am, modeling it. This is the scarf that I started then stopped and started another project. Yet again, I saw the reason for my "one project at a time" rule… it took me 3 weeks to finish it because I tend to "obsess" about my current project at the time and want it DONE as fast (or as soon, whatever you want to say) as possible. Therefore, this poor little novelty scarf never seemed to be worked on. However, I finished it last night, in order to clear my conscious. Why? Because I need to start other projects, of course!
This is my Thursday stash enhancement experience. Yes, I had SEX in the yarn store. (grin) Not really, but those who've been doing this awhile know what I mean. Pictured here is two skeins of Berroco Quest, one in solid blue (looks like cobalt) and one in a blue/gold/green variegated, and one skein of Berroco Lavish. The Lavish and the blue Quest will be knit together on size 13 or 15 US needles in a drop stitch scarf pattern. Carol at the Yarn Studio had one, and it's quite beautiful. Keep in mind, I hate to knit novelty scarves, because I get bored with them. However, these skeins are so soft and beautiful that I will probably keep on truckin' with them because I want to feel the finished projects. Oh, the variegated Quest will be another novelty scarf, just another one that I haven't figured out what I'm going to do with it.
A little stash enhancement
FaerieLady posted at 7:48 PM
6 Speak to the Faerie Queen
I couldn't pull up any blogspot blog this morning, and after howling for a couple hours I figured out how to flush my dns and release/renew my IP address, which has now allowed me to see y'all blogs.
However, I still can't log into blogger to fix my dead link to my picture.
ARGH!!!
(running screaming from the room... pulling out my hair)
FaerieLady posted at 11:24 AM
3 Speak to the Faerie Queen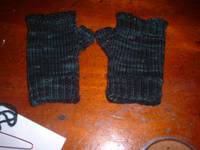 A woman obsessed...
FaerieLady posted at 10:07 PM
4 Speak to the Faerie Queen
Ok, ok I admit that I stared at the dpns for about twenty minutes after casting on the first time. I also admit that I had to rip and restart a couple times, because I kept dropping stitches on the k1p1 rib. *However* here's my first ever project, from start to finish, done on dpns.
The First Mitt
I have to admit that I couldn't get comfie holding the dpns. It was like a run in with a porcupine! Hopefully each successive project will get easier, and my grip will settle down. Otherwise, I might not be making many things on dpns.
Have to have my baby girl's picture on here every now and then...
This is D after getting ready for school this morning. Look at that hair! She sure has a lot of it. Good thing she's not tender headed, otherwise every time I brushed it she would be balling her eyes out. Oh, and she's taken to wanting her hair in braids at night. Maybe she snorted it in her sleep one too many times...
FaerieLady posted at 3:04 PM
0 Speak to the Faerie Queen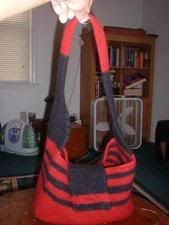 FaerieLady posted at 8:58 AM
4 Speak to the Faerie Queen
KnitSteph's
heckling
encouragement, I've embarked on a mission to try at least once several of the things that I see other people doing. Now, I admit that I'm not into "pictures" on my sweaters, no matter how it gets there, because when you have a 34 A/B chest on a 5 foot frame (think hard... you might have to imagine a slightly warped board) a picture on a sweater makes you look like a child. Now, I have enough problems looking like a child and I've *had* a child. I'm not going to put myself in that predicament. However, those Latvian mittens looked awesome (courtesy of
Yarn Harlot
), and I've seen a lot of stranded colorwork that I would love to try. When I get up the guts anyway.
So, I'm pretty proud of this little accomplishment, not because it's any "great thing" comparitively speaking, but becase * I * did it. I made my own bag pattern. How many other people have come up with this pattern? Countless, most likely. This is just easy adaptation to "knit as you go" techniques. What did I make? My very own bag.
The front.
The Back
Specs are: 2 skeins Cascade 220 (I used black and burgundy), U.S. size 10 29 inch long circs, stitch markers, and at least one stitch holder. I thought I was honestly going to run out of yarn, but I made it with about 5 feet left to spare of black. Depending on your gauge, you might make it with more, or you might want to knit it bigger and buy more yarn, or omit the flap closure.
Really simple. Cast on 50, work back and forth knitting every stitch. I stopped at 40 rows, picked up 20 on each side and the 50 cast on stitches. I had 140 stitches on the needles. Place stitch marker. I knit one more round in black, then switched to burgundy. Knit about 5-6 inches up, changed color. Stripes, 1st and 3rd black stripes are 4 rows, the 2nd is six. 6 rows of burgundy in between. After last black stripe, I knit six more rows. Then from the stitch marker I knit 20, cast off fifty, knit twenty, cast off 50. The Second set of 20 I put on a stitch holder, the first 20 I worked. I knit in stockinette stitch 12 rows, then knit 2 together at the beginning and end of the row, 3 rows st st, repeat until I had 10 stitches left on the needles. I knit up 20 rows, then switched to burgundy, st st 30 rows, and switched back to black and did the reverse on the way "down" to the other side. Instead of K2tog I knit 1 made 1. when I reached the "end", I used a 3 needle bindoff to attach the strap to the 20 stitches still on the holder. The flap I picked up 20 of the cast off stitches (after deciding what would be the back), the middle 20 (leaving 15 still cast off on either side). I knit up several inches in st st, until I pulled the flap over and verified that it looked "right" (didn't measure). Then I switched to burgundy, knit 2 rows, then k 8, cast off 4 knit 8, and the next row k 8 cast on 4 k 8 (this made my buttonhole). I then knit 2 more rows in burgundy, changed back to black, then knit 4 more rows and cast off. Then it was off to the washer to felt.
See? Stupid simple. However, I *am* proud of myself for figuring this out myself. It looks pretty damned good if I say so myself.
FaerieLady posted at 11:21 PM
5 Speak to the Faerie Queen
Well, my roving from Wooly Knob isn't here yet, so I had to satisfy the urge to turn white things purty colors by dyeing *other* things. Oh, add to that the fact that I am trying to earn extra cash for my trip to MA and Chicago around Christmas & my birthday, well you can see where I'm going with this.
For those that want to know, I just uploaded four auctions into my
eBay store
. These auctions are primarily for quilters, as they are hand dyed "color wheels" comprised of 12 individually dyed but completely matching fat quarters. I've been dyeing fabric for years, and am quite good at it (not to toot my own horn), and these are priced $15 minimum below what "regular" retail for them would be on just about any other site or quilt store. The buy it now price is $25, regular retail is at least $40.
I don't want to waste space here with all the pictures... especially since most of the people who look at this blog are knitters, not quilters.
I'm going to crash now... I've been up since 8 am Saturday morning with only a short nap. *Hugs* and I hope everyone is having a great weekend!
FaerieLady posted at 12:55 AM
0 Speak to the Faerie Queen
Ever have that awful feeling that you're going to run out of yarn? That's how I feel right now. You can't see the yarn because it's *in* the bag (saves space and I don't have to worry about big dogs dragging it across the room), but I'm intensely focused on this bag right now. Main reason is I have planned several changes (handles, flap, etc) and I don't want to run out until my brain's finished working with it. Here's how it looks as of this morning.
FaerieLady posted at 8:55 AM
3 Speak to the Faerie Queen
Here I am, sittin' here in my jeans and t-shirt, thinking about going to bed (which I should have done by now, and let it be known now that I will be draggin' ass when I have to get up)... and I remember "oh yeah, Stinkerbell suggested those gloves after I put my hand stuff on for my psoriac eczema..."
I'm be bopping along, put the stuff on, put the gloves on, knittin' away... and when I look down I just bust up laughing.
I mean seriously? Kae, wearing gloves like those southern belles and oh so chic women? Pshaw! I haven't seen inside of a formal party in years (and hope to put it off several more), so what's this? This is Kae, feeling like a dope.
No worries, the gloves are staying on. I would really like my hands to heal, and
Aubrey
has done such a fantabulous job with her new improved super E-balm that I want to be able to use it and *keep* my hands healed when they get all fixed up. I guess that means I have to keep wearing the gloves.
(shrug) Oh well. I guess I get to be a new kind of walkin' knitting fashion statement, cuz I sure as hell ain't gonna stop knitting just because I have to put this stuff on my hands!
Laters...
FaerieLady posted at 11:09 PM
1 Speak to the Faerie Queen
I went to bed early tonight. I had a wonderful three hours of sleep Monday night/Tuesday morning, so I was hoping and was even considering grovelling to get more sleep. Gods, I wanted to sleep! I put D into bed around 7:45-8ish, put all the dishes into the dishwasher, pre-set the coffee pot for WingNut, and crawled into bed. I actually beat HIM there tonight. This should tell you something, considering he usually goes to bed between 830-9ish because he's up at 4-430 in the morning.
So where did I go wrong???
I was snoozing away, and then I started half-dreaming. I don't dream. There's a reason why I don't recall dreaming any time I do it, because it *always* wakes me up. Never fails... if I dream, I'm awake shortly thereafter while my brain shrieks at me "WHY?? Why did you DO that?" Rather annoying, honestly.
So here I sit, 1230 am, *wide awake*. What did I dream of, you ask?
Those damned mittens.
Hrumph.
FaerieLady posted at 10:21 PM
1 Speak to the Faerie Queen
So... should I make this into fingerless mitts, or regular? I'm thinking fingerless...
FaerieLady posted at 4:19 PM
1 Speak to the Faerie Queen
I think this picture says it all... I made a mini-booga for someone who has problems felting things. It turned out awesome, and I sent it to her at the beginning of the month (she went on vacation). THIS is what she sent me in return. Isn't she awesome? There's the pattern to the Madli shawl, Interweave Crochet, 3 skeins of Fils Anny Blatt mohair in blue (top left) that has metallic sparklies (60% mohair, 20% courtelle, 20% polyamide 135 yds/skein), 3 skeins of Ironstone English Mohair in Hot Pink (78% moahir 18% wool 9% nylon, 89 yds/skein top right), 1 skein of Colinette mohair (under the hot pink 78% mohair, 13% wool 9% nylon, beautiful blue lagoon colors, 175 meters/skein), 1 ball Noro Asuka (space dyed in my fave colorway, 85 yds, under the Colinette skein), and several skeins of different colors of Piazza Navona Baruffa (38% silk, 30% wool, 20% mohair, 12% acrylic) (bottom left). She absolutely spoiled me ROTTEN... for knitting and felting a bag! I feel simply overwhelmed by her generosity!
FaerieLady posted at 12:32 PM
1 Speak to the Faerie Queen
This is the terrible trio... Jenger to the left, myself in the middle, and Stephanie U on the right. We're horrid people... especially when around one another :-P
FaerieLady posted at 11:34 AM
0 Speak to the Faerie Queen
My anniversary pressie... two skeins of Cascade 220, one black one burgundy. We're your typical first year married broke couple, but I am so happy about it!
FaerieLady posted at 11:29 AM
1 Speak to the Faerie Queen
Wow, what a weekend. That's all I have to say... DON'T click these links if you're even slightly prudish. They are funny, but some people are easily offended.
We had a bunch of people over... pictures are linked
here
and
here.
This was everyone that I could round up into the same room.
Then someone thought it would be a funny idea to take pictures like
this
and
this.
Towards the end of the night, WingNut had consumed maybe a little *too* much alcohol... and
this
is what happened to the poor man. Here's a
closeup
of the damage. Poor baby!
All in all we had a total blast... Pictures of the terrible trio comin' up...
FaerieLady posted at 11:27 AM
2 Speak to the Faerie Queen
Ok, I figure since I'm supposed to be asleep now, it would be a good time to post. LoL
I wrote my English essay and submitted it in just the nick of time. I forgot about it, so hopefully it makes sense and I don't flunk it. (crosses fingers). I also submitted my Ancient & Medieval Civ. paper, however that's only worth a measly 25 points. Bah humbug. Let's see how he likes THIS paper... teeheehee.
Now, because people asked us to do this... here my
100 Things About Me
list. I didn't have a problem with this at all. I must be horribly long winded... LoL
The anniversary was GREAT! WingNut and I had a blast, although he DID offer to help someone move their dryer when we were supposed to be cleaning. However, I knew it was his adopted "mother", so I didn't protest. Good thing I didn't... I got two skeins of yarn from the deal! (wink) I'll be posting a buttload of pictures tomorrow.
The big posting update will happen later... probably after I get up and get D started for the day. I guess that means I should get some sleep.
Laters...
FaerieLady posted at 11:31 PM
1 Speak to the Faerie Queen
Today is WingNut & my legal anniversary. I say legal because we also celebrate our handfasting date (June 12th). Tonight, we're having a party here, inviting friends from within driving range to come hang out and share the fun.
Therefore I'm cleaning like a madwoman. Now why is it that I always volunteer myself for these things? Oh yeah! (snaps fingers) because I'm a hermit and prefer to have people come over to my house... Plus, it takes the burden off my friends, the vast majority of which work regular jobs and come home too tired to do anything else except hobbies or watching t.v. They don't have to worry about what their house looks like, and I can usually clean the entire house, top to bottom, in about four hours. That's sweeping, mopping, vacuumning, cleaning the bathroom, doing all the dishes, wiping down the counters and stove, most of the laundry (if not all of it), taking out the trash, and crushing cans. I'm a pretty fast cleaner. Must make up for the fact that I'm a horribly slow knitter!
On the knitting front, the first mitten is one row away from the completetion of the ribbing. However, I am confused. There are 34 stitches, and it tells me to increase by 4 stitches on the last row, dividing them equally down the length. I'm having a problem figuring out where I should increase! Bah humbug.
Laters...
FaerieLady posted at 10:30 AM
3 Speak to the Faerie Queen
I hate 2x2 rib. Hate it hate it hate it. Maybe because I'm slower than normal with it. Why? Because I've never done ribbing before.
True enough. I've never done it. Why would I? I mean, I haven't done anything that *needed* ribbing. Honestly! Purses, poncho, dishcloths, etc... those don't need ribbing. I'm completely self taught (with some help here and there when I fry my brain on coursework), so it wasn't something I was going to learn until I wanted to make something that had ribbing in it.
The story... I haven't knitted since I chunked my sister's poncho-to-be across the room and heard the oh so satisfying clatter of the needles hitting the wall and then hitting the floor. I felt *so* much better, after having wasted an entire day worth of knitting time on it. So I was thinking to myself tonight that I needed to knit something.
Notice I said "needed". When did this actually become an addiction? It snuck up on me, now didn't it? Bad Kae for not seeing this coming. No biscuit for me!
But anyway, I was casting around ideas. I have a ton of projects lined up, but none that I wanted to do *right now*. D is in the middle of a small growth spurt, so I'm not going to knit her ballerina slippers until I know her feet have stopped growing. Don't laugh. She doesn't grow very often, and at the tender age of 4 is at the bottom 15th percentile in height. For goodness sakes, she wears 2-3T! 3T is actually too big. (sigh). But I thought, oh I'll wait on that. The tank top? That's summery. I want to wait until it starts to warm up, not get colder. Dishcloths? Meh. Don't want to do those right now. Mohair shawl? See poncho. Don't want to repeat that sensation within the same week.
So I decided to knit myself some mittens. My oh my. What do mittens call for? 2x2 rib, that's what! After ripping the results I IM'd Knitsteph and complained. After complaining and whining (actually, bitching) she told me it was *supposed* to look like that.
BAH HUMBUG. I ripped it out how many times before I actually asked someone what it was supposed to look like?! Oh, and the kicker? I was doing it right. (stomps foot).
So I've knit 8 rows, inching along like a slug right before it hits a huge pile of salt.
I'm going to bed now... before I smack something. Laters.
FaerieLady posted at 11:15 PM
5 Speak to the Faerie Queen
A closeup of the stitch marker. Should have gotten even closer. It's not black... those are what appears to be very delicate amythest - and pearl - like beads. Very beautiful!
FaerieLady posted at 7:59 PM
1 Speak to the Faerie Queen
RAOK from Jessica... such a cute card and even cuter stitch markers! They are so tiny and delicate... I adore them. I'm a stitch marker fiend! Thanks Jessica, I really love them!
FaerieLady posted at 7:57 PM
0 Speak to the Faerie Queen
Oh look! After a week solid of rain, rain, and more rain there's actually a sky over all of that! Today was the first time I'd actually seen it in a long time...
FaerieLady posted at 7:55 PM
0 Speak to the Faerie Queen
A much better picture of Rayne sitting on my couch with her knitting.
Suckered
Enabled another one in knitting!
FaerieLady posted at 7:55 PM
1 Speak to the Faerie Queen
You appear to be a Knitting Adventurer.
You are through those knitting growing pains and
feeling more adventurous. You can follow a
standard pattern if it's not too complicated
and know where to go to get help. Maybe you've
started to experiment with different fibers and
you might be eyeing a book with a cool
technique you've never tried. Perhaps you
prefer to stick to other people's patterns but
you are trying to challenge yourself more.
Regardless of your preference, you are
continually trying to grow as a knitter, and as
well you should since your non-knitting friends
are probably dropping some serious hints, these
days.
What Kind of Knitter Are You?
brought to you by
Quizilla
FaerieLady posted at 10:01 AM
1 Speak to the Faerie Queen

What Color is Your Brain?
At work or in school: I like to be with people, sharing with them, inspiring them, and helping them. I work and learn best when I can take into consideration people and the human element. I flourish in an atmosphere of cooperation.
With friends: I always look for perfect love. I am very romantic, and I enjoy doing thoughtful things for others. I am affectionate, supportive and a good listener.
With family: I like to be happy and loving. I am very sensitive to rejection from my family and to family conflicts. I really like to be well thought of and need frequent reassurance. I love intimate talks and warm feelings.
FaerieLady posted at 4:32 PM
2 Speak to the Faerie Queen
I know that I'm not the only one to think this... I mean, I really don't have much to say. I'm sure if I write it all out, I will have had *tons* to say, but none of it is worth the time it's taking me to type it out. So I won't inflict that on anyone... besides, in some cases misery doesn't like company. I'm not miserable, and I'm not aiming at boring other people... isn't that sweet?
Oh, here's the icing on the shit sundae right now... I, one of the very lucky citizens of Oklahoma County, have received a notice in the mail from the Oklahoma County Circuit Court.
I have jury duty.
November 1st. I'm required to show up for five days. Hrm. I wonder how long they're going to want me there before they realize that I don't make a good candidate for a juror? Let me list the ways... I'm the daughter of a felon. (long story, dad did something really stupid when he was young and drunk). I'm Pagan. I believe in the capital punishment in certain extreme cases. I'm a feminist. They called up my sister about 4 years ago and let her go after the second day because no attorney wanted her on their juries, and she was only two of the above (capital punishment, daughter of a felon).
This should be hilarious.
Knitting post to follow some other time.
Laters...
FaerieLady posted at 3:51 PM
3 Speak to the Faerie Queen
This is a pressie from my good friend Cyn in LA. She's such a sweetheart! These are from handpaintedyarns.com and there's two Paris Night skeins (the top two) and 3 skeins of Cypress. This picture doesn't do justice to the beautiful luster of the yarn and the oh-so-soft hand. I love them!
FaerieLady posted at 5:44 PM
0 Speak to the Faerie Queen
I don't have a good title for today. I mean, technically it's tomorrow but you know what I mean. Today has been a blur of houses and properties, lots of mileage on the truck today. WingNut had the day off, so off we went, D in tow, to look at houses.
We found a lot of duds... places that the people were asking amounts of money that weren't reasonable due to the amount of work that would have to be put into it. Or, the ground needed serious terracing due to drainage issues as was the case with one place that we visited.
We did find one that I am making an appointment to see officially through the real estate agent. Jenger, you should be happy... it's like 2 miles from your house. Seriously. You know how I have to turn left at the shamrock to get to your street? Turn right instead. Then make another right on Hollow and follow down and it becomes 93rd. Not the first house for sale on that street (which is tiny!) but the second. It's a Re/Max house. I may go out and look at it tomorrow when there's more light. That is, if it's not wet tomorrow.
One good thing about househunting during rainy season... people can't hide the leaky roofs, wet ceilings, etc. Also, the drainage issues of the land are stark now... it's been raining for almost a week is what it feels like. No sky pictures here... It's nasty.
Have I done any knitting today? Not really... about ten rows on a novelty scarf that I should have finished *days* ago. However, I haven't knitted much since the fiasco with Cyndi's poncho. I'll knit more tomorrow probably... between writing a paper on "what I believe to be the greatest contribution that the Roman society left us" and a cause/effect essay for English which I already know what I'm going to write about... the ideas are percolating.
I should really be asleep by now... I have to get up at 7:30 am with D, start writing these papers, and study some more for my government exam. I have until Friday to take it, and I'm going to have to prevail upon my mom to take D for a couple hours so I can go to the college and take the test. My only class that doesn't do the secure online testing... he only does tests in the testing center in the library. Makes it a total PITA since WingNut has work then class and has a new crop of students starting at the same time that I'll be waking up in the morning!
If I count today (Tuesday) since it's barely started, five more days until my legal one year anniversary! WingNut and I were married legally on October 16th, 2003. Our handfasting and reception was on June 12th, 2004. Right now we're going to celebrate the first between the two of us, and the second with our families/friends. It should be fun! We scored tickets to an Indy car race at Texas Motor Speedway for free for this weekend... if we can swing the finances for a road trip we may go there. If we can't, Mom's going to take D for the weekend.
Enough rambling. I'm off...
Laters~
FaerieLady posted at 10:46 PM
2 Speak to the Faerie Queen
This is a picture of me sitting on WingNut. Try *not* to notice where his hands are. Oh, I use him as a chair fairly often... he's almost a foot taller than me. Makes such a nice sofa...
FaerieLady posted at 5:28 PM
1 Speak to the Faerie Queen
This is my mom and dad. Mom's birthday was on Sunday the 10th, and Dad's is on Tuesday the 19th, with their anniversary on Thursday the 21st. October is a busy busy month!
FaerieLady posted at 5:27 PM
0 Speak to the Faerie Queen
D and I actually sat on the couch. Notice she's in her jammies. This is the only reason why the harlot poncho is still on the side of the couch. 20 minutes later, we were having a "discussion" about having to WEAR CLOTHES under the poncho!
FaerieLady posted at 5:26 PM
1 Speak to the Faerie Queen
The only women in Oklahoma that I get along with... except for Stephanie U, who accidently forgot that Saturday was the second Saturday of the month. I forgive her... :-P. My sister Cyndi is from Arlington (on the right) though, but I still count her. I'm sitting next to Cyndi, Jenger is in the blue shirt, and Rayne is trying very hard to blend in.
FaerieLady posted at 5:25 PM
1 Speak to the Faerie Queen
Blogger is having issues with some of my photos so I'll publish them later. On to other things...
WingNut and I were seriously talking today, kicking around the idea of buying a house. Even though we don't plan to live in Oklahoma for ever and ever, it would be cheaper for us to get a mortgage on a house than to pay rent. Seriously! Sooo since he's got lots of time left until his reenlistment date and a code 50 (he can't be relocated under any circumstances, due to a special duty assignment) on his record, we aren't going anywhere. To be honest, we are tired of our neighborhood, tired of the people who come in and out next door (skanky landlords = skanky tenants) and the crime rate.
After talking for a while, we decided we are going to try to get a mortgage. We don't know if we'll be approved, especially since WingNut has a bankruptcy. We will at least try, and if we don't qualify, we're still going to move out to the country, and rent instead. This way we don't have to worry about the gangbangers in the neighborhood, make cracks about the fact the next door neighbor of the month is having the cops called on him, or hear gunshots. Yes, we hear gunshots. Usually from at least a couple blocks away, but close enough. Oh, and we live in a good neighborhood. However, the "others" that cause the problems are moving in. Time for us to move out. I hate moving. (sigh)
We were talking about the kinds of things we wanted... square footage, 2 story versus single story, land requirements, etc. We also came to another kind of agreement.
If we get a mortgage, I'm getting at least three of
these.
Isn't that awesome? I'm keeping this one around!
Laters...
FaerieLady posted at 12:49 AM
3 Speak to the Faerie Queen
My sister Cydni and Jeff, a wonderful man who gives great back massages. However, his nickname is Princess for a good reason...
FaerieLady posted at 12:34 AM
0 Speak to the Faerie Queen
Yes, I know technically it's Monday morning, but I'm willing to forget that for a few moments and blog my little heart out. The number of posts that I'm going to put up in the next couple minutes will relieve me of the burden of not bloggin' this weekend.
Saturday I busted my ass most of the day making sure the house was clean, and alternated that time working on my sister's poncho. When people started arriving (it is my monthly Pagan group meeting, technically I run a Pagan study group, but until December we're mostly social since the vast majority of us are colllege students, single mothers, etc) at around 7:20ish, I was all set.
We yapped, we talked, Aundrea brought the most fabulous cake, I showed off my yarn to Jenger, showed Cyndi how the ballwinder worked (story to come), defended the yarn that Cyndi bought me from Carol's on Friday, and generally had a good time. We had a lot of fun!
Then, I figured out while sitting there that I had completely screwed up Cyndi's poncho. See, I put in three stitch markers, one for the beginning and one at each eyelet increase. I was accidently putting eyelet increases in at the beginning. (grumble) So I had Cyndi hold the poncho while I frogged an entire day's worth of knitting. Bah humbug.
I took pictures...
FaerieLady posted at 12:27 AM
0 Speak to the Faerie Queen
and probably Stinkerbell too...
***************
You are

63%

geek
You are a geek. Good for you! Considering the endless complexity of the universe, as well as whatever discipline you happen to be most interested in, you'll never be bored as long as you have a good book store, a net connection, and thousands of dollars worth of expensive equipment. Assuming you're a technical geek, you'll be able to afford it, too. If you're not a technical geek, you're geek enough to mate with a technical geek and thereby get the needed dough. Dating tip: Don't date a geek of the same persuasion as you. You'll constantly try to out-geek the other.
Take the Polygeek Quiz at Thudfactor.com
FaerieLady posted at 12:18 AM
1 Speak to the Faerie Queen
I got 2 free audio books today from Annie... thanks! How'd you know? I've been dithering about starting an Audible membership...
and...
My SP2 pal sent me more gorgeous stitch markers, including ones big enough to go around my big ol' "poncho" needles! Woot! Thanks :-)
I'm going to be transferring over some of my archives (thank goodness for having them backed up) but as far as I can tell I have to do this manually. Those who have bloglined me will see them coming across. Sorry about this... which I could do it all at once, but so far not able to yet.
FaerieLady posted at 9:37 PM
2 Speak to the Faerie Queen
Now, here's the fun part. LoL
Last night while at the SnB at Gourmet Yarns (which I had just figured out existed, thanks to
Aubrey
... I was sitting down knitting. Yes I wasn't supposed to go, but dang it there was a REASON to go! See, while I was there, Aubrey commented on another "new store" on MY side of town, by SW OKC/Moore. I investigated and found the number... Carol's Yarn Studio!
After a full day of messing with this stuff, my sisters came over (the older twin and the adopted little sister). They succeeded in prying my butt off the computer (I was upset, I was not going to just *admit* defeat, damnit I was trying to make a button that WORKED) and asked me to call the number. So I did. Carol answered the phone, and told me where she was.
OMG. 2 1/2 miles from my house. This is freakin' dangerous.
I said that I probably wouldn't make it today, it was already 4:30 and she closed at 5. She said to "Come on up" because she was going to be there a little later unloading stock. I don't think she knew I was bringing 2 other adults and a small child.
What a wonderful store!! Between SWAK, Gourmet Yarns, and Carol's Yarn Studio, in sheer *friendliness* Carol wins hands down. Plus, she has an awesom selection of stuff already AND she asked me what kind of yarns I looked for/used, commented on D's poncho, talked to us about some of the knitted objects that she had made that were hanging around the store (she does gorgeous work!) and even let me take pictures of her shop and her while she was checking us out. Soooo here they are!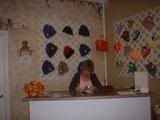 This is Carol checking us out. She did it all by hand! Woot!
Here's D posing with the horse. This horse used to belong to Carol's kids, but she refinished it and added the pole/post and brought it to her shop! D loved it...
Lookit the back of her Cruiser! Isn't that awesome rolling advertising??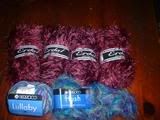 Here's our haul... Cyndi wanted the four skeins of Erdal Eyelash Tweed in Fuschia (looks more like a rich merlot) and she bought me one each of the Bernat Hush and Bernat Lullaby. Isn't all this gorgeous stuff??
I can already tell ya m'dears... I'm definitely going to be going back to her store as often as I can afford it! Poor WingNut... won't he be glad when I go back to work in January... LoL
So that's the absolutely *awesome* ending to my very horrid (in some cases) and very relieved (when K helped me!) day with the computer.
FaerieLady posted at 9:14 PM
3 Speak to the Faerie Queen
This is a rehash of what I posted to FiberRAOK... so you guys can ignore this one.
Ok m'dears, here's the gig.
Cox.net was double publishing everything on my web space, causing me to go over my limit every couple of days. I have been putting up with that. but the technician says that they delete the RSS feed folders (axom or atom) files from Cox.net web space.
While I would love love love to have my own webspace, that's not going to happen for a while, so I was going to just move my blog back to blogspot.com and be done with it.
Let's just say that Mother Nature laughed as she set fire to that idea..
For some reason an error kept coming up, and no matter what I did, I couldn't get my blog back on blogspot. I tried and tried, bit my fingernails to the quick, and might have even pulled out some hair. (sigh). Didn't work.
So, with our dear
Stinkerbell'
s help (Kayla. mwah!) I have a new blog. *AND* it has a bloglines feed!
I was going to use a redirect code on my old blog, but what you're going to get is a dead page. It ate itself about 30 minutes ago.
I'm going to try to move my archives over, but I think that's going to have to be done manually. (sigh) so it's going to take a while.
Thanks for everyone's suggestions! I really appreciate it!
FaerieLady posted at 8:57 PM
2 Speak to the Faerie Queen
Testing my remote blog uploading software.
FaerieLady posted at 8:51 PM
1 Speak to the Faerie Queen
Good thing that I was changing over to blogspot hosting... my old blog on my cox.net webserver just ate itself. (sigh)
FaerieLady posted at 8:35 PM
1 Speak to the Faerie Queen
Test
FaerieLady posted at 11:41 AM
0 Speak to the Faerie Queen
This lot of goodies came from my SP3 pal, super uber secret person that she is! First, a transparent orange plastic tote bag with a kitten and a jack o'lantern that says "Happy Halloween"... this is going to be D's candy bag! Along with that is a book called On Halloween Night, which I've already almost have memorized, because I've read it to her at least five times... she loves it! Then, three skeins of Kathleen Hughes Hand dyed originals Cotton Twist. Each skein is 70 yds. Very colorful... I like it! Last, and what I've been constantly playing with, is a Sheep tape measure! The tail pulls out as a tape measure, and there's a little clicky button in the center to push when you want to retract it. I swear, I'm driving WingNut crazy by pulling it out and retracting. Would you say that I'm easily amused? It's sooooo cute though! Thanks SP3!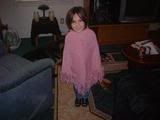 Here's D wearing her brand spankin' new mini-Harlot poncho, made out of Paton's classic wool in Rose, a RAOK from Norma!
D wearing her snood from my SP2! Isn't she sooo cute?
*********************
Previous Note:
My oh my what a *wonderful* day...
The dog hair is piling up on the carpet, the mini-harlot poncho is done (pictures to follow) and fringed, I found out that not only is there one new yarn shop opening up in OKC, there are TWO new yarn shops, one northside and one supposedly about 10 minutes away (southside/Moore area). (claps hands in glee) Oh and the northside shop has a Thursday night Knit Night, which is where I went tonight for about two hours. Shhh. Not supposed to drive. Did anyway. LoL Oh, Stinker, I wasn't going to go but I remembered there was money in my paypal account and I have a paypal debit card, so I was able to put some gas in the car.
I wish I could have gotten better pictures of this... I was such the evil mommy today. When the poncho was finished and fringed, I ran around the house (shhh another no no!) with D chasing me at top speed... I made her *beg* for it. Please Momma? Can I please have my 'cho?" How does one not fall for that one? So I gave it to her. I swear to you, she didn't take it off until I made her. She wore it the rest of the day. I feel so loved! I hope when she's a teenager that she'll still like my gifts to her!
I eyeballed that fuzzy yarn I had... elf eyelash yarn from Hobby Lobby. I only have the one skein (why oh why?) of Cosmic Blue. Now, I normally don't like eyelash yarns and this one is $3.84/per 60.5 yd skein so I usually pass it by. However, I love this stuff. The cosmic blue is just *my colors* all jewel tones, and it knits up easy and fast. Helps that I can knit both left and right handed, so I haven't been turning my work. Don't have to... there's no stitch definition, and even so, it would simply look like it was knit every row. I'm enjoying it. In about an hour, I knit 13 inches. Coming from the slowest knitter on this side of the Mississippi, this is a great thing for me... LoL. Now I'm just wondering when I'll be able to get a second skein. I don't think one will be enough, definitely not!
Recently I've been thinking more and more about accessories... I don't have any. Well, unless you could the amber necklace I made myself (cognac and dark brown amber with jet beads). I don't wear accessories much, because I am *horrible* at matching them. Those people who actually know me know how much I agonize when I have to wear something "pretty" or whatever. I'm your typical jeans and a black shirt type of girl. However, I don't feel pretty or sexy or anything like that in jeans and a plain black shirt. I feel like a dumpy little whatever. I can't think of a word right now. Soooo, I'm going to slowly change my look a little at a time. It is past time... I've dressed the same since my freshman year in high school, and even earlier.
Laters... gonna go post a bunch o' pics.
FaerieLady posted at 7:40 PM
1 Speak to the Faerie Queen
This one is a giant thank you. To
Brit
(idle thought... check out that Jamaica sky!), for everything. For
Freecia
, for the good advice. From
Lisa
for telling me to sit down and let the dog hair collect, and for
Norma
for providing me exactly the kind of comment that I needed to not feel guilty. Also, to
Stinkerbell
and
KnitSteph
for talking to me and keeping me sane. Thanks to EVERYONE that has commented on this, whether I mentioned you or not. Sorry, it's almost midnight, and I'm supposed to be asleep... so I know I've forgotten some. My sincere apologies.
I've had one person (only one) so far that has asked me why I post this medical stuff that's so obviously personal to my public blog. I admit, I kinda looked at them funny... I mean, it *is* my blog, right? Then I got to thinking about it.
I'm posting this stuff because as far as I could tell when I was looking for information prior to this all happening...
nobody else has
. I already know from the medical standpoint what was going to happen and why. What I had been looking for was someone who had a webpage, or a post, or a blog... whatever it was, that told of *their* experiences while going through this. I looked, and I couldn't find. Maybe I didn't do the right combination of search words, whatever... but nothing came up. Me, being the person that I am (i.e. anal) decided that if no one else was going to post it, then by all the Gods that may be out there, I was going to.
It's bad enough when you know you're sick. It's bad enough when it's even something private. However to be diagnosed with something that is generally considered to be an STD (even though there are some non-sexual cases of transmission), well that's something that people shove under the rug, something to be hidden in the closet and never discussed. It's not considered "socially acceptable" small talk.
Well guess what? We learn by example. We LEARN from either making the mistake ourselves or watching someone else to make the mistake. The point is, we have to be involved somehow. There are many of you that will never have this diagnosis, and for every 1 of you that doesn't, 2 of you WILL. That's right, 2/3rds of the female population has undiagnosed H.P.V. Most of those women will never develop any symptoms (latent carriers), and half ot those who DO have symptoms will have symptoms internally, not externally. So there's a really good chance that even if you do not think that you have the disease, someone close to you will have it. It's nice to know what to expect from this series of procedures used to treat the disease, isn't it?
For every single solitary person that gets any bit of help, any bit of comfort, any bit of workable knowledge from these entries, I feel better. Only takes one person. This is a disease, not an embarassment. People need to stop being embarassed by it. There's no reason.
Laters...
FaerieLady posted at 8:11 AM
0 Speak to the Faerie Queen