This lot of goodies came from my SP3 pal, super uber secret person that she is! First, a transparent orange plastic tote bag with a kitten and a jack o'lantern that says "Happy Halloween"... this is going to be D's candy bag! Along with that is a book called On Halloween Night, which I've already almost have memorized, because I've read it to her at least five times... she loves it! Then, three skeins of Kathleen Hughes Hand dyed originals Cotton Twist. Each skein is 70 yds. Very colorful... I like it! Last, and what I've been constantly playing with, is a Sheep tape measure! The tail pulls out as a tape measure, and there's a little clicky button in the center to push when you want to retract it. I swear, I'm driving WingNut crazy by pulling it out and retracting. Would you say that I'm easily amused? It's sooooo cute though! Thanks SP3!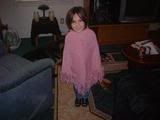 Here's D wearing her brand spankin' new mini-Harlot poncho, made out of Paton's classic wool in Rose, a RAOK from Norma!
D wearing her snood from my SP2! Isn't she sooo cute?
*********************
Previous Note:
My oh my what a *wonderful* day...
The dog hair is piling up on the carpet, the mini-harlot poncho is done (pictures to follow) and fringed, I found out that not only is there one new yarn shop opening up in OKC, there are TWO new yarn shops, one northside and one supposedly about 10 minutes away (southside/Moore area). (claps hands in glee) Oh and the northside shop has a Thursday night Knit Night, which is where I went tonight for about two hours. Shhh. Not supposed to drive. Did anyway. LoL Oh, Stinker, I wasn't going to go but I remembered there was money in my paypal account and I have a paypal debit card, so I was able to put some gas in the car.
I wish I could have gotten better pictures of this... I was such the evil mommy today. When the poncho was finished and fringed, I ran around the house (shhh another no no!) with D chasing me at top speed... I made her *beg* for it. Please Momma? Can I please have my 'cho?" How does one not fall for that one? So I gave it to her. I swear to you, she didn't take it off until I made her. She wore it the rest of the day. I feel so loved! I hope when she's a teenager that she'll still like my gifts to her!
I eyeballed that fuzzy yarn I had... elf eyelash yarn from Hobby Lobby. I only have the one skein (why oh why?) of Cosmic Blue. Now, I normally don't like eyelash yarns and this one is $3.84/per 60.5 yd skein so I usually pass it by. However, I love this stuff. The cosmic blue is just *my colors* all jewel tones, and it knits up easy and fast. Helps that I can knit both left and right handed, so I haven't been turning my work. Don't have to... there's no stitch definition, and even so, it would simply look like it was knit every row. I'm enjoying it. In about an hour, I knit 13 inches. Coming from the slowest knitter on this side of the Mississippi, this is a great thing for me... LoL. Now I'm just wondering when I'll be able to get a second skein. I don't think one will be enough, definitely not!
Recently I've been thinking more and more about accessories... I don't have any. Well, unless you could the amber necklace I made myself (cognac and dark brown amber with jet beads). I don't wear accessories much, because I am *horrible* at matching them. Those people who actually know me know how much I agonize when I have to wear something "pretty" or whatever. I'm your typical jeans and a black shirt type of girl. However, I don't feel pretty or sexy or anything like that in jeans and a plain black shirt. I feel like a dumpy little whatever. I can't think of a word right now. Soooo, I'm going to slowly change my look a little at a time. It is past time... I've dressed the same since my freshman year in high school, and even earlier.
Laters... gonna go post a bunch o' pics.
FaerieLady posted at 7:40 PM
1 Speak to the Faerie Queen
1 Comments:
Glad you and D. enjoyed the gift. How could I resist such a cute bag for such a cute little girl. The new site looks great. Sorry about the old one!