Now, here's the fun part. LoL
Last night while at the SnB at Gourmet Yarns (which I had just figured out existed, thanks to
Aubrey
... I was sitting down knitting. Yes I wasn't supposed to go, but dang it there was a REASON to go! See, while I was there, Aubrey commented on another "new store" on MY side of town, by SW OKC/Moore. I investigated and found the number... Carol's Yarn Studio!
After a full day of messing with this stuff, my sisters came over (the older twin and the adopted little sister). They succeeded in prying my butt off the computer (I was upset, I was not going to just *admit* defeat, damnit I was trying to make a button that WORKED) and asked me to call the number. So I did. Carol answered the phone, and told me where she was.
OMG. 2 1/2 miles from my house. This is freakin' dangerous.
I said that I probably wouldn't make it today, it was already 4:30 and she closed at 5. She said to "Come on up" because she was going to be there a little later unloading stock. I don't think she knew I was bringing 2 other adults and a small child.
What a wonderful store!! Between SWAK, Gourmet Yarns, and Carol's Yarn Studio, in sheer *friendliness* Carol wins hands down. Plus, she has an awesom selection of stuff already AND she asked me what kind of yarns I looked for/used, commented on D's poncho, talked to us about some of the knitted objects that she had made that were hanging around the store (she does gorgeous work!) and even let me take pictures of her shop and her while she was checking us out. Soooo here they are!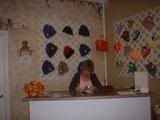 This is Carol checking us out. She did it all by hand! Woot!
Here's D posing with the horse. This horse used to belong to Carol's kids, but she refinished it and added the pole/post and brought it to her shop! D loved it...
Lookit the back of her Cruiser! Isn't that awesome rolling advertising??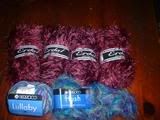 Here's our haul... Cyndi wanted the four skeins of Erdal Eyelash Tweed in Fuschia (looks more like a rich merlot) and she bought me one each of the Bernat Hush and Bernat Lullaby. Isn't all this gorgeous stuff??
I can already tell ya m'dears... I'm definitely going to be going back to her store as often as I can afford it! Poor WingNut... won't he be glad when I go back to work in January... LoL
So that's the absolutely *awesome* ending to my very horrid (in some cases) and very relieved (when K helped me!) day with the computer.
FaerieLady posted at 9:14 PM
3 Speak to the Faerie Queen
3 Comments:
hm..and to think as BORED as I am you didn't even call..EVIl..i said it again E V I L!
Wow, you are so lucky to have so many yarn stores. I think I am going to have to plan a road trip your way so I can check them out. I wonder if any of them carry Lorna's Laces Lion and Lamb.

Alyx
http://stringtheoryfiberarts.typepad.com
We will have to take a field trip.