It has been a very busy week(end) at Chez Pfohl… hopefully I don't forget any of the big stuff. Here's a quick update with some pictures, and later I'll post a big ol' update for anyone who wants to read it.
First… a secret pal 3 pressie and reveal!
I received a wonderful pressie in the mail today from my Super Secret Secret Pal from SP3. She sent me the most wonderful 80's Merino in white (oh the color possibilities!), some yummy "me" products: a lotion bar is Citruspice, a cuticle bar in Tea Tree mint and Spearmint/Peppermint lip balm! Oh I love these type of personal care products… they're wonderful! She also sent the 2005 Pattern a Day Calendar, a sheep ornament, Stitch and Bitch Nation, and a sheep ornament! She also sent D her very own present, all wrapped up! D is on visitation over Thanksgiving, so when she gets home tomorrow I'll know what it is ;-)
She sent a little hand made card, telling me to look inside Stitch and Bitch Nation to find out who she was… and she's MARGENE! She even autographed the book for me! Wow!
HUGS Margene… you are a WONDERFUL secret pal, and I adore everything you sent!!
Secret Pal 3 pressie and reveal!
A Solstice Pressie from Deb
Deb sent me a wonderful book/calendar called We'Moon '05, Gaia Rhythms for Womyn, Sacred Paths. I've already looked through it (couldn't contain myself!) and the poetry is wonderful! There are Zodiac "year at a glance", exercises, etc. Thank you so much Deb… I really needed this, and I can't think of a way to thank you enough. *huggles*
From Deb... it's awesome!
There's a long story to this, but the point is short and sweet… tonight we came home with a "rescue" dog. This is he, lying down at the edge of my chair. His name is Treyhern, or Trey for short. It means "strong as iron". He is 110 lbs (even though he is slightly underweight), and from what everyone can tell, he's a yellow lab. He's absolutely beautiful. We are going through the period of introductions here at Chez Pfohl. The only one that seems to be having a problem with him is Emrys, and that's because she doesn't like male dogs. She puts up with the other two. We're going to see if she will accept him. If not, then I will take him to Pets and People, the only no-kill shelter in the OKC metro area. He's approximately 4 years old.
The "new arrival"
FaerieLady posted at 11:30 PM
3 Speak to the Faerie Queen
First and foremost, the two RAOKs that brightened my weekend :-)
Anne P. sent me this wonderful little spindle and some gray mohair (I forgot to take a picture… bad me!). Isn't it soooo adorable and sweet? I love it! Thanks Anne… *hugs*
Spindle from Annie P... Isn't it adorable?!?
Jean from The Scottish Lamb sent me these tiny little flower stitch markers… how'd she know I needed small ones?? Thanks so much Jean, I really like them!
They're so cute and tiny!
Ahhh mohair, how can you be like this to me? I love your fuzziness, your color and lightness of weight. I love your warmth! But please… enough is enough!
I love you, m'dear mohair… however I don't like your fuzziness up my nose, nor your spread into my coffee… nor do I like your desire to take over the world through the smothering shed that you insist on doing.
However, my wonderful mohair, I have bested thee… and you have conformed to my will!
Check out the mohair stole, done down to the fringe. Yes, I fringed one of the two long sides as well as the two short sides. Believe me, it looks better that way, and I think the recipient, my sister C, will enjoy the hell out of it. Specs, 3 1/2 skeins Di.Ve mohair kiss ombre, 98 yards per 50 gram skein. 73% mohair, 22% wool, 5% nylon polyamide.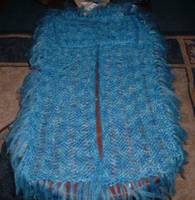 Ode to Mohair...
FaerieLady posted at 3:58 PM
3 Speak to the Faerie Queen
The scarf for Amanda is blocked and fringed. The poncho for Cyndi is blocked, need to get another skein of the eyelash yarn to fringe. After all the freakin' trouble this thing caused me (the headaches, the emergency steek of the neck because I knit the neck too tight and the yarn can't be frogged, the pull-my-hair out agony of it... ) I don't think she's going to wear it very regularly because of the necessary neck steek. So I'm going to whip up a fast scarf for her to wear. Yeah, Kae can be fast when it's necessary, and I think this is necessary.
Next on the list in order of "when it has to be done"...
1. Scarf for Cyndi (pattern decided, yarn to be cast on tonight)
2. Two hats, one for Alex and one for Robby (nephews)
3. Two kerchiefs, one for my MIL (WingNut's stepmom) and one for his oldest stepsister
4. MY DAMNED SOCKS.
Why is it that the projects for me always end up on the back burner? I'm getting damned sick and tired of putting off my socks... but I know that if I don't do the other projects, people will feel left out. I hate it when people feel left out. Damnit, I'm going to basically have to tell people to shove off and work on something for me. (sigh)
I'm probably going to be very scarce for the next week, as I'm sure a lot of other people are going to be. I have Jenger's Thanksgiving on Thursday, my own Thanksgiving on Friday, and my parents' Thanksgiving on Saturday. Gods, I'm going to be sick and tired of turkey.
FaerieLady posted at 9:12 PM
1 Speak to the Faerie Queen
Well, these are what's been making my days a lot better, now that the end of the semester is fast approaching and it seems that each and every professor I have wants to beat me up for my lunch money and steal all my precious free time. :-)
Scarf made for me by Brit. This gorgeous scarf came in yesterday's mail when I needed it most.
Bosworth Maxi. This spindle came in the mail last Friday, I did mention it but I hadn't posted a picture of it yet. Another spindle that I adore… I think it's best calling will be for plying, however I can spin unbelievably fine on this spindle even though it's pretty heavy.
Grafton Fibers Mini Swan. This little honey showed up in my mailbox this morning, completely unexpectedly! She spins like a dream and is so glorious and hypnotizing!
Toy Wheel Spindle. This little cutie showed up in my mailbox on Monday, and she is adorable! Have you seen anything so cute as a little toy wheel spindle? I need to glue in her hook better, but other than that, she spins superbly.
FaerieLady posted at 11:28 AM
3 Speak to the Faerie Queen
I know it's been a couple days since I blogged, but the reasons are varied and inconsequential, so I'm not going to bore you with them here. It's just not worth the effort to write, ya know?
Pictures will be on the post following this one, when I get them resized. They're on the camera... but they aren't on the computer yet. Lazy Kae, that's my new name :-)
I didn't end up taking my Government test when I was going to. My government instructor and I aren't getting along... actually that's a mild way of putting it. I ended up forwarding some of his "personal" emails to me to the dean of the department, and I have to take my tests and submit my assignments at the learning resource center in the college library for grading. However, I received an email from the dean letting me know that the answer key for the test was wrong and to wait until at least today after noon to take the test. That leaves me taking the test tomorrow while D is in pre-K. There goes my three hours of peace and quiet... LoL It's worth it though. I'm just glad the mistakes on the answer key were found prior to me taking the test. Otherwise I would be sitting here bawling over a bad grade... lol. Currently I'm maintaining a perfect score in that class. Let's not have it all jacked up over nothing!
Knitting progress... sister Cyndi's poncho is almost done, on the 3rd skein of Erdal. I'm going to have to pick up the stitches around the neckline and knit up a little, then K2Tog around, knit up a bit, and see what the opening looks like then. This stuff stretches. Badly. Doesn't help any that it's heavy as hell either!
Sister Amanda's scarf (drop stitch mohair scarf) is almost done as well. See, this is why I don't work on two projects at once. Either one or the other would be already finished if I didn't keep putting one down and picking the other up.
After this is the mittenettes for
Brit
. I've changed the yarn choice around since the Colinette Mohair that I was going to use knit up scratchy. Ugh. Something much softer is called for. I think I know what I'm going to use. I'm not going to jinx myself and reveal it here.
After the mittenettes will be my very first pair of socks. I'll be sure to post plenty of pictures that way people will be able to see my pull my hair out. :-)
Other random mumblings...
Ok, I understand why some people get pissy about other people knitting scarves. I don't have a single problem with it unless you've knit nothing but scarves, 200 + scarves, out of novelty yarn for the past 2-3 years. I use scarves as a learning tool. I learned how to do short rows and wraps on a scarf. I've got a scarf lined up to learn cables on. So on and so forth. See, scarves are cheap. They also give me the opportunity to knit yarns I've never used before to see if I like the finished feel of the yarn, and whether or not I believe I can justify the per skein cost of said yarn. I can justify two skeins a lot faster than I can justify 10. Maybe this isn't cool to some of you, but it's my blog and my choice to knit the scarves. You don't have to watch if you don't want to. I promise, I will not self-destruct!
Must get crackin' on the photo post...
FaerieLady posted at 11:28 AM
0 Speak to the Faerie Queen
Ignore the one edge that looks wonky. It really doesn't look that way in person. I have to say, the Silk Garden looks and feels better when it's wet blocked. Isn't it pretty?
FaerieLady posted at 10:24 PM
7 Speak to the Faerie Queen
You Are a Liberal for Life


You've got a bleeding heart - and you're proud of it.

For you, liberal means being compassionate, pro-government, and anti-business.

You believe in equality for every person, and you consider yourself universally empathetic.

Helping others is not just political for you ... it's very personal too.


FaerieLady posted at 7:22 AM
0 Speak to the Faerie Queen
Pro-crass-ti-nay yay-tion... Is makin' me wait...
Ok, ok I'll turn off the jukebox already. I'm sure you guys don't want to hear that any more than I do. However, the title is very very fitting today... well, last night. Technically it *is* after midnight here, so it's tomorrow. I mean, today. Whatever.
I turned in my 4th English comp. essay ten minutes before it was due. Literally, last minute. Any more "last minute" and I would have taken a hit for a late assignment. As it is, I didn't write the damn thing until an hour before I turned it in. I spent the last hour frantically revising, citing sources, etc. Why did I wait so long? Damn writer's block. I actually had *two* essays going for this... and stalled on both of them 3 paragraphs in. No matter what I did, I couldn't complete either essay. (sigh) I'm also hoping that the Professor has a sense of humor.
See, we were supposed to write a process essay... give the history of something then describe the process on how to make it. Simple stuff. First was the peanut butter sandwich essay. I had to write one of those in my Bio Honors class in high school. My bio teacher (Dr. Reagor) was a stickler for details, therefore we had to write that paper at the beginning of the class so she could accurately demonstrate what she was looking for in our dissection papers. My second essay was a "how to dye wool" essay... which I know like the back of my hand. However, try as I did, I couldn't get it to come together. Soooo... the Prof. was sent an essay on...
Jello Shots.
(snicker)
We'll see how horribly my grade suffers for this one. Hey, I did add a disclaimer that "this dessert should only be served to those who are legally able to consume alcoholic beverages and do not have to drive themselves to any destination after consumption".
Laters...
FaerieLady posted at 10:44 PM
1 Speak to the Faerie Queen
Me? I'm up to no good. I mean seriously, why else would I still be awake at 1 a.m.? It was a long day, but it was a *good* day. WingNut managed to stay awake and fix his computer (and promptly contracted another virus, which by the way we have *three* anti-virus programs on his computer and he STILL gets infected... however this one was fixable without a wipe/reload), however we did find out that the dvd backup of the pictures file was a "bad burn" that we didn't test prior to the wipe. (shrug) We lost a couple important pictures (D at halloween) that I can get from the people that I sent them too, but other than that it was just my project pictures. Most of those I can get from where I uploaded them (hello and photobucket) so it's no great loss.
**RAOK** from someone not in the webring.
.. this act of kindness took me completely by surprise! I went out to get D from pre-K and came home to a box sitting on my chair. WingNut got it from the post guy. It was for me... but I hadn't ordered anything, and neither had he. Especially not from Journey Wheel (Sheila and Jonathon Bosworth). Imagine my surprise when I opened the box and inside was a brand new *spindle*! It's a Bosworth Maxi with what I believe is a walnut shaft and and what she says is a paduak wood whorl (which is absolutely gorgeous!), and of COURSE I had to try it... spins like a dream! I adore this spindle :-) Pictures to come tomorrow, when I have the brains to *find* where WingNut put the camera.
Btw, no beating da Kae for the overuse of the parentheses.
Other stuff... 3 more big triangle repeats and the closing repeat left on the multidirectional scarf.
Next on needles... my sister Cyndi's poncho. Gods, I've put that one off... it's a beautiful yarn but it's an eyelash, Erdal eyelash in fuschia. I'm going to use the Harlot poncho pattern, but because of the eyelash, I'm going to increase one instead of yarn over. It's already going to be holey, let's not make it look like I deliberately perpetuated a mistake, ok? I have 2 weeks to complete this. Great good Gods I hope I can do this in time. If not, she's gonna beat me. Well, not really, but it would be nice to get her poncho to her while she's visiting over Thanksgiving weekend.
Last Secret Pal 2 Pressie arrived!
Karen at KnitNPurlDiva sent me a book called "Hip Knits, 65 Easy Projects from Hot Designers". This book looks very interesting, with several patterns already making it to my "to be done in the future" list. Thanks Karen! I really like it :-)
Well I need to try to get some sleep. Just because I can't sleep doesn't mean that D can't, and she'll be up, bright eyed and bushy tailed waaayyy to early in the morning.
Laters...
FaerieLady posted at 11:03 PM
1 Speak to the Faerie Queen
I'm not quite sure which one has set in. I'm just bored with what I'm doing, but I don't want to start anything else. I know I need to get stuff done... I have an essay and quiz in English and an exam in American Federal Government, but I know the material pretty well and see no reason to beat myself about it.
What's on the needles? A multidirectional scarf in Noro Silk Garden. Picture in previous entry. It takes me an hour to do each of the sections (the big triangles) because I am a slow knitter.
What's on the hook? A huge afghan for WingNut. Already 6 skeins into it, and still have 14 left to go. More if it isn't long enough.
What was done tonight? I went to Knit Night at Gourmet Yarns. I talked to one of the owners, she's an absolute doll. Found out that she and the other lady started out as part-time help at Linen Sisters in OKC (the one crafty store that I hate to go into... that's where I bought the silk garden and the owner followed me around and actually asked me while I was holding the silk garden if I was going to buy it). While I was there, I splurged just a little (under $10) and bought a set of bamboo #1 DPNs for socks. I have told everyone in my family that I'm going to try each method of making socks (dpns, two circs, magic loop) and decide which one I like best. So I have 2 Addi turbos in size 3 (can't remember the length), another Addi turbo size 3 that's 47 inches, and size 1 and 2 dpns (the 1s are a set of five, the 2s a set of four). I have enough sock yarn to make 10 pairs of socks. I should be able to try each way and figure out which way I like better.
Ok enough mindless blathering... there's no pictures tonight because there's nothing new to report *and* because WingNut did something to his computer and had to format/reload and he hasn't reset the network hookups (and the pictures folder is on his computer, thank goodness we back it up frequently).
Laters...
FaerieLady posted at 8:25 PM
0 Speak to the Faerie Queen
I love Aubrey. That's really all I have to say about that… she's a wonderful woman running an awesome business (Goodies Unlimited, her link is on my left sidebar), and she's just the coolest person.
We did a trade… roving for spindles. She also gave me a toy wheel spindle that was unfinished, and I'll post before & after pictures when the paint's dry.
This is what I traded for…
The darker spindle on the left is Ancient Oak on a walnut shaft, made by Adam Mielke. This sucker spins, and spins… it would spin forever! The spindle on the right is a Tom Foolery made by Greensleeves Spindles. It has two woods… pink maple and birds' eye maple. Isn't it gorgeous?? This one also spins forever.
the slightly longer view
Here's a view of the top… I used Aubrey's "WoodBeams" on the spindles, and they positively gleam!
The top view
I'm back in the spinning business! Woot!
FaerieLady posted at 11:38 AM
3 Speak to the Faerie Queen
I'm back to where I was before I made the fatal mistake...
FaerieLady posted at 9:14 PM
2 Speak to the Faerie Queen
I knitted a bit tonight... started the Multidirectional Scarf in the silk garden that I bought. I do have to say that I hope it does soften after getting wet, because this stuff isn't nearly what I thought it would be considering all the hype about it.
And the knitting goddess snickered at my commentary about it.
I was sooo proud of what I got done, because this was my first time with SSK or SKP (since its our choice, I tried it both ways and used the one I liked better). I even showed KnitSteph.
And the knitting goddess broke into hysterical laughter.
Then I started the 3rd short row sequence on the wrong end. Oh, did I mention I didn't catch it until I was halfway through the sequence?.
The knitting goddess wiped the tears of joy from her cheeks as I attempted to frog back to where I made the mistake.
So I got up and ate a jello shot. Came back, and frogged it back to the beginning and rewound the ball.
Maybe when the knitting goddess is done playing practical jokes, I'll try again.
FaerieLady posted at 10:09 PM
3 Speak to the Faerie Queen
Cassandra, sorry I confused you... lol
I said I would like to get two more skeins of # 37 so I could knit the Silk Garden Spiral hat... what I meant was I have enough Silk Garden for one or the other, not for both, and if I wanted to DO both I would need to buy two more skeins of Silk Garden # 37.
:-)
FaerieLady posted at 12:31 PM
1 Speak to the Faerie Queen
When I woke up this morning, my psychology professor had already posted our grades. I made a 94% and agreed with the questions that I'd missed (I had to guess on them anyway, because the wording of the question was so confusing). I can definitely live with a 94%. Only one more test left to go, and that's the final exam. He posted the study guide Friday after the exam.
Back to the grindstone... I have to work on the study guide for Ancient and Medieval Civilizations exam tomorrow. At least this instructor words his questions in such a way that I can understand them without trying to interpret what he means.
Laters!
FaerieLady posted at 8:30 AM
2 Speak to the Faerie Queen
Ahhhh the lovely joys of today 
I'm in a much better mood, having spent time with my mom (a wonderful woman who I get along with very well) visiting thrift shops and yarn shops. I showed her what I was looking for in the way of recyclable sweaters. Then we visited Linen Sisters, another yarn shop/crafty place that I found out about that's very close to my mom's favorite quilt shop (Oklahoma Quiltworks). After perusing their Noro Silk Garden, I chose two skeins in # 37.
What in the heck do I do with 2 skeins? I'm thinking maybe the multidirectional scarf pattern. I going to try it. We shall see. I want to get two more skeins and make the Silk Garden Spiral hat, but that's not in the cards for a while. As it was, WingNut basically squeezed the money out of the budget for the two skeins that I bought! Bad Kae… no biscuit ;-)
Well enough for now… I have a raging headache from eyestrain and worrying about my English essay, which I figured out today isn't due tomorrow, it's due NEXT Sunday! (bounces head off keyboard). All that good worrying, for nothing. (sigh)
P.S. for Literary Lady's question that was in my blog comments... Wooly Knob and other fiber mills usually have a 2-3 month waiting list for processing. Go ahead and email Jamie & Matt, usually they can tell you where you are in processing. They called and left a message on my machine when mine was ready, and I talked to Jamie on the phone for two hours (over the course of two days!)... they are awesome people. Oh, and the roving is well worth the wait!
to Rise... I'm sorry, I can't figure out how to put the little double dots (my memory fails me on what it's called) over your e... but no, I'm not Nordic and neither is my name. My grandfather however is Scottish and Lux, so we have those types of name. Thanks for asking... I love the Norse culture, maybe that's why I'm more Heathen than Pagan. However, I'm not officially either, I'm just Kae. *hugs*
FaerieLady posted at 9:37 PM
1 Speak to the Faerie Queen
I couldn't even post with w.bloggar, nor from blogspot. Nothing would load... w.bloggar would give me some tripe about "connection timed out" and it was because it couldn't link up to blogger, who was having technical issues. Blech on both of them :-)
I took my psychology exam. I'm not nervous about the results, not nearly as much as last time. The reason being is because with a lot of the information the answer was glaringly obvious, and the ones that weren't well it was easier to figure out the gist of the question. I still say my psych. professor is a sadist.
Over the next two days I have to finish the revisions for my process essay (English Comp) and the study guide for Ancient and Medieval Civilizations. After Monday (that's the Anc & Med exam) I get to finish studying for American Federal Govt. test that I have to take sometime this week at the college in the learning resource center. Can't you just *hear* the excitement in my voice??
Thank goodness that I get a 4 hour break today... I'm taking my mom to the craft stores today. Mom doesn't drive (she can, but she hates it... so she doesn't have a drivers' license, just a permit and state i.d. card) so when she wants to go to the craft stores, either she asks me or the Sister That Shall Not Be Named. When I take her, I leave D with WingNut (which they'll probably lay on the couch and watch a movie) and just go shopping. Whether or not I spend any money has nothing to do with it... it is all about the time away in a shop that I don't have to worry about D's behavior and whether or not she's having a good day (because I will not inflict a screaming child on a store full of people, that's just too rude).
Well I have to get ready to go, so I'll yap more later...
FaerieLady posted at 6:58 AM
2 Speak to the Faerie Queen
Let's see if blogger posts this...
FaerieLady posted at 11:21 AM
0 Speak to the Faerie Queen
See... even though I'm not much of a fan of *knitting* the novelty scarves, here's another complete one. Specs: 1 skein Berroco Quest 100% brushed nylon, 82 yds/skein. Pattern is simple... Cast on 15, knit every row for four rows. On the 5th row, K1, Yo, repeat to end. 6th row, drop the YOs. Repeat rows 1-6 to the end, ending with 4 knit rows. I cut my fringe before I started (12 inch strands, # 30), and knit until I ran out of yarn. It looks kinda wonky, but believe me it's pretty much symetrical from from top to bottom. I love the way that it looks and feels. I might have to make another one in a different color, or forgo the Lavish in the next novelty scarf and just knit with the Quest.
FaerieLady posted at 10:07 PM
1 Speak to the Faerie Queen
I'm a little late, but many thanks are going out to Danielle of Poetic Purl, Melissa, Megan, and one other person (I'm sorry! I forgot your name!) who sent me the most wonderful e-cards over the past few days. Thanks so much!
FaerieLady posted at 7:25 PM
0 Speak to the Faerie Queen
I stayed up until waaayyy past 1 am, drinking coffee and surfing. I shouldn't have. Rule number one when you have an ulcer... don't stress. Stress only causes acid, which is turn causes the person to either burp or puke said acid. Considering the fact that if you hear me burp you'd better hand me a trash can (I only burp right before I puke), this isn't the best scenario. The second no no is to drink coffee *while* stressing. That just makes the issue worse. Soooo... I went to bed, slept a few hours, took D to school, and have been taking it easy.
I was talking to Stinkerbell over MSN messenger and I told her I was going to lay down for an hour. I even set the timer! However, WingNut woke me up when he got up (2 1/2 hours later!) asking me if I was alright. Apparently I looked sick even while asleep. Bad Kae, no biscuit! Actually, hand that biscuit over. It's bread, it helps with the acid. D was a perfect angel too... I told her to play in her room, and she did so without complaint, and didn't even care that Momma was asleep. I hate sleeping when she's awake, it makes me feel like a bad Momma.
Other than that, I'm just trying to sell off a little of the roving that I dyed and had processed by Wooly Knob. I also got a $5 off gift certificate from eBay via Paypal (they're sent out randomly, guess my number was up!) but I can't decide what to buy because I just had to buy a new fridge. It's very hard for me to spend money after shelling out hundreds of dollars on a fridge.
Time to go pry D out of the bathtub... that child would stay in there until she looked like a raisin with blue lips.
FaerieLady posted at 4:54 PM
1 Speak to the Faerie Queen
First, let me start out asking "Who gifted me with a subscription to Interweave Knits?" Whoever you are, THANK YOU SO MUCH! I love this issue. I've heard some people bash it, but I really like it. There are several things in there that I want to knit that I'm already capable of, and several things in there that are still beyond me but I want to knit them anyway LoL. Thank you from the bottom of my heart!
Synchronicity... Here I was, thinking to myself that I need to get another ink cartridge for my fountain pen. Hey, I write better with one, and I like them. Then the pen discussion starts on SheepThrills. I had no idea that many fiber freaks (that's what I think of all of us as!) love fountain pens! However, I'm not an expensive pen person... why spend huge bux on pens when I can buy yarn? However, I love fountain pens. I've spent many hours now drooling over the pen sites, eBay, etc looking at the fountain pens. Maybe I'll get one on payday. There's a guy on eBay with cheap foreign fountain pens, and that's more acceptable to the budget :-)
But I still am going to go get my refill cartridge. (laugh) Maybe I can find one decently priced, in purple.
Laters....
FaerieLady posted at 7:46 AM
2 Speak to the Faerie Queen
I made a comment on one of my fiber lists about my now-broken spindle, and I've gotten emails (especially from one very sweet lady who asked if I'd bought it from her and what happened to it, which no I hadn't bought it from her but I wished I had) asking me for the story of what happened to this poor, woe-begone little spindle.
A long long time ago, in a galaxy far away...
Ok, so I was trying to be funny. I get the hint... I'll stop and just tell the story. Soooo I bought this spindle. I'm not going to give the guy's name, because I'm biased against him because of the amount of hassle it took me to get the sucker paid for, the fact he changed me 5 dollars ABOVE the cost of shipping (which he used a priority mail box, put it in a plastic bag, and wrapped it on newspaper), and all that. So I admit, I was already just a little upset by this, and instead of immediately picking up and using said spindle, I set it aside for about a week and didn't touch it.
So I take this spindle that I've never used before and barely touched to my very first Spin Night with Aubrey out in Edmond. We tried and tried, adjusted the hook, changed rovings... it wouldn't spin. Well, I take that back. It would spin three or four rotations, then wobble like a top about to fall over. It was NOT a pretty sight. I was a mite bit upset but I though that it was PEBSAC (problem exists between spindle and chair), so I put up my stuff and Aubrey taught me how to use her wheel instead and I had a bit of fun that night. I went home happy, forgetting about the fact that said spindle didn't want to spin.
The next day, I handed the spindle to WingNut (who yes, can spin) and asked him to look at it. After a few minutes he hands it back to me with a dire pronouncement.
"The shaft is warped. Seriously warped, would you look at that?"
*HOW* did I not see that?? I would have had to be BLIND not to see the amount of warp in the shaft. So I write back to the seller, asking very politely if I could please return this spindle since the shaft was warped. His response simply stunned me... NO, I could not return the spindle. Not because it was past the return policy date (oh, he didn't HAVE one of those, nevermind!) but because it was *my fault* in his eyes for buying a spindle that had to be mailed while it was so humid outside, as he believes the humidity during shipment is what warped the shaft.
WTF?
So here I was, stuck with a spindle that I couldn't use, because of this asshole. I was beyond pissed... so I hurled the spindle across the room with all my might. Oh, did I mention that I have a mean throwing arm? Yeah. The spindle shaft snapped (actually, splinters flew everywhere) as the shaft broke off right below the bottom of the whorl.
No, it's not fixable. I wish I would have taken a picture before I pitched the damn thing into the trashcan in pieces.
So hence, this is the reason why I have no spindle. Mucho thanks to KnitSteph, who told me what materials I need to make a CD spindle that will work until such time in the forseable future that I can afford to buy a spindle again. Oh, and this time I won't try and save a couple bucks and buy off eBay. It'll cost more and I'll have to save a bit longer, but at least I won't be heaving it against the wall.
FaerieLady posted at 6:57 PM
3 Speak to the Faerie Queen
This is the last of the stash enhancement for a long time... I need to save money for the December trip to Chicago and Massachusetts (Wilbraham). Pictured are two skeins of Mt. Creek (left) and two skeins of Valentine (right) Lorna's Laces Shepherd sock yarn. They were a steal on ebay :-)
FaerieLady posted at 5:48 PM
1 Speak to the Faerie Queen
Wackiness: 30/100
Rationality: 30/100
Constructiveness: 14/100
Leadership: 16/100
You are a SEDF--Sober Emotional Destructive Follower. This makes you a Evil Genius.
You are extremely focused and difficult to distract from your tasks. With luck, you have learned to channel your energies into improving your intellect, rather than destroying the weak and unsuspecting.
Your friends may find you remote and a hard nut to crack. Few of your peers know you very well--even those you have known a long time--because you have expert control of the face you put forth to the world. You prefer to observe, calculate, discern and decide. Your decisions are final, and your desire to be right is impenetrable.
You are not to be messed with. You may explode.
Of the 50356 people who have taken this quiz since tracking began (8/17/2004), 14.4 % are this type.
20 Questions to a Better Personality Quiz
FaerieLady posted at 2:57 PM
0 Speak to the Faerie Queen
These are the roving that I received back from Wooly Knob today, much to my ecstatic pleasure… LoL. I may not spin much, but I love love love the roving!
Now, I can't keep all of this, so I'm willing to make deals with it. This is only for Secret Pal 3 and FiberRAOK participants, so if you see something you want, let's deal. All of these are first come first served. I'll have to get a new battery for my scale before I can measure it all out for ya.
First is a deep *purple* Navajo Churro. There's approximately 2 lbs of this one, and I'm looking for $1.50/oz for it. Navajo Churro is great for rug making, outerwear, etc. I know it looks blue in the picture, but it's really purple with blue heathering.
Next… a gorgeous Aztec Gold/Orange heathered Romney that is so soft, it feels like cream! I love this roving. $1.50/oz, with approximately 13oz available.
Then there's this beautiful blue/grey heathered 100% Teeswater roving, dyed by moi : $2/oz. There's approximately 13oz available.
The last one I'm going to have to fight myself to part with any of it… This one is an 80/20 Polworth and kid mohair blend. The mohair is dyed a deep red and green, and shows up so well against the natural charcoal polworth. This is my absolute favorite. $2.50/oz. 9 oz available. I might have more available, if I can bring myself to part with any more of it… LoL. This is so soft that it's unbelievable.
Let me know if any of y'all want any… pictures are below. I take Paypal (credit and check) and money orders. Shipping will be actual shipping cost only.
FaerieLady posted at 10:39 AM
0 Speak to the Faerie Queen
100% Navajo Churro, a deep *purple*, not blue.
FaerieLady posted at 10:19 AM
0 Speak to the Faerie Queen
100% Romney roving, Aztec Gold & Orange heathered. Beautiful :-)
FaerieLady posted at 10:15 AM
0 Speak to the Faerie Queen
100% Teeswater, blue/gray... so soft!
FaerieLady posted at 10:14 AM
0 Speak to the Faerie Queen
Polworth/kid mohair 80/20.
FaerieLady posted at 10:13 AM
0 Speak to the Faerie Queen
When you tell your significant other that you will make them something, that means you actually *have* to make them something. In my case, it is a crocheted afghan for our bed. It will measure 110x100 when finished. I already know I'm crazy, but to Hel with it. That's what he wanted, that's what he's going to get.
When you know that you aren't going to be able to just work on this one project (because it's 1. too repetitive and 2. a long ass afghan) you need a second project. But, said second project can NOT overpower the need to work on the first project. So make said second project a fast little novelty scarf.
However, when you get frustrated that you can't find the proper width for the novelty scarf the first time, it is ok to frog and re-cast until you get the right size.
Even though you've cast on and knit the first three repeats at least 4 times, you *aren't* going to get a width that looks right. Frog each time. Repeat.
In frustration, wind up the other yarns. Pick a single yarn and size 15 needles, cast on 15 and start the drop stitch scarf pattern. The first three repeats are done, and it looks like
this
. Yes, the first row has a longer drop stitch. The last row will too, to give it a bit of symmetry.
However, remember with much irritation that you just can't keep going on the novelty scarf. Set said scarf down, pick up afghan, start timer. When it goes off, put down afghan and resume scarf attention. Repeat.
Line up another project for when the scarf is done. Just in case, ya know.
Call the psychiatric hospital. Make sure they have a room available for when you crack. Which will happen in a relatively short amount of time.
Until this afghan is done, my knitting time will be ruled with a timer. How else am I going to keep this from being a WIP that languishes on the back of the couch?
FaerieLady posted at 5:58 AM
2 Speak to the Faerie Queen