First and foremost, the two RAOKs that brightened my weekend :-)
Anne P. sent me this wonderful little spindle and some gray mohair (I forgot to take a picture… bad me!). Isn't it soooo adorable and sweet? I love it! Thanks Anne… *hugs*
Spindle from Annie P... Isn't it adorable?!?
Jean from The Scottish Lamb sent me these tiny little flower stitch markers… how'd she know I needed small ones?? Thanks so much Jean, I really like them!
They're so cute and tiny!
Ahhh mohair, how can you be like this to me? I love your fuzziness, your color and lightness of weight. I love your warmth! But please… enough is enough!
I love you, m'dear mohair… however I don't like your fuzziness up my nose, nor your spread into my coffee… nor do I like your desire to take over the world through the smothering shed that you insist on doing.
However, my wonderful mohair, I have bested thee… and you have conformed to my will!
Check out the mohair stole, done down to the fringe. Yes, I fringed one of the two long sides as well as the two short sides. Believe me, it looks better that way, and I think the recipient, my sister C, will enjoy the hell out of it. Specs, 3 1/2 skeins Di.Ve mohair kiss ombre, 98 yards per 50 gram skein. 73% mohair, 22% wool, 5% nylon polyamide.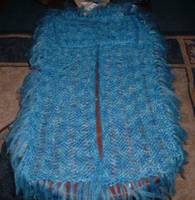 Ode to Mohair...
FaerieLady posted at 3:58 PM
3 Speak to the Faerie Queen
3 Comments:
Happy Thanksgivig to you! May it be one of the best!
Cool presents!! Your stole is beautiful...lucky sis!
Beautiful mohair stole. I'm sure your sister will love it. What wonderful RAOKs. I love those stitch markers.