This is the yarn that I picked out for Butterfly… a solid deep blue. I'm not one for stripes.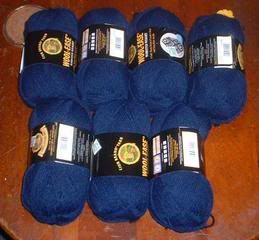 This is the yarn I picked out for Eloise… again, no self striping yarn here, and I think it'll look good on me.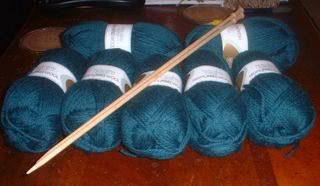 This yarn is for a Hermione bobble hat and mittens set… I just couldn't resist.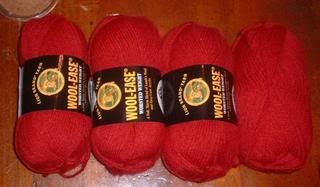 Three new sets of sock yarn… aren't they pretty?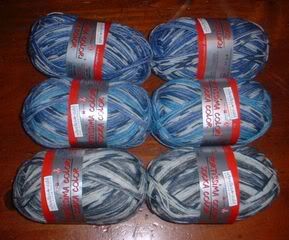 Finally a picture of the RAOK from Danielle at Poetic Purl… it's Opal Mosiac, the purple colorway. This is a true purple, not dusky like the picture. The needles are U.S. size 3 casein needles. She's such a sweety…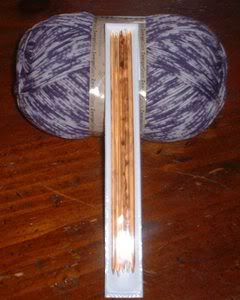 FaerieLady posted at 9:58 PM
3 Speak to the Faerie Queen
Gimme Three by
24 Knits
:
*List 3 of the best gifts you've ever received – I have to do four:
1. A set of Denise needles from WingNut… he truly knows me.
2. Free self defense training from Chief
3. Ballwinder from
Deb
and a swift from
Verna
… without those, I'd be lost.
*3 Celebrities the world could do without
1. George Bush (my personal opinion; I wouldn't off him, I'd just hide him from the general public and not give him any power over anyone)
2. Brittney Spears
3. Ben Affleck (Dogma was the exception, NOT the rule… he sucks horribly as an actor)
*List 3 people of the SAME sex that are so hot, you'd "cross over" for, or at least consider "crossing over" for --- There are four of these too:
1. Angelina Jolie (Tombraider, she's just hot)
2. Halle Berry
3.
Jenger
(awww isn't that sweet honey? You know you're beautiful, but we're both straight so neither of us would be uncomfortable with this)
4. Sarah from Slick's… the sweetest waitress of all my times playing pool… she used to kiss me on the head every time I came in, and give me a drink on the house. She kissed me on the head (or forehead) because she was almost a foot taller than me, and usually carrying beer buckets or drink trays.
FaerieLady posted at 9:50 PM
1 Speak to the Faerie Queen
I changed one answer, and wow did my score change. I was pretty sure I answered it wrong on the first try, and my curiosity finally got the better of me. I guess I'm nerdier than I thought. Maybe I shouldn't have retaken it. Bad me, no biscuit!
FaerieLady posted at 4:04 AM
3 Speak to the Faerie Queen
It's not that I don't love you guys, but I haven't been here to post. I haven't been answering my email either, but the reason is really simple. Well, reasons.
WingNut's birthday was Sunday, there went that day (don't mind that). This week I'm serving jury duty at the county courthouse here in OKC. Today I was successfully booted from a jury pool for a capital punishment case (i.e. one of the punishments possible was death) because I told the judge and the ADA that while I would and could impose the death penalty if I believed it justified, I don't have a babysitter for D while I am in court past Friday. This case is expected to last next week and possibly the week after (it IS a capital punishment case) but I only have a sitter until the end of the week, and they can't actually *make* you take a case past the date on your subpoena. They try to sound like they can, but they will excuse for cause if it causes undue hardship. The ADA had no problem with the judge excusing me because I told her that I was not Christian, so the idea of death as a punishment and judgement from a "church" didn't bother me. It wasn't that she didn't want me to go up there, it was more like she didn't like my religious preferences and would take one of the other "good moral Christians" who are "strong in their faith". Pure bullshit in my opinion, but bigots will be bigots unless something happens that is traumatic enough to change their opinions.
I haven't shown pictures of the RAOKs that I received from Danielle or Ilanna, and I'm sorry. I will soon, I promise. I also am working on a Super Secret Project (not a gift, but I'm afraid that if I mention it, I will jinx it and if I have to frog it I might just go apeshit). I'll show a picture of that when it's done.
I also received a RAOK yesterday that really made me feel better after 8 hours of listening to the judge drone on and one and the ADA talk so much and with so much repetitiveness that I started to fall asleep. Seriously. My head almost hit the bench in front of me. However, the RAOK is just too lovely... Lori sent me a wonderful magnetic list pad, cool stitchmarkers, and the most beautiful card. Thank you so much Lori! Oh, and don't worry with a little practice I'm sure you could get my nerd score ;-) No need to be jealous... LoL
Ok, gotta go, up too late as it is and I have to be back at court at 8 am...
FaerieLady posted at 9:20 PM
2 Speak to the Faerie Queen
Timing is everything, isn't it?
Well, at least I *thought* it was… you know, like the timing of saying "hey hon, by the way one of my students needs help with his taxes so he'll be coming over in the morning after work and I'm going to help him".
Don't get me wrong, I don't mind at all. He needs help with his taxes? Bring him over… we have the computers (three of them, and they all work and are all networked), we have cable modem, we have the programs, and we already filed our taxes this year. No big deal.
However…
My house is a *pit*. For me, this is absolute shambles. Now those that know me are probably snorting back laughter by now, because they know my definition of a dirty house. Mind you, I don't *care* what your house looks like. That's up to you, and I'll be happy there no matter what the surroundings (although if you have mold, I will be on allergy medication and probably wheezing). I don't make comments about other peoples' houses unless they are unsafe enough that I don't feel comfortable bringing my child. There are only two people I know who have houses like that, and they are beyond gross. Let us not go into that though… that's not what you want to read, now is it?
So here I am at midnight cleaning my house. Thank the Gods and Goddesses that D sleeps through everything, because in a few minutes I'm going to be running the vacuum cleaner. The bathroom is clean, the futon is cleared most of the way off (it's the storage space for the blankets people use to cuddle under should it get cold… throw blankets, that's what they're called), the floor in the computer room is picked up, the table in the kitchen is cleared, the coffee table is cleared, the dishes are soaking before I wash them (yes, I wash the dishes before they go in the dishwasher), the timer on the coffee is set and the countertops have been cleaned. That leaves vacuuming and taking out the trash. I don't dust, that's WingNut's job.
Oh, and they can forget about me cleaning my desk. I do that once a month, max, and dammit it's the only place I feel comfortable being a slob. For most anal retentive Capricorns, the "slob zone" is a closet. I can't stand a dirty closet, but my desk is my "zone". I deal with it quite nicely, thank you very much, and everyone else can too.
Oh, the green and black cashmerino mittenettes are done. All I need is an address of the person they go to and they will be off, winging their way across the United States. Sorry guys, not a RAOK… it's a trade with a friend that I'm overdue on paying up.
Still haven't swatched Eloise… but I did cast on for a bigger felted bag out of purple Cascade 220 Quattro that's been ripening in my stash. The bottom is done, and I'm building up the sides. I might order some beaded handles for this one a la Norma, but I haven't decided yet. I like my Booga Bag, but it's just not thick enough/sturdy enough for me. I need something firmer. I'm knitting this bag on 10 1/2s with a double strand of Quattro. I might need another skein (split into two balls and knit double stranded).
Thanks for all the comments on the sleeves… I did the math and Mariah will have long enough sleeves. I must have miscalculated the first time (yes, even nerds make math mistakes!). I will have to lengthen Eloise, but Butterfly and Rogue won't be a problem. I'd rather fold a sleeve up because it's too long than to not wear what I made because I can't stand the short sleeve!
Arielle, I would be interested in reading your blog if you have one, but I didn't have an email address to respond too and your blogger profile is private.
Danielle, honey I've always been a nerd. You should see my school pictures. Scary, I tell ya! Believe me, I saw the book on your blog, you'll be a nerd in no time flat! Just carry that thing to an café where there's net access and coffee, and they'll flock to you!
Oh guys, it was Caroline at FiberTribe who sent the wonderful Rowan Babies book! Thanks again Caroline… I think I found D the perfect sweater in there… and I think I already have the yarn too!
Considering the size of this post, I've decided to take and post pictures tomorrow of the completed cashmerino mittenettes, the start of the purple bag, and I might even post a picture of a new project that I'm thinking about starting. Shush… don't tell anyone that I might be breaking my "one-project-at-a-time" rule… I don't want to screw up and not finish my purple bag because I get carried away on the new project!
Laters…
FaerieLady posted at 11:16 PM
3 Speak to the Faerie Queen
So, where do your sleeves stop?
Yeah I know what kind of question is that? Well, here's the deal:
I went through sweater patterns and all that crap yesterday. I'm doing some serious stash enhancement (birthday money, Christmas/Yule money, and in two weeks our tax refund will be deposited). I'm doing my stash enhancement now, since during the majority of the year I can't afford or justify the purchase of new yarn since we are on a fairly tight, strict budget. I'm currently a stay at home mom/college student, and money can be stretched in tons of ways, one of which is the institution of a pretty strict yarn buying schedule.
Ok, enough of that. Back to the subject at hand.
While perusing the selection of free and for sale patterns for this sweater and that sweater, I chose patterns and designs that I really *want* to knit. For me, the desire has to be present in order to knit because I am a slow knitter. If the desire isn't there, I'll get about ¼ of the way through it and frog it back to the beginning.
I stashed for Mariah (Peruvian highland wool), I stashed for Eloise (Peruvian highland wool), and for BPT (wool-ease). I want to stash for at least two more sweaters (probably Rogue & Butterfly), a stole, and a hat (coronet)/scarf (Irish hiking scarf)/ mittenettes combo. My sock knitting experiment I have more than enough yarn for, I have yarn for lace experiments, and I have a few miscellaneous balls of stuff here and there for little projects. Before anyone chokes on the amount of yarn that I'm buying (although most of the knit bloggers that I know spend quite a bit more on a regular basis than I am spending all at once), I buy only on sale. I also use Peruvian highland wool, Patons, and Cascade (when I can find it on sale). I don't buy high end yarns (usually) because I can't justify a $100+ for a sweater. Sorry guys… I just can't do it. Maybe if I had more disposable income I could, but with the budget that ain't happenin' anytime soon!
While I was checking out sweater patterns, I checked Wendy Knits in her free patterns section, and realized that all her sweaters end at the wrist bone. Concerned, I checked Eloise and Mariah… both also end roughly at the wrist bone. This is not cool for me… not cool at all.
A sweater that ends at my wrist bone is too short. I can't stand it and it tends to drive me just a tiny bit batty (well, battier than normal I guess would be the correct way to put it). I want the sweater to end at the top of my hand. This way, when I reach out to grab something, I'm not showing my forearm/underside of my wrist to do so. All my sweatshirts and long sleeved shirts end at the top of my hand… I never really thought about the fact that a sweater wouldn't. I guess this means that I have to refigure the arm length on the sweaters that I want to knit.
What I want to know is: Do y'all end your sweaters at your wrist bone? If so, why? If not, what sweater patterns do you recommend? Is this a widespread thing, or only on the free patterns?
FaerieLady posted at 7:16 PM
4 Speak to the Faerie Queen
Lori Speak
It's my love of science and history, not mathematics.
FaerieLady posted at 9:25 AM
1 Speak to the Faerie Queen
Informationi
Vidardottir is a restricted area. Authorised personel only