Finally… I'm doing a picture friendly post! I've been busy (well, a little bit, not much) over here at Chez Pfohl… and here's a rundown of what's been done:
First off… a hat for my little 2 year old niece. Before anyone tries to comment on the colors, bear in mind that this little girl has two older brothers. I made one in blue and one in brown for my nephews, and she wanted to have *both* colors, so she got stripes. I added the pompon but was reasonably sure that my sister wouldn't want it there, so I secured it loosely and gave her instructions on how to tighten it if she wanted to keep it.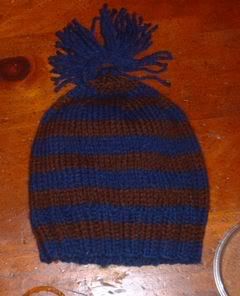 After I finished Rackell's hat, I started on XanaduRayne's hat. This hat is a birthday present to her that's a little late. Considering she didn't tell me she wanted it until her birthday, I figure better late than never. The hat is a combination of things… To be honest, I got bored. There's 2x2 ribbing, seed stitch, a cable, more seed stitch, and stockinette stitch in this hat. You can't really see the cables, so I took a close up picture. Pretty snifty, hrm?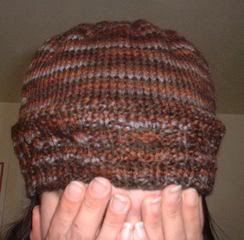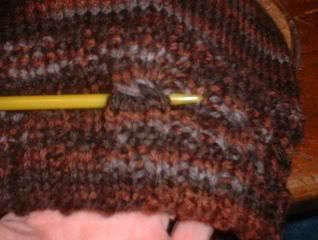 Here's the two RAOKs that I received while I was on vacation… to whomever sent me the wonderful Rowan Babies mag, I lost your card and I want to give credit to you for sending me this wonderful magazine!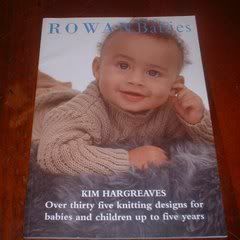 Then to the wonderful Annie in New Zealand sent me sock yarn! Woot! There's also a skein of what looks to be a novelty yarn like bernat boa… it's called Sullivan's Knitting Yarn in Lilac Sizzle. The picture can't do justice to this yarn!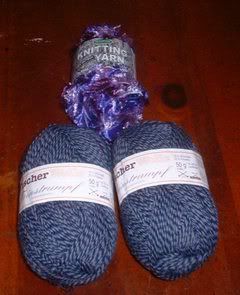 FaerieLady posted at 7:59 AM
2 Speak to the Faerie Queen
2 Comments:
Hi, Kae,
glad you like Rowan Babies. It was my gift to you for being such a kind, steady, and remarkably good-humored SP hostess (despite severe provocation ;).
all the bes,
caroline
aka fibertribe
great looking hats!