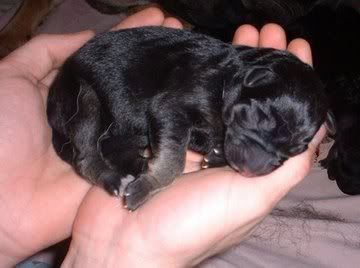 9 puppies... 4 girls, 5 boys. Born 2/27/05, starting at 4:30am CST. Momma and babies are all doing well.
FaerieLady posted at 12:10 AM
9 Speak to the Faerie Queen
9 Comments:
Oh, how adorably precious! New baby puppies . . . sweetness in fur. Glad that Mom and pups are all doing well!

I want to go hug Chappy now . . .
Aaawww....so cute! I remember when Grizzly and Elle were that tiny...glad to hear they're all doing fine!
Puppies....9 puppies so cute. I am so glad they are at your house though. Puppies just make me smile.
Sooo tiny and soooo adorable! Thanks for posting the photo. It made my day just seeing how small and cute puppies are!
Oh how cute! And now nice of you to be there right by her side, stiff back, neck and other parts too.

Tootles~`
Oh my gosh...what a sweet little thing. Hope you can rest now. Thank you for your sweet comment!
cutest puppy EVER!
Ooooh I wish I could have one. There is nothing better than puppies. We had 9 once. The next few weeks are going to be so fun for you!
that is simply adorable!!!

Congrats :)