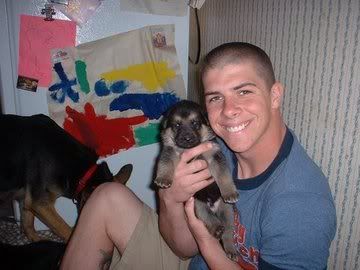 Tim picked his little guy... well, not so little!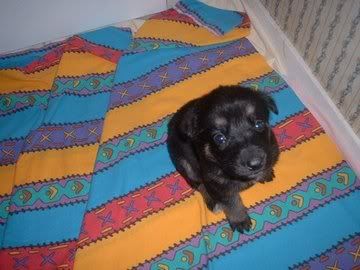 Say hello to Anata... this cute little runt girl weighs in at roughly half her siblings' weights, and she's staying here.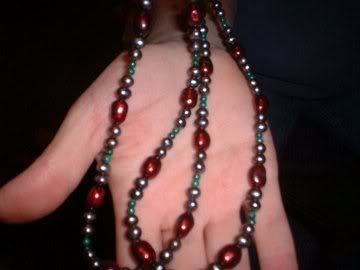 My other hobby... this one I don't get to be as "creative" with because the materials are just as expensive (and in a lot of the cases, *more expensive*) than yarn. Materials were bought for me from my bestest friend, confidante, and soul companion, DragonTalon, who's currently playing in the sandbox overseas. The necklace is constructed of dyed cranberry cultured pearls, dyed silver gray cultured pearls (they look like hematite), and 3mm malachite beads as spacers. This is on superfine SoftFlex 21 strand (.014 inch) wire, secured by lobster claw clasp w/attached crimp. There is a matching bracelet. Actually, two. However, the second bracelet needs a new clasp. I seriously fucked it up when I was crimping. Hey, two hands, one set of pliers and they ain't crimping pliers!
On the needles... the Cleo tank from Knitty.com. No pictures yet. The boob triangles are made, next is the lace "band". When I'm done with that, I'll decide if I want to bind off there or make the long version. I haven't quite made up my mind yet.
So very funny... I was having the Mariah versus Rogue question. I couldn't decide... so I started a tank. Hrm. Is there a problem here? LoL
Laters...
FaerieLady posted at 12:21 AM
2 Speak to the Faerie Queen
But I'm still around and kickin'. I haven't been able to read blogs recently, but I plan to be back in the swing o' things in a week or so. I have to reload bloglines on this machine, as my regular machine will connect with a chat protocol, but will not access any webpage. We aren't sure what's wrong... every virus checker we could find (including ones that aren't free, like Norton and MacAfee) say there's nothing wrong with the computer, but it won't connect to the internet. We're at a total loss. (shrug)
There's been no knitting going on for a little while, but I'm planning on starting a sweater here shortly. I'm having a hard time deciding between Rogue and Mariah. I have the yarn for both... but not sure which I want to start on.
Much love and hugs to y'all.. I've missed you. I hope you guys missed me!
Laters...
FaerieLady posted at 6:59 PM
3 Speak to the Faerie Queen
You know you're happy when your computer crashing and the subsequent burnout of your computer's power supply doesn't really faze you :-). The good news... the drive was wiped and I managed to get most of what I really needed transferred to the laptop, although it did take most of the day. Other good news... dad has a spare brand new ATX 400 watt power supply that he's going to trade me for "rental rate". He needs to borrow my truck while his is in the shop having the quarterpanel fixed and the driver's side door reset on the frame (he was t-boned by a drunk lady in a freakin' parking lot. She also had multiple i.d.s and they hauled her butt off to jail).
I'm just in a really really wired up good mood. It's been a very long time since I felt this good, and I'm happy. I miss feeling happy and hyper. I hope the reason for this feeling sticks around :-)
I've missed you guys, sorry I haven't been blogging much. This weekend I want to post pictures of the blue Bazic wool mittenettes (done) and the BPB (big purple bag, also done). My silver microspun scarf is going to be judged at Tree of Life tomorrow evening... either I'll bind off as it sits now, or I'll do a few more repeats. (shrug) I really don't care.
I will start the bottom of the Tiger Tarot bag this weekend too probably, and that's going to be complex enough that I will be very involved in it.
Laters....
FaerieLady posted at 7:56 AM
0 Speak to the Faerie Queen
My system is toast... right now I'm on the laptop and have no idea how long I will be on the laptop.
New AIM screenname is FaerieLady79, and new yahoo screenname is FaerieLady_79. I tried opening either messenger and two chat interfaces but there's something wrong because it won't load. So I made up new ones.
Laters...
FaerieLady posted at 6:45 PM
0 Speak to the Faerie Queen
Shoot. There's not even enough for a nutshell!
Here's something that should make y'all laugh… The picture below is of one of WingNut's students (this one was in his last class, graduated in January) wearing some of the things I've knitted since the beginning of my blog hiatus. Josh is wearing the Natalya mittenettes that I knitted for my sister C, and my dad's hat (ribbed band, stockinette body). The necklace is one that I made almost a year ago out of cognac and dark brown amber and round jet.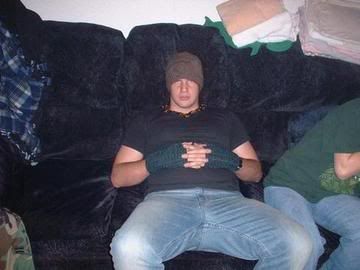 This is a picture of just the Natalya mittenettes…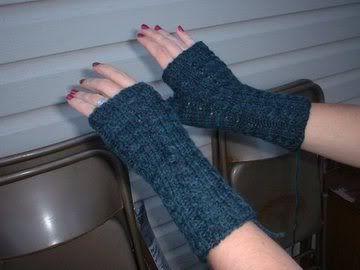 I'm almost done with a second pair of the Natalya's… this one out of the blue Bazic superwash wool that I received from Karen during the SP2 exchange. The first is done, the second has 3 more rows until I remove the thumb stitches onto waste yarn, repeat 1 more cable pattern, 4 rows of 1x1 rib, and knit the thumb. About an hours worth of work, if I sit still.
Next in the queue after that is to finish the purple cascade Quattro bag so I don't feel guilty with it in the corner. After that one, I start the tarot bag for DT. I've already written out the cable (adapting a sleeve repeat from Mariah) for the front and back, and cables up the sides. It will be worked on 5 dpns instead of a circular, since I was unable to locate a size 2 12 inch circular that had shipping at a reasonable cost. Who knows… I might even finish that Irish Hiking Scarf made out of LB Microspun in silver. Not sure about that though... it's a PITA to knit with that splitty shit.
I too (like Danielle from Poetic Purl) heard the ominous sound of a needle breaking… one of the CP bamboo needles that I was working my socks on broke in half. I'm going to buy a pair of brittanys one of these days to replace them. They are size 1 7 inch CP bamboo dpns. I'm not happy with those. The socks are on indefinite hold until I get the new needles.
Well I'm going to go to sleep…
Laters!
FaerieLady posted at 11:37 PM
1 Speak to the Faerie Queen
Shamelessly thugged from...
Let Knit Be Known
You scored as alternative. You're partially respected for being an individual in a conformist world yet others take you as a radical. You have no place in society because you choose not to belong there - you're the luckiest of them all, even if your parents are completely ashamed of you. Just don't take drugs ok?


What Social Status are you?
created with QuizFarm.com
FaerieLady posted at 10:44 AM
1 Speak to the Faerie Queen
No matter our individual thoughts on the war in Iraq, please remember to support our troops.
My bestest friend in the whole world (closest friend that I have ever had and knows *all* my secrets) has been given orders to Iraq and has left. It was only a matter of time... he is an Apache maintainer in the Army and has completed his CLS (combat life saver training).
He'll have intermittent access to email, and has given me his APO box so I can send him a birthday present. I'm going to make him a tarot bag out of the Opal Tiger Stripe yarn I have (his favorite cartoon is Calvin and Hobbs), but I'd better get on the ball because mail to Iraq is slow at best. First I have to find a place to buy a U.S. size 2 circular needle that's 12 inches long that won't cost half as much to ship as the cost of the needles (the only thing I've found so far is a set at Wool Country of Addi Turbos, $12.50 to buy and $7 to ship!).
I'm a little emotional about this. I'm not sure why... my parents were both active duty at one point in time or another, and WingNut is active duty too. I guess it's because DragonsTalon (little nickname) hasn't got anybody else at home to worry about him except his parents. He also has a little girl who's two years older than D.
A little side note... about 3 years ago, I was taking birth control pills. They were making me increasingly psychotic; I would have intermittant fits of pure uncontrollable rage. During one such flash, I almost killed him (literally, I almost crushed his throat). Without his guidance and insistance on getting off the pill I would probably be in a mental institution and he'd probably be dead. I owe him my life; he was the only person who saw what was going on and put himself in a great deal of danger to help me.
If you read this DT, I miss you and love you, cuz you're the bestest friend in the whole world.
FaerieLady posted at 9:45 PM
1 Speak to the Faerie Queen