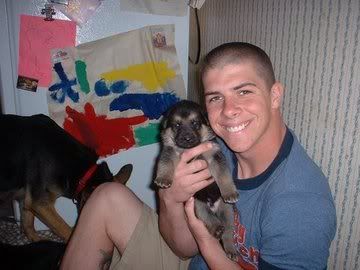 Tim picked his little guy... well, not so little!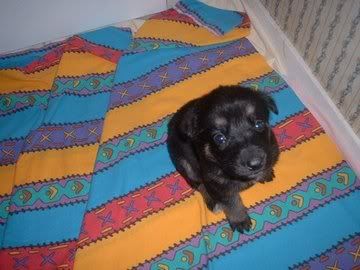 Say hello to Anata... this cute little runt girl weighs in at roughly half her siblings' weights, and she's staying here.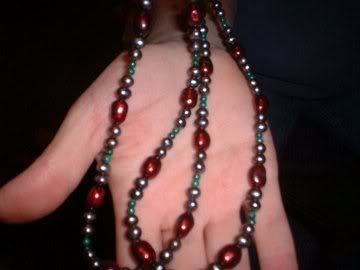 My other hobby... this one I don't get to be as "creative" with because the materials are just as expensive (and in a lot of the cases, *more expensive*) than yarn. Materials were bought for me from my bestest friend, confidante, and soul companion, DragonTalon, who's currently playing in the sandbox overseas. The necklace is constructed of dyed cranberry cultured pearls, dyed silver gray cultured pearls (they look like hematite), and 3mm malachite beads as spacers. This is on superfine SoftFlex 21 strand (.014 inch) wire, secured by lobster claw clasp w/attached crimp. There is a matching bracelet. Actually, two. However, the second bracelet needs a new clasp. I seriously fucked it up when I was crimping. Hey, two hands, one set of pliers and they ain't crimping pliers!
On the needles... the Cleo tank from Knitty.com. No pictures yet. The boob triangles are made, next is the lace "band". When I'm done with that, I'll decide if I want to bind off there or make the long version. I haven't quite made up my mind yet.
So very funny... I was having the Mariah versus Rogue question. I couldn't decide... so I started a tank. Hrm. Is there a problem here? LoL
Laters...
FaerieLady posted at 12:21 AM
2 Speak to the Faerie Queen
2 Comments:
Oh she is such a cutie!!!
look at the pearls... ooo