Shoot. There's not even enough for a nutshell!
Here's something that should make y'all laugh… The picture below is of one of WingNut's students (this one was in his last class, graduated in January) wearing some of the things I've knitted since the beginning of my blog hiatus. Josh is wearing the Natalya mittenettes that I knitted for my sister C, and my dad's hat (ribbed band, stockinette body). The necklace is one that I made almost a year ago out of cognac and dark brown amber and round jet.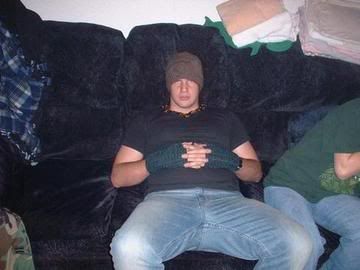 This is a picture of just the Natalya mittenettes…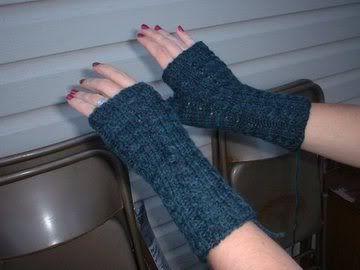 I'm almost done with a second pair of the Natalya's… this one out of the blue Bazic superwash wool that I received from Karen during the SP2 exchange. The first is done, the second has 3 more rows until I remove the thumb stitches onto waste yarn, repeat 1 more cable pattern, 4 rows of 1x1 rib, and knit the thumb. About an hours worth of work, if I sit still.
Next in the queue after that is to finish the purple cascade Quattro bag so I don't feel guilty with it in the corner. After that one, I start the tarot bag for DT. I've already written out the cable (adapting a sleeve repeat from Mariah) for the front and back, and cables up the sides. It will be worked on 5 dpns instead of a circular, since I was unable to locate a size 2 12 inch circular that had shipping at a reasonable cost. Who knows… I might even finish that Irish Hiking Scarf made out of LB Microspun in silver. Not sure about that though... it's a PITA to knit with that splitty shit.
I too (like Danielle from Poetic Purl) heard the ominous sound of a needle breaking… one of the CP bamboo needles that I was working my socks on broke in half. I'm going to buy a pair of brittanys one of these days to replace them. They are size 1 7 inch CP bamboo dpns. I'm not happy with those. The socks are on indefinite hold until I get the new needles.
Well I'm going to go to sleep…
Laters!
FaerieLady posted at 11:37 PM
1 Speak to the Faerie Queen
1 Comments:
Josh is such a cutie. You are so luck WingNut brings home eye candy for you. LOL