See what happens when you ask your bestest friend in the whole world to stand on his head in the sand (in Iraq)? You get a picture of said friend standing on his head in the sand in Iraq! Thanks for the picture DT, I love you to death and hope you guys are being treated well!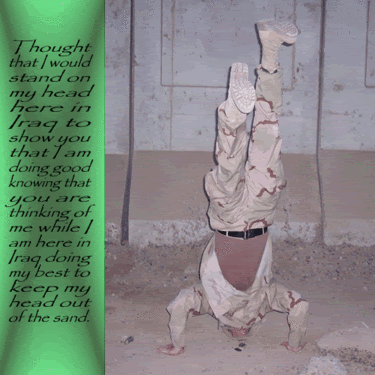 While I'm not technically *from* here, I've been here a very long time and admit that I sound like I was born'n'raised here… LoL


You Know You're From Oklahoma When...


You say ya'll ... many times a day.

Bedlam is a BIG deal.

You can tell when it's tornado weather.

When you drive through a neighborhood anyone out walking will smile and wave at you.

You've worn flip flops in the winter

You have stopped to let a family of deer cross the road.

You thought the twister ride at Universal Studios wasn't windy enough.

You know who your neighbors are, how many children they have, and when one of them gets married or graduates.

There are at least 2 to 3 Sonics, McDonalds, and Little Ceasars in your town

You've been off roading - many times

You or someone you know was born, raised and still lives in the same town.

You know that Miami, Oklahoma and Miami, Florida are pronounced two different ways.

You plan events around football games.

You are a Cowboy or Sooners fan.

You learned how to do country and western dances at school.

A tornado warning siren is your signal to go out in the yard and look for a funnel.

You can properly pronounce Eufaula, Gotebo, Okemah and Chickasha.

You can remember the name of the last state legislator to introduce a bill involving castration, and he didn't mean farm animals.

You know exactly what calf fries are, and eat them anyway.

You think that people who complain about the wind in other states are sissies.

It doesn't bother you to use an airport named for a man who died in an airplane crash.

You have owned at least one belt buckle bigger than your fist.

A bad traffic jam involves two cars staring each other down at a four-way stop, each determined to be the most polite and let the other go first.

It doesn't seem odd to see the term "chicken fried chicken" on a menu.

You save all your life for your dream vacation, and use it to go to the OU/Texas game.

It doesn't seem peculiar if your sweetie says "I'm going in to town for something" even though you live in town.

You don't turn on the news until 20 minutes past the hour, because that's the only thing you care about anyway.

Your quarterback is hurt and it is the top story on the six o'clock news.

You keep track of the grain and hog futures on the radio.

You don't buy all your vegetables at the grocery store.

You go to the State Fair for your only vacation.

You get up at 5:30 A.M. and go to the coffee shop, where the waitress never asks what you would like. She already knows.

You are on a first name basis with the county sheriff.

You know what the "Sea of Red and White" is.

You think that using the elevator involves a corn truck.

You can drive 80 mph on a two-lane dirt road with one hand, but driving 45 mph on a four-lane expressway in a city scares you to death.

You use manure on your grass instead of Weed and Feed.

Your nearest neighbor is in the next zip code.

You know the difference between fee corn and sweet corn... while it's still on the stalk.

You wear cowboy boots to church.

You know that everything goes better with Ranch.

You learned how to shoot a gun before you learned how to multiply.

"You wanna Coke?"
"Yeah."
"What kind?"
"Dr. Pepper."

You know what "Orange Power" and "Crimson & Cream" means.

You actually get these jokes and pass them on to other friends from Oklahoma.

FaerieLady posted at 4:48 PM
0 Speak to the Faerie Queen
Thugged (well, gently) from Rose over at Great Googly Moogly (I'll link her later)... here's what I scored. Hrm. Need to work on it a bit. I'm a little anal about these tests.
I'll also fix the table later too.
******************************************************

Pagan Extraordinaire
You are 93% Paganism Expert!
You know Paganism like the back of your hand! Maybe you even attended a few rituals, or organized some of your own. You understand how special this religion is, and keep it close to your heart. You know that it's the most ancient religion in the world, and you want to get back to your roots. Merry meet again!

My test tracked 1 variable How you compared to other people your age and gender:
You scored higher than 99% on Pagan Expert


FaerieLady posted at 7:10 PM
1 Speak to the Faerie Queen
It's been a while since I posted pictures of my beautiful girl, so here she is, posing for the camera…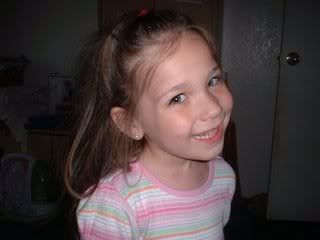 Here she is, being funny… she does this pretty well! Never fails to make me smile, even when I'm in a particularly rough mood.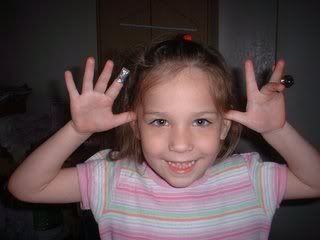 Here's the two cutie puppies too. There's a reason puppies are so cute, just like kids are so cute. If they weren't so cute, they probably wouldn't make it during housebreaking and teething. Right now the refrigerator's water line has teeny tiny little teeth holes in them, courtesy of Anata. Time to go get some bitter apple spray! Anata is the one up front with Colin in the back. Anata's ears are ¾ of the way up, and Colin's still got a long way to go.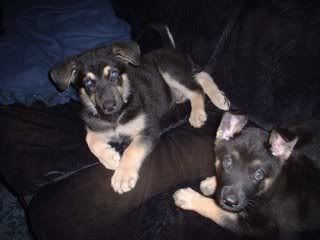 FaerieLady posted at 5:37 AM
4 Speak to the Faerie Queen
The promised pictures….
This is the Lelah tube top, 1 ½ skeins of Deep Blue Sea from WoolSoup. I know it looks rather funny, but considering the angle at which it was taken, I'm not surprised. Note: it doesn't normally show my stomach at any point in the game except through the pattern.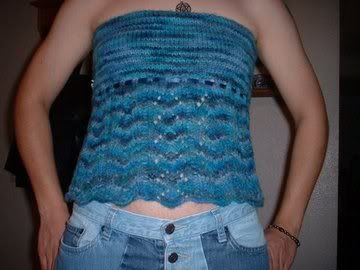 This is my first pair of socks-in-progress. The yarn is Lorna's Laces in the Valentine color way; I can't remember the name of the pattern but I have it memorized. The heel is only a couple inches away on both socks. Good thing it uses the same heel as the universal sock pattern; I honestly have lost the pattern.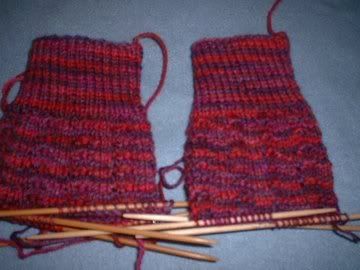 This is the first of a pair of socks using the Universal Sock pattern, 1x1 rib for the first 2 inches, the 3x1 rib. You won't be able to *see* the rib until I'm done.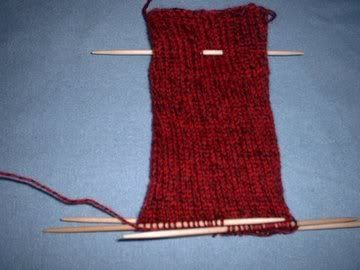 "Not Pictured"… Iris nightie in silver Microspun. I started it last night, and am to the split for the front. Have I mentioned lately that I hate this microspun? I hope they aren't all as splitty as this crap. The next Iris will be out of Baby Silk purchased at Elann.com.
Note for Stinkerbell… No, I hadn't thought of using Knitpicks Silk or Silk Twist for Cleo! What an awesome idea! I've never placed an order through them before (I keep getting seduced by Elann.com) so I'll keep that in mind the next time I am able to make an order.
FaerieLady posted at 7:26 AM
3 Speak to the Faerie Queen
Well, the pictures are coming. However, this isn't just a fiber blog for me, this was once a blog where I talked about my feelings. Recently, I haven't done that, however I think it's time for me to go back to my old way of blogging. I'm not here to be the overpowering fluffy bunny pleasant person… things happen in my life just like they happen in everybody else's lives, and I think I need to go back to expressing myself. I may not say everything, and in fact *can't* say everything, but I can get some of this stuff off my chest.
********************************
Honest opinions wanted… What do you do when a "hand up" becomes a "hand out"?
Yesterday, I deliberately turned my back on a friend of mine. Before anyone gets pissy with me, there was a reason. In my opinion, as a true friend that was the BEST move I could have made for her. Ever heard the phrase "tough love"? It's tough for a reason. Sometimes what is necessary at the time (either for you or your friend/coworker/spouse/family member) is to step back and re-evaluate exactly you have vested in a relationship, and determine if such a relationship is beneficial to both parties. If it's not, then it's time to make certain choices which may seem hard at the time but in the end work out for the best.
This person and I have known each other and been friends for almost two years. Maybe a little over; though to be honest I'm not exactly sure. We started out at the Oklahoma City Pagan and Witches Meetups. After a while, I split a public group off the meetups… the only difference was that it was in a stable location. Even later on, I brought the group into my home (the venue we were meeting at closed) and made the group private. Instead of a public socialization time, this morphed slowly into a Pagan study group that has been named Tree of Life. I still host this study group.
One of the ladies who joined back in the beginning was a Solitaire like me, except she was not "well read". Her experience came from "practical use", not book knowledge, and she had a habit of sticking her foot in her mouth. However, because she was a sweet kind person, I didn't mind, and she outgrew that.
I did a lot of things for her… stood by her when she made the choice to give up her daughter at birth (adoption), took her into my home while she recovered from the C-section, talked to her about her issues, threw well over a hundred Rune readings over a period of a year. Each time, the issues were the same, the readings the same, the mantra was the same.
This particular person wallowed in feelings of self-pity, remorse, guilt, and despondency. She has no feelings of self-worth, and believes herself to be a "broken woman", when in fact she merely has psychological tapes playing constantly. Any survivor of an abusive relationship of any kind knows the signs… and we also know exactly how easy it is to fall into those same patterns of behavior. In order to change the tapes, a person has to set those habits aside.
One of the patterns that was well established was the habit of saying "goodbye" only to say hello again in a few days, pretending that the issue that took place that *caused* the goodbye hadn't been resolved.
Yesterday, I said goodbye to her, and I mean it to be permanent on my behalf. I said goodbye to her because that's what she NEEDED. If she wasn't talking about her issues and then not even attempting to change the root cause instead of treating the symptoms, she was wallowing in her feelings of self-pity and loneliness. I have suggested counseling before, but she always refused, stating that it would do no good.
I am not a counselor. I am not the person to come to when all you want is to cry about the same thing for almost 2 years. I am not the person to come to if you aren't interested in changing the root problem that causes the behavior.
I am willing to support ALL my friends, giving them hand ups whenever their situation needs it. However, there becomes a point where even I have to recognize that I am not capable of meeting their needs and need to remove myself from those types of situations. It is not possible for me to give her what she wants, because she doesn't KNOW what she wants. It is not possible for me to give her support, because she doesn't WANT support. What she wants is to merely exist, and I'm not that type of person. I can't allow that type of behavior around me, because I know it's a trigger to my *own* type of personal tape.
Sometimes loving your friends hurts. Sometimes you realize that you have to do what you don't want to. However, that doesn't dim the light you have, it only encourages the light to shine in a different direction. I hope hers continues to shine, and that she can grow and achieve the things that she sets her mind too.
I can say that she doesn't like me right now, because I've seen her messages (although I deleted the emails unread, AIM messages) and the sarcastic vituperative is present there. I really don't care what she thinks, and maybe by demonizing me she can achieve something. However, I can tell you that I did what I think best, and to Hel with what others think. I'm just sad that it had to come to this. May she be able to move forward, and may the Lord and Lady bestow their blessings upon her.
FaerieLady posted at 3:16 PM
6 Speak to the Faerie Queen
I received a card RAOK! Manda at
KnitPsychos
sent the cutest card! Thank you Manda, it arrived on a bad day and really brightened my mood!
Well, later on (hopefully today!) I'll have tons of pictures to post.
First, I'm hoping to finish the Lelah tube top today. I'm not sure what to name it, I was thinking Siren tube top, because the colorway is Deep Blue Sea that I got from
Wool Soup
. I don't have the elastic for the top yet, but that's easily fixable after a trip to Mom's house. I know I left some ¾ inch elastic there. It's just a matter of finding it!
After that, I hope to have a picture of the socks in progress. I have two pairs going… two being knit at the same time from the first attempt (that stalled with a broken size 1 bamboo dpn, and now I've replaced them with size 1 brittany dpns), and the first of a pair using the universal sock pattern on 2s with wildfoot sock yarn. That sock is 3x1 rib. I'm almost to the heel on the single sock, and about four repeats away from the heel with the patterned sock (the yarn on those is Lorna's Laces in the Valentine colorway). After those are done, I want to restart the purple Opal Mosaic raok'd to me by Danielle at
Poetic Purl
.
Other stuff on the needles… Well, Cleo the tank has been frogged back. I don't like the yarn I chose, and don't have a cotton yarn stash. Zip, zilch, nada. I hardly knit with cotton because it tears up my hands (psoriasis and eczema, at the same time, on both hands). However, I might be willing to trade sock yarn for pretty cottons for this tank. They can either be all the same color (and I would prefer variegated) or they can be split into main/contrast colors like the pattern calls for. The pattern is
here
at Knitty.com. Let me know if you're interested.
Also, I have some yarns that I'm going to post "Free to a Good Home". This stuff is fisherman's wool that has been dyed by moi, but it's just not my cuppa tea. I'd use the database, but some people have an unreasonable hatred of Lion Brand Fisherman's wool. (shrug). There's also going to be some Wool-Ease up for grabs. I'm cleaning out my yarn cabinet of stuff that I know I'm not going to use (ever!) and would prefer y'all got first grabs!
Ok, enough for now… I'm going to go work on Lelah and wait for my bestest friend to sign on to Yahoo from the desert…
Laters…
FaerieLady posted at 9:16 AM
2 Speak to the Faerie Queen
And for some little folk (myself included), that means I am waiting with baited breath for Sunday. You see, Sunday is when the puppies will be eligible to start going to their new homes... which means that hopefully in the next week or so, I shall have FREEDOM! Wheee! I can't wait! Love the puppies, but I'm glad they aren't staying here. Oh yes, this will *definitely* be the last litter. For me... it will be the last canine litter *ever*. From here on out, all female dogs of mine will be spayed.
I started a scarf for DragonsTalon, but I *know* I'm going to run outta yarn. (sigh) It's from Hand Painted Yarn in merino worsted weight, color name Cypress. Urgh. Anyway, pictures are going to come of that. Oh, and pictures of the socks that I'm working on... STILL. (sigh) Lorna's Laces shepherd sock on 1s and the universal sock pattern socks on 2s with Wildfoote sock yarn. Maybe I need to finish a pair sometime soon so I can post pictures. Wouldn't that be groovy?
I have figured out that I am a total sock yarn HO. Seriously. Regia, Opal, Socka Colori, Wildfoote, Mountain Colors, you name it I like it. There will never been *enough* sock yarn in my collection. Tell ya what, when I finally get all this stuff knitted up *into* socks, my feet shall never get cold again!
Oh, and I won't be posting pictures of the body piercings... 1st off they may be *just* my nipples but I'm modest and the piercing is for me not for view of the general populace, not to mention the fact that 2. blogger and ringsurf probably wouldn't want that type of picture posted anyway. I'd like to keep my blog up and running for a while yet... LoL.
Laters...
FaerieLady posted at 6:21 AM
3 Speak to the Faerie Queen
Yeah, as you can probably tell, I'm rather strapped for post titles. I'm sure I'm gonna be forgiven, at least this time... right?? If not, puh-LEAZE don't tell me that. I'm having way too much fun at this time in the morning... and I've been awake for a couple hours. Why? Because I crashed and burned at 7pm when the entire block lost power. (giggle) Figured, why not?
Oh it's been an interesting time as of late... for those who care about body mods (body modification, specifically tattoo's and piercings), I got the next two on my list. I'm almost done with that... I want a navel piercing one of these days, but it's not terribly important and I want to wait until I have a little more definition, instead of just bones. Ahhhh yes, da Kae has lost some serious weight. I'm not anorexic, and I will gladly trade someone to get about 15 pounds of that lost weight back. Any takers?
Anyway, life around here has been a whirlwind. Hard to believe that the puppies are almost five weeks old, isn't it? (counts days just to make sure). They are currently out in the kennel, happy and healthy and bouncing around. They've all had their preliminary temperment test... rated for what kind of environment that they will do well in. This will most likely be my last litter of puppies. I don't think I can handle this anymore! I would like to have a life again that doesn't involve puppy poo. Forgive me for saying that, but anyone who has ever handled and socialized a litter of puppies will understand completely!
Major changes are in the works here... the first of which starts Monday April 4th. D starts *daycare* and has been enrolled in a private pre-K program at said establishment. I've spent the past two weeks checking around the daycares on this side of town, and found one with a complete GEM of a teacher in the pre-K program who's been teaching children (degree'd and state licensed teacher) for 18 years. The major reason why D is starting daycare is....
Kae is going back to school. Full time, 4 classes a day, five days a week, for 7 months, starting April 11th and graduating on November 4th. The classes are approximately 5 weeks long (accelerated), and after the five weeks I get a brand new set of 4 courses. At the end of the madman's rush... a national certification exam for Medical Insurance and Coding. Ahhhh yes, Kae is moving *out* of the patient/nurse/tech side of the medical field and into the paperwork side. Why? Because as long as there are people, there will be sick people. As long as there are sick people, they will see doctors, who want to get PAID, and in order to get paid they have to submit insurance billing paperwork. Bush's grand new Medicare/Medicaid bill requires nationally certified professional coders at every location where a medicare/medicaid patient would receive treatment. A national license will allow me to be able to move outside of this Godsforsaken state and still be able to have a JOB. Bush's medicare/medicaid bill cost me my previous job field. It is only fitting that it made a new niche for me to crawl into, isn't it?
My parents are totally cool. Oh, that sounds like I'm about fifteen instead of twenty five, now doesn't it? Lemme explain...
When my power supply fried, my dad replaced it. He had a brand new one, 400 watt ATX. I was given the third degree about power outages, etc etc etc. Seriously though, one of those backup things (big battery backups, go under your desk) cost more bux than I could justify all at one point in time, considering I don't HAVE those kinds of bux to throw around. So, my parents show up on the pretense of "playing with the puppies"... with an UPS. *blink blink*. Ok, now my main computer (the hyperventilating desktop that now has issues... I think the jolt to the power supply made have "leaked" over and whopped the motherboard) and the laptop are now plugged into an UPS. Talk about in the nick of time too... last night's power surge took down the entire BLOCK. Wow. Anyway.
More later... just realized what time it is and that the puppies need to be fed...
FaerieLady posted at 3:33 AM
3 Speak to the Faerie Queen