The promised pictures….
This is the Lelah tube top, 1 ½ skeins of Deep Blue Sea from WoolSoup. I know it looks rather funny, but considering the angle at which it was taken, I'm not surprised. Note: it doesn't normally show my stomach at any point in the game except through the pattern.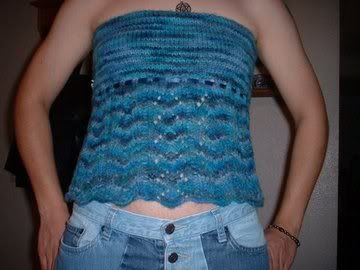 This is my first pair of socks-in-progress. The yarn is Lorna's Laces in the Valentine color way; I can't remember the name of the pattern but I have it memorized. The heel is only a couple inches away on both socks. Good thing it uses the same heel as the universal sock pattern; I honestly have lost the pattern.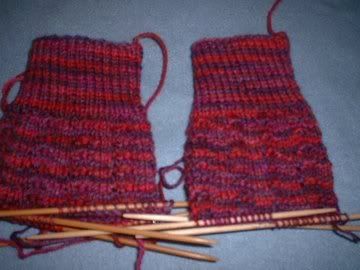 This is the first of a pair of socks using the Universal Sock pattern, 1x1 rib for the first 2 inches, the 3x1 rib. You won't be able to *see* the rib until I'm done.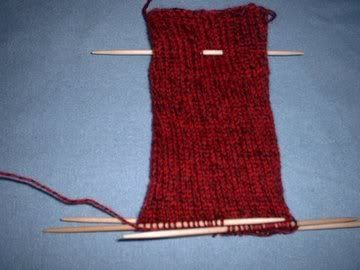 "Not Pictured"… Iris nightie in silver Microspun. I started it last night, and am to the split for the front. Have I mentioned lately that I hate this microspun? I hope they aren't all as splitty as this crap. The next Iris will be out of Baby Silk purchased at Elann.com.
Note for Stinkerbell… No, I hadn't thought of using Knitpicks Silk or Silk Twist for Cleo! What an awesome idea! I've never placed an order through them before (I keep getting seduced by Elann.com) so I'll keep that in mind the next time I am able to make an order.
FaerieLady posted at 7:26 AM
3 Speak to the Faerie Queen
3 Comments:
Your Lelah looks fabulous! I made a Lelah out of Woolsoup yarn too! And I just made Cleo too! It's like we are on the same wavelength :)
1. LOVE the tube top- might think about copying you on that one :)
2. you are welcome- and if you order let me know and I will contribute.
3. I am sending you a little something- it will be in the mail this week once I get the last bit- YOU DESERVE IT chica!
Wonderful it is stunning. Very great.


Knitpicks was nice and all my yarn was very very soft.
D