Ever have that feeling that you're on a rollercoaster ride? First life takes you wayyyyyyy up there, then the bottom falls out, but you don't actually *bottom out*, instead it starts all over again?
Sometimes this is how I feel. After a month of serious job hunting, the prospects are still non-existent. My home life seems to be getting better (one foot in front of the other), my social life however has come to that point of the bottom falling out.
I've figured out that my priorities are all in the wrong place. In the past couple months, it's been all about Kae around here, and it shouldn't be. I feel like I've mistreated the few close friends I have, and I can't bear that thought. Some of them I've decided that I need to back off from... I really don't have anything to say to them that hasn't already been said a hundred times. Some of them I still talk to on a fairly irregular-but-regular basis (if that makes sense). We check up on each other every couple weeks, make sure life is still going alright and that each other is doing well. Then there are those people who I talk to every day, we have similar interests and pursuits, and I really connect with them. Some of them have blogs...
KnitSteph
,
Rose
, Damia1966 (who is sadly blogless), the Benevolent Dictator of Spindlers (also blogless),
SnakeWoman
, and
DragonsTalon
. Those are (I think that's all of them) that I talk to every day and I feel revitalized and invigorated when I am talking to them, and have a warm fuzzy feeling about.
The ones I talk to on an irregularly regular basis are
PoeticPurl
,
StinkerBell
, Amrya, and a few others that are just as important but it's late and I can barely remember my own name.
I guess the process that I'm going through is just a type of priority reorganization in my social life. When and if the time comes that I feel I can talk to those that I've decided to back away from, then I'll attempt to contact them. If they decide not to, then I haven't really lost anything. It does hurt a bit to decide these kinds of things, but that's what life is all about, isn't it? Learning, making decisions, moving *forward* instead of standing still.
It's about damned time I started moving forward. I hate walking in place... it's just so..... repetitious. I'm not into repetion. New things are fun, new places, new adventures, new processes, new practices. I can always repeat the ones that I like. Moving in place means the view never changes. That leads to stress, depression, anger, and eventually apathy. That view is never good.
Ok, enough with the heavy stuff. Good content later!
FaerieLady posted at 9:04 PM
3 Speak to the Faerie Queen
I figured I'd better post something other than the monster update about the crew over here yesterday… just as a side note, those guys were all here because as members of the armed forces, they are spending memorial day weekend far from home and are unable to celebrate the holiday by getting home.
Ok… I took a picture of the red and black tank. That picture wouldn't turn out, no matter what I did, so imagine a red and black tank (red on bottom, black at the middle) at the neckline. I'm trying to decide whether to frog back 4 rows to get rid of the last increase, or not.
This wonderful pressie was from Stinkerbell: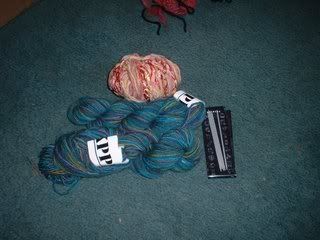 Ooooo lookit that! Two skeins of Koigu, teeny tiny 4 inch dpns for sock knitting (I wish someone around here carried these babies!) and a skein of novelty yarn that I'm supposed to use to make D something… LoL. I have no idea what to make her though! Thanks Tink, I loves you! *huggles*
This yarn: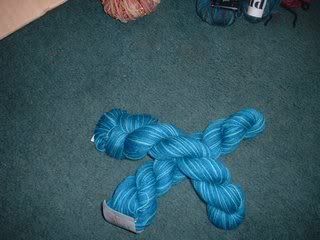 Destined to become the Cherry Blossom Shawl. There are actually 3 skeins, but one of them was in hiding when I took this picture! Knitpicks Shimmer in "Turquoise Splendor". This is a beautiful colorway, not quite as bright as the picture says it is!
Then we have this: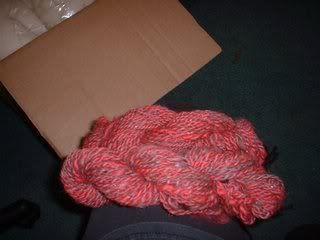 Specs: 2 ply skeins, approx. 100 yards per, out of Kitchen Sink batts. This is about heavy worsted/light chunky weight. This is destined to become either a poncho or hat/scarf/mitts for the small pink-loving child.
Ok, gotta run for a bit… More yap and pictures soon!
FaerieLady posted at 8:28 AM
1 Speak to the Faerie Queen
These are a couple of lushes…
You can't leave your drink, whether it be alcoholic, below your waist. If you are sitting on the floor or a step and you put your drink down, I recommend that you keep a rather *firm* grip on it, otherwise it might take a little trip down the gullet of a rather cute (but rather sneaky) thief.
Then again, when you have people like Mike:
Coming over to relieve some stress and relax, sometimes things happen. See how cute and innocent he looks?? Don't believe it, it's all lies! LoL
Here's Joel…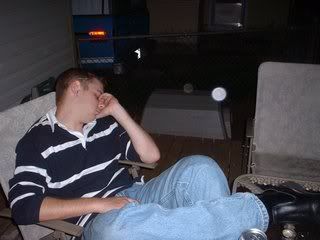 Poor guy had a wee bit much to drink. He plopped his foot up on the table (cowboy boot and all!) and kinda fell off into a deep sleep that only last a couple minutes. It was cute while it lasted! I figured out that it had to be cute… because he was stocking up points to make up for this: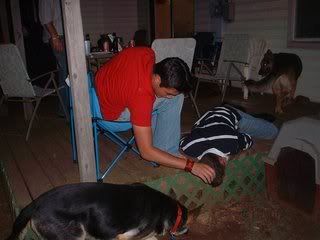 Joel deserves major kudos. He managed to get out of the chair and crawl over to the side of the deck before getting horribly sick. He didn't get sick on the desk, he didn't get anyone else, and he got up afterwards. He really is a good troop!
Of course WingNut couldn't leave him totally alone…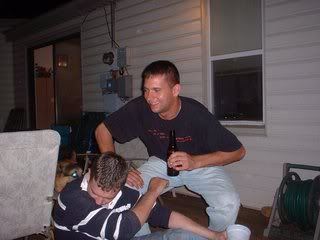 But he's not actually giving him grief in this picture. It just looks like it! LoL
Now this guy is a whole different kettle of fish…
First Josh drank a little much, as you can see here:
But then... he moved!
Keep in mind… that's a swingset. He is rather tall, but the swingset? C'mon!
The guy in the red shirt that you've seen throughout these pictures babying the sick guys is a real sweetheart named Danny. He checked up on everyone, and made sure that the guys got home ok last night. Well, everyone except Mike… who's currently doing this:
On my couch.
Poor KnitSteph; I vaguely remember talking to her for a few minutes last night but I wasn't quite "all home". Gods, I love amaretto sours! I stopped drinking early last night though, so I didn't end up having more than a buzz for a little while.
Happy Memorial Day guys!
FaerieLady posted at 7:12 AM
0 Speak to the Faerie Queen
how it is in the OKC/Tulsa Pagan Communities, I bring you
SnakeWoman
Extremely well written by a very well educated woman, this blog is a great resource for those who really want to know "how it is" in the local Okc/Tulsa area Pagan community, as well as the national Pagan community. She is a wonderful woman with a way of writing that is just addictive.
FaerieLady posted at 1:32 PM
0 Speak to the Faerie Queen
Anyone else shouldn't feel the need to read this... it's very boring!
1. Are you a yarn snob (do you prefer higher quality and/or natural fibers)? Do you avoid Red Heart and Lion Brand? Or is it all the same to you?
I do prefer natural fibers. I use woolease and cottonease for baby stuff, stuff that needs to be washed often. I don't have much superwash, none of my local stores carry it. I prefer no acrylic for stuff that I'm going to use for myself. I avoid Red Heart like the plague, but that's because for about the same price per skein I can go to KnitPicks.com and pick up wool.
2. Do you spin? Crochet?
Both, however I spin more than I crochet. I love the look of clean crocheted edges, and I can do it very well, although it does look weird to see me crochet. I knit right handed, crochet left handed.
3. Do you have any allergies? (smoke, pets, fibers, perfume, etc.)
Perfumes. I'm very picky about my smells, and most of them make me sneeze profusely.
4. How long have you been knitting?
Almost 2 years actively, but have known how and done it sporadically before then.
5. Do you have an Amazon or other online wish list?
Amazon.com, Knittingzone.com, and I'm going to set one up on Knitpicks.com
6. What's your favorite scent? (for candles, bath products etc.)
I'm kinda afraid to answer this, because I'm so picky about smells. However cedar is good, sage, sweetgrass, pine, and one or two varieties of pomegranate. **No Patchouli**
7. Do you have a sweet tooth?
Nope. I don't like chocolate much either. I have a sour tooth.
8. What other crafts or Do-It-Yourself things do you like to do?
I make soy wax candles, spinning, fiber and fabric dyeing, fabric painting (literally, not like dye work, but painting pictures on fabric). I don't do the candles much anymore. That interest waxes and wanes.
9. What kind of music do you like? Can your computer/stereo play MP3s? (if your buddy wants to make you a CD)
Alternative, new age, and hard rock. Yes, my computer can play them, but I don't usually listen to music on my computer.
10. What's your favorite color? Or--do you have a color family/season/palette you prefer? Any colors you just can't stand?
Fave color family is jewel tones. Fave color is black. That's my preferred background color. When I say jewel tones, I mean supersaturated colors, like cobalt, sapphire, burgundy, emerald and forest greens, etc. Brown isn't my forte. Neither is yellow or orange. All three of those colors make me look like I'm sick. I'm half Puerto Rican.
11. What is your family situation? Do you have any pets?
Currently married, one child age 5 (June 5th is her fifth birthday actually). Four German Shepherds, two females, two males (Zeus is 4, Emrys is 2, Anata and Colin are both 13 weeks).
12. What are your life dreams? (really stretching it here, I know)
Linguistic Anthropology, specializing in Gaelic (Scots, Irish, Welsh, and Manx.) I hope to do my master's work overseas in one of those countries.
13. What is/are your favorite yarn/s to knit with?
Oh hard one! I really don't have a fave yarn to work with… that changes every time I work with something. I prefer wools and wool blends to work with.
14. What fibers do you absolutely *not* like?
Mohair, mohair blends, cottons, cotton blends.
15. What is/are your current knitting obsession/s?
Ahhh jeez. Another hard one. I love cables. Lots and lots of cables.
16. What is/are your favorite item/s to knit?
I like to knit just about anything. I can't think of something I really wouldn't knit, except maybe lampshades. I don't really like knitting afghans either.
17. What are you knitting right now?
Trellis from Knitty.com (cabled baby sweater). Red and black tank out of cotton twist (don't care much for the yarn, but it looks good). Two separate pairs of socks (stalled at the heels). I'm going to cast on soon for Cherry Blossom, and am thinking about starting Pi too. I just can't decide what yarn to buy for Pi.
18. What do you think about ponchos?
Some people look good in them. Children look cute in them. I look like I'm about 3 foot tall in them, and don't make them for myself.
19. Do you prefer straight or circular needles?
Circs, but I will work on straights.
20. Bamboo, aluminum, plastic?
DPNS, Brittany Birch. I break bamboo too easily. Size 5 needles and up, I use my Denise set. Scarves, I use wooden straights. Hats and mittens (mittenettes) I use plastic DPNS or Brittany Birch. I don't use aluminum if I don't have to, they make my hands hurt.
21. Are you a sock knitter?
Dunno yet, stalled out on the heels of both pairs of socks I have started.
22. How did you learn to knit?
Books, websites, and Knitsteph (via AIM)
23. How old is your oldest UFO?
The socks are 2 months old. That's the oldest.
24. What is your favorite animated character or a favorite animal/bird?
Ummmm. Hrm. No fave animated character. Favorite animal? Butterflies.
25. What is your favorite holiday?
Yule ties with Samhain.
26. Is there anything that you collect?
Butterflies, Faeries, Mystical creature statuettes, Goddess representations (i.e. I have a Cretian Snake Goddess statuette on the entertainment center, etc). My faeries are real faeries, not cherubs with wings.
27. What knitting magazine subscriptions do you have?
None.
28. Any books out there you are dying to get your hands on?
I've got some on my wish list. Maybe some lace books, or books on cables and aran sweaters. (shrug) I don't tend to collect books.
FaerieLady posted at 12:32 PM
1 Speak to the Faerie Queen
Yep, have one of those to go with the body piercings. Actually, the tattoo pre-dates the body piercings!
The tatt is a triquetra, with an inverted triquetra in the center. It looks almost like an eye in the middle, but it's hard to get detail when you take the pic yourself. I couldn't get it any farther out... my arm wouldn't bend that way.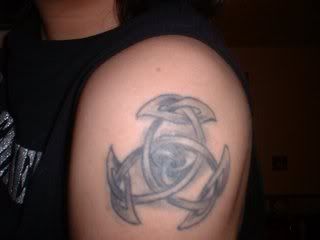 So who else is gonna show their tattoos?
FaerieLady posted at 5:54 AM
1 Speak to the Faerie Queen
Well, almost!
Ok, first things first. I gotta say this before I absolutely BUST.
Thank yous go out to *everyone* who has helped in the garage sale to buy a wheel. You guys are absolutely awesome, and you know who you are. There is still some stuff left… but the urgency is definitely off. Why?
Because you see… a dearly beloved friend of mine (old enough to be my mother, literally I am only 2 years older than her son) had a "hare brained idea". This hare brained idea is probably the kindest thing that anyone has *ever* done for me. The evidence of this truly wonderful person is: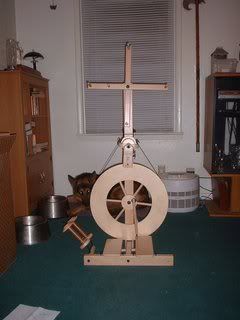 My New Baby
Stats: Louet S51 Double Treadle with skein winder. I put it together all by myself this evening! I'm trying to think of a name. Most wheels seem to be named after women, but I have this urge to call it Vanyel (Mercedes Lackey, Heralds of Valdemar one of the trilogies, wonderful depiction of a gay man serving his country to his absolute best capacity). Isn't it gorgeous?!?
I am beyond floored, and still can't seem to wrap my mind around the fact that this wheel is *MINE*. (swooooon)
Ok, enough gushing over my wheel. I'll gush more later. When I post the picture of my tattoo. LoL
Second…
KnitSteph
has started a Cherry Blossom Shawl Knitalong! Count me in babies…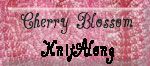 Gotta crash… gotta finish the Great Stash ReOrganization at Aubrey's tomorrow… got half of it done today, the rest should be finished before 5 pm tomorrow evening. I'll have the DH upload the pic of my tatt onto the computer (his computer has the software and the connection) and post it before midnight tomorrow.
Huggles… Laters!
FaerieLady posted at 10:43 PM
4 Speak to the Faerie Queen
I don't mean for this to come out as a rant, and if it does please note that I really tried not to let it come out that way.
I'm tired. I'm tired of the larger things that I want to purchase (i.e. more than two skeins of yarn) are always the "negotiable" items. I'm tired of saving money in my account for something, just to have it spent on a necessity simply because someone else bought something for themselves.
For almost 2 years, what I've wanted in the way of large purchases were a wheel and a carder. I didn't think these items were outside my reach, honestly I didn't. I carefully budgeted X amount of money, setting it aside in my bank account in the hopes that one day I would get to purchase a wheel. I didn't (and still don't) want the high end wheels or carders… I want a Babe DT Production wheel in black (total *with shipping* around $198) because it's virtually indestructible and I don't have to worry about small children, puppies, etc chewing on it because it's pvc. Something gets chewed, I take it to the hardware store and get some pvc cut to size and replace it. The dowel gets eaten? Measure, trip to the hardware store, and replace it. I'm all about function… form comes second. Hence, the reason I do want it black. I want it all to match. That's about it. The carder? I want a Strauch/Fricke petite carder. I don't do enough wool to justify a large carder, I don't have the space for a large carder, and it would save my wrists from the handcards. Grand total? I can get it with free shipping for under $300. So grand total over a 2 year period that I wanted to spend on large purchases totals slightly less than $500. I have YET to make it more than THREE MONTHS before the money that I've been stashing away "has to be used" on this or that, because something was bought that was frivolous or outside of the budget.
Therefore, I'm selling off half of my sock yarn collection. I'm keeping the yarns I was given, and selling the ones that I bought myself. Email me at
Faerielady@gmail.com
if you are interested in any of these yarns, I'll let you know if it's available and send you a paypal invoice. *All money from this garage sale is staying in my paypal account until I can at least afford to purchase my Babe*. I know that I won't get enough out of this sock yarn to purchase a Babe, but at least it's possible I can get a good chunk of it stashed away.
Here's a
link
to the slideshow of yarns, and
this
is a link to still shots. On the stills, if you click on the picture, it gives you cost and specs. If anyone has any problems accessing this, lemme know by commenting or emailing me.
I really appreciate anybody who decides they would like to purchase anything I have up. I love you guys.
**edited to add** Shipping (standard) is included in the price.
FaerieLady posted at 8:05 PM
1 Speak to the Faerie Queen
Remember a few months ago when I said I wasn't going to join another Secret Pal exchange? I had great senders (thanks Margene! Did you see I used that skein of Bamboo in my Soleil??) but the person I sent to was a total wash and no one found out until *waaaay* too late. But... as we can see... I've decided to try it one more time. Let's hope this round I get a good receiver!

Sign Up for Secret Pals 5
FaerieLady posted at 7:42 AM
2 Speak to the Faerie Queen
Well, here are some pictures to make up for the lack of any other content…
There are several things vying to be posted… all of them are important to me, so I'll just start. They aren't in any particular order.
First, I received pressies from Iraq!
DT
sent me the most gorgeous woven cloth from Iraq that will have it's own place of honor on my personal altar! This picture doesn't show the magnificent detail or the shiny threads… In fact, this is a totally crappy photo. I'll post a new better photo later…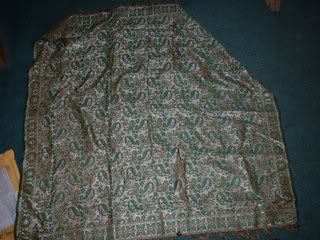 Then,
Rose
gave me a wonderful Mother's Day present that truly touched me. I have only gotten one mother's day present before and that was from DT. I've never gotten a mother's day present other then that. Rose decided to treat me to a full set of nails! Isn't it amazing how much self-worth people (and women in particular) tie into their appearances? Me, having nails makes me feel 100 times better, even if the situation that I'm in is crappy. My nails are acrylic, and they are frenched… in a way! Instead of white tips, the tips are bright sapphire blue!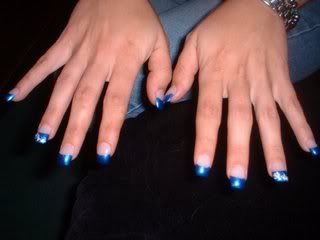 Soleil's photo shoot is finally going up on this website too… she's been done since the day after I posted the photo of her blocking. Here's me "test wearing" her. I'm wondering what I did though… I made the smallest size, got gauge… and she's a little big (not much, just not "zero to negative ease"!) and I used less than 2 skeins (500 yds) of Southwest Trading Company's Bamboo in "Purplexed".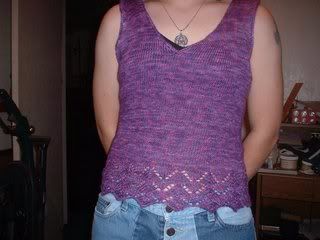 Here's the reason I've been sidetracked sometimes during the day… I found a Shetland fleece, raw, in the original box in the garage. I decided I needed something fiber-y to do, and decided to start processing this fleece on my own. I'm not the world's fastest fiber processor and I don't have hand combs. However, dog brushes work marvelously well as flick carders (although I still want a flick carder) and I'm considering purchasing a carding board from
Running Moon Farm
. I really was honest with myself… I would love a carder, but it's just not feasible for me right now. Not just the money… but space restrictions in the near future. So here's the Shetland fleece that I'm flicking…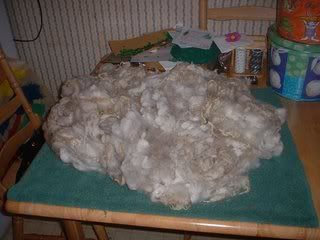 This is the bright white it turns when it's clean 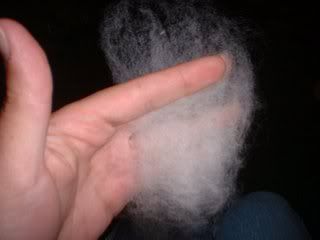 What I'm working on now is a tank of my own design, named after the person who gave me the yarn (DT). It's the Dragon's Heart Tank, knit in red Berroco cotton twist for the lace, and black cotton twist for the bust and straps. No pictures yet… after I get past the lace and have enough to stretch it out for the photo so it looks somewhat like it's gonna look, I'll post a picture.
I'm procrastinating on the socks. The heels still aren't turned. Bad Kae, no biscuit!
Ok, have to go get ready for Jenger's son and daughter's birthday parties. Her daughter is going to be… 11? Her son is going to be 5. This should be fun… D is nine kinds of hyper about it; Jenger's son is one of her "boyfriends". Of course I am too; I get to hang with Jenger all afternoon… LoL.
Laters…
FaerieLady posted at 7:34 AM
0 Speak to the Faerie Queen
So here's the deal...
Seems that either I'm going crazy, or my knitting is actually developing personalities. I'm leaning towards the knitting coming alive. I mean, honestly... after spending that much time/energy/et cetera on a knitted piece, wouldn't it be worthy of a little personality? It's like helocopters and airplanes... those suckers have their own personalities! Don't believe me? Ask any Army or AF maintainer!
Anyway, Soleil is irritated with me. She says that I never post progress pictures (except, well, the socks... and do those really count?) and she said she was upset because there was no "here's me casting on, here's Soleil halfway, see Soleil up to the arm divide..." So. Therefore. Here's Soleil, resting comfortably on the blocking towel, getting her little self into shape. I only needed to pin out the lace, the arm holes and neckline. She still needs to be seamed at the shoulders and the crochet edging added. However, that will wait. I have learned the virtues of block before seam!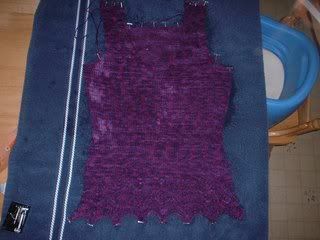 See? Soleil isn't just a figment of my imagination.
Now... what to cast on in her place... but don't tell HER that I said that!
Edit Note: Soleil wanted me to say she is not misshapen. It is only because certain parts of her didn't get as wet as the rest of her that some areas appear lighter and therefore kinda "warped" compared to the rest of her. She is very symmetrical, thank ya very much :-)
FaerieLady posted at 5:53 PM
1 Speak to the Faerie Queen
Well, it's 8:40 am and *now* I'm calm!
I woke up this morning in a slight "mood". You know those moods... the ones where you sit bolt upright in bed with the NEED to accomplish something. Most people I know are *smart*... they IGNORE these moods, roll over and go back to sleep. Nuh uh, not happenin' with me. Sorry guys, I don't make a habit of ignoring these moods. Add to the fact that I could hear a puppy barking by the computer room door (and therefore, the exit) and you can bet your sweet ass that I was beatin' feet to the door. These guys are almost housebroken when it comes to the shit-piles, and I would prefer to keep it that way. Now if only they would give me some kind of *warning* before they peed! Strangely enough, they don't even SNIFF. They just get up and squat. Wierd. (sigh)
So far this morning I've started a load of laundry, vacuumed all the floors except the bedroom where WingNut is sleeping (I closed his door) and steam cleaned the carpets. Nothing like the fact that I could swear my house smelled like puppy pee. I know it's probably my imagination, but to Hel with it. Steam cleaner, AWAY!
Jeez, I probably sound like a psycho. Oops. I guess you guys are used to it, aren't you?
Anyway, on the knitting front, I'm currently on the upper back of Soleil. I'm hoping to finish the back today, and start the fronts. I'm thinking I'm probably going to knit the fronts at the same time. All I need is to mark which is the left front and which is the right front.
I started the XBack tank, and decided that I abhore the moss stitch in this particular yarn. Can't see the detail very well in the upclose picture on Knitty, but it looks like ass. So back to the drawing board.
Stash enhancement... I'm up six skeins of Berroco Cotton Twist in True Red. I need one more skein of red and two of black. With my skin tone, the entire design (mine, btw) needs to be edged in black. If that red is right next to my skin, I'll look like a jaundice victim. Edged in black, I can get away with it. Prior experience, I know :-P Carol's, my LYS, doesn't have another skein of red and doesn't stock black, so I'll end up having to buy it online. Gods, I hope the red matches!
Sock news... I'm in the midst of turning the heel on the 3x1 sock (universal sock pattern). Have I mentioned that I hate knitting back and forth? My gauge changes (which is, of course, common) but I get *tighter* when I knit back & forth versus in the round. Therefore it's hurting my hands. Yeah yeah, I need some cheese with my whine.
Ok, going back to watching D watch Stanley (cool show, although the talking fish kinda weirds me out sometimes). I need to find something else to clean. I might bleach the kitchen floor. Gods knows it needs it!
Laters...
FaerieLady posted at 6:36 AM
1 Speak to the Faerie Queen