I figured I'd better post something other than the monster update about the crew over here yesterday… just as a side note, those guys were all here because as members of the armed forces, they are spending memorial day weekend far from home and are unable to celebrate the holiday by getting home.
Ok… I took a picture of the red and black tank. That picture wouldn't turn out, no matter what I did, so imagine a red and black tank (red on bottom, black at the middle) at the neckline. I'm trying to decide whether to frog back 4 rows to get rid of the last increase, or not.
This wonderful pressie was from Stinkerbell: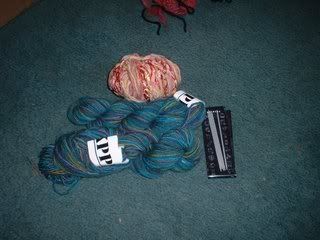 Ooooo lookit that! Two skeins of Koigu, teeny tiny 4 inch dpns for sock knitting (I wish someone around here carried these babies!) and a skein of novelty yarn that I'm supposed to use to make D something… LoL. I have no idea what to make her though! Thanks Tink, I loves you! *huggles*
This yarn: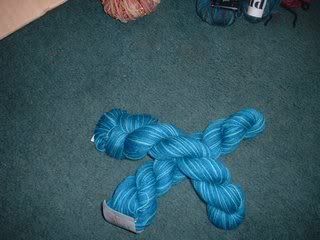 Destined to become the Cherry Blossom Shawl. There are actually 3 skeins, but one of them was in hiding when I took this picture! Knitpicks Shimmer in "Turquoise Splendor". This is a beautiful colorway, not quite as bright as the picture says it is!
Then we have this: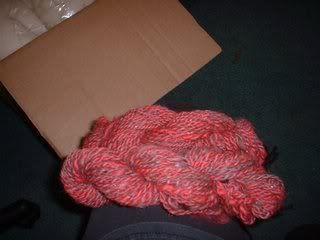 Specs: 2 ply skeins, approx. 100 yards per, out of Kitchen Sink batts. This is about heavy worsted/light chunky weight. This is destined to become either a poncho or hat/scarf/mitts for the small pink-loving child.
Ok, gotta run for a bit… More yap and pictures soon!
FaerieLady posted at 8:28 AM
1 Speak to the Faerie Queen
1 Comments:
You are more than welcome.I hope the colors are you! And I will get you more of those needles any time you like if want :) I think they are the bestest for sock knitting!