Well, almost!
Ok, first things first. I gotta say this before I absolutely BUST.
Thank yous go out to *everyone* who has helped in the garage sale to buy a wheel. You guys are absolutely awesome, and you know who you are. There is still some stuff left… but the urgency is definitely off. Why?
Because you see… a dearly beloved friend of mine (old enough to be my mother, literally I am only 2 years older than her son) had a "hare brained idea". This hare brained idea is probably the kindest thing that anyone has *ever* done for me. The evidence of this truly wonderful person is: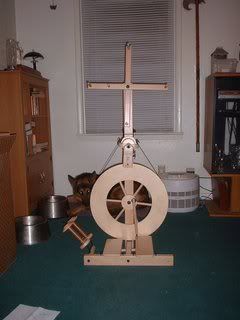 My New Baby
Stats: Louet S51 Double Treadle with skein winder. I put it together all by myself this evening! I'm trying to think of a name. Most wheels seem to be named after women, but I have this urge to call it Vanyel (Mercedes Lackey, Heralds of Valdemar one of the trilogies, wonderful depiction of a gay man serving his country to his absolute best capacity). Isn't it gorgeous?!?
I am beyond floored, and still can't seem to wrap my mind around the fact that this wheel is *MINE*. (swooooon)
Ok, enough gushing over my wheel. I'll gush more later. When I post the picture of my tattoo. LoL
Second…
KnitSteph
has started a Cherry Blossom Shawl Knitalong! Count me in babies…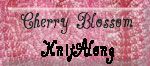 Gotta crash… gotta finish the Great Stash ReOrganization at Aubrey's tomorrow… got half of it done today, the rest should be finished before 5 pm tomorrow evening. I'll have the DH upload the pic of my tatt onto the computer (his computer has the software and the connection) and post it before midnight tomorrow.
Huggles… Laters!
FaerieLady posted at 10:43 PM
4 Speak to the Faerie Queen
4 Comments:
Love those books! And his boyfriend.

What a sweet gift. It's a beauty!
wow! lucky you! that's a great wheel!! can't wait to see your wheel-spinnings! :)
Congrats on the wheel!

If I still had my Fricke Petite, I'd pack it up for you...but it went visiting 2 years ago and never came home. *sigh* It's OK - I found a PG standard and replaced it..but the Petite was the perfect size for me.

I saw a carder for sale the other day....cheap. I can't find it now...but I'll keep looking.

Verna
www.fiber-addict.net/journal.html
Yeah for Kae. Spin spin spin.

D