Yep, have one of those to go with the body piercings. Actually, the tattoo pre-dates the body piercings!
The tatt is a triquetra, with an inverted triquetra in the center. It looks almost like an eye in the middle, but it's hard to get detail when you take the pic yourself. I couldn't get it any farther out... my arm wouldn't bend that way.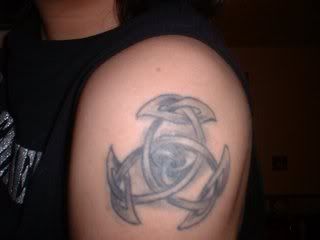 So who else is gonna show their tattoos?
FaerieLady posted at 5:54 AM
1 Speak to the Faerie Queen
1 Comments:
Hi Kae - Just wanted to say I'm so glad you got a wheel. My lovely purple sock yarn arrived on Friday - I couldn't believe how quick it got here. Thanks again!