Well, here are some pictures to make up for the lack of any other content…
There are several things vying to be posted… all of them are important to me, so I'll just start. They aren't in any particular order.
First, I received pressies from Iraq!
DT
sent me the most gorgeous woven cloth from Iraq that will have it's own place of honor on my personal altar! This picture doesn't show the magnificent detail or the shiny threads… In fact, this is a totally crappy photo. I'll post a new better photo later…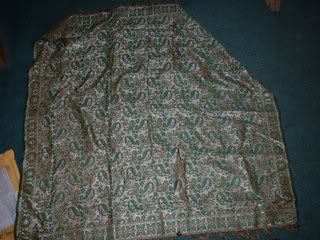 Then,
Rose
gave me a wonderful Mother's Day present that truly touched me. I have only gotten one mother's day present before and that was from DT. I've never gotten a mother's day present other then that. Rose decided to treat me to a full set of nails! Isn't it amazing how much self-worth people (and women in particular) tie into their appearances? Me, having nails makes me feel 100 times better, even if the situation that I'm in is crappy. My nails are acrylic, and they are frenched… in a way! Instead of white tips, the tips are bright sapphire blue!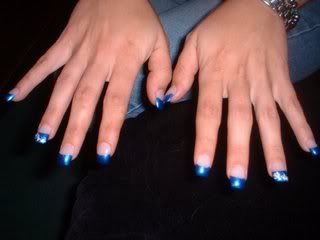 Soleil's photo shoot is finally going up on this website too… she's been done since the day after I posted the photo of her blocking. Here's me "test wearing" her. I'm wondering what I did though… I made the smallest size, got gauge… and she's a little big (not much, just not "zero to negative ease"!) and I used less than 2 skeins (500 yds) of Southwest Trading Company's Bamboo in "Purplexed".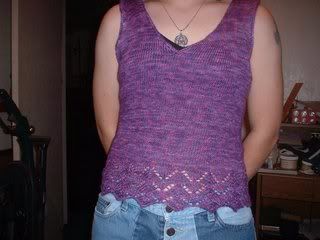 Here's the reason I've been sidetracked sometimes during the day… I found a Shetland fleece, raw, in the original box in the garage. I decided I needed something fiber-y to do, and decided to start processing this fleece on my own. I'm not the world's fastest fiber processor and I don't have hand combs. However, dog brushes work marvelously well as flick carders (although I still want a flick carder) and I'm considering purchasing a carding board from
Running Moon Farm
. I really was honest with myself… I would love a carder, but it's just not feasible for me right now. Not just the money… but space restrictions in the near future. So here's the Shetland fleece that I'm flicking…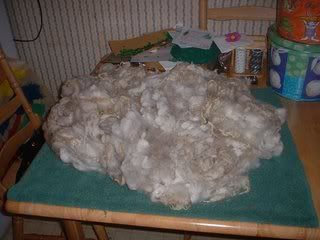 This is the bright white it turns when it's clean 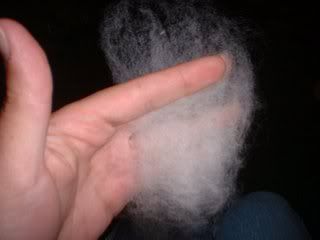 What I'm working on now is a tank of my own design, named after the person who gave me the yarn (DT). It's the Dragon's Heart Tank, knit in red Berroco cotton twist for the lace, and black cotton twist for the bust and straps. No pictures yet… after I get past the lace and have enough to stretch it out for the photo so it looks somewhat like it's gonna look, I'll post a picture.
I'm procrastinating on the socks. The heels still aren't turned. Bad Kae, no biscuit!
Ok, have to go get ready for Jenger's son and daughter's birthday parties. Her daughter is going to be… 11? Her son is going to be 5. This should be fun… D is nine kinds of hyper about it; Jenger's son is one of her "boyfriends". Of course I am too; I get to hang with Jenger all afternoon… LoL.
Laters…
FaerieLady posted at 7:34 AM
0 Speak to the Faerie Queen
0 Comments: