This is a crappy model shot of the scarf. Ignore the fact that I look like day old shit in this picture... I haven't been sleeping particularly well lately. Nightmares.
But anyway, here it is, done blocking.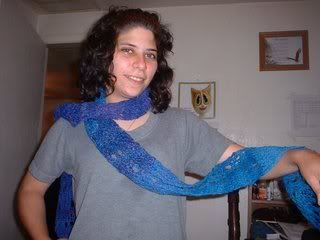 I really can't get a good picture of the color graduation. This scarf will be winging it's way to my recipient shortly. Maybe tomorrow.
I'm heading out the door to financial aid at the college. I'll think about giving up the scoop on it when I get back.
Laters!
FaerieLady posted at 6:19 AM
3 Speak to the Faerie Queen
3 Comments:
The scarf looks great and I am glad you have come to love the yarn you spun. LOL You look better with little sleep than I look on my best day. ;-)
Great scarf and the hair is looking good as it grows out.

Good luck on the school adventure today.
Scarf looks great!