It's actually been a few days since I had these thoughts, but I wanted to wait until I had the pictures before I actually posted them.
I'm sure those that actually read this boring tome remember a week ago my moaning and groaning about spinning "balanced" yarns, "perfect" yarns. Remember that? Wasn't I being whiny? Didn't you want to just lay one across the back of my head? Rereading it now, *I* want to. What a whine.
Why? Because I've had a revelation… and my revelation has probably been had by a lot of spinners out there, I know of quite a few of them. This revelation is very simplistic and streamlined.
It's not that the yarn should be perfectly even or perfectly smooth, just that it's perfect for you.
I hated this yarn. Thick (not really "thick", just thicker in spots) and thin, my ply is a little overdone, yada yada. I decided to make it into a lacey scarfy thing just because, for no particular reason a'tall. I didn't want to felt it, but I didn't want to just leave it hangin' around. I needed to do something with it. So, I made up a simplistic little variation on the drop stitch scarf pattern and cast on. Easy peasy… instead of garter st for four rows, k1 yo one row, then knit dropping the yo's… this one goes moss stitch for four rows, k1 *yo k2tog across to last stitch*, k1, then the 6th row resumes the moss stitch. Because I had an even number of stitches, I varied it between k1 yo and k1 k2tog at the beginning of the rows. Every other repeat, I changed it. Symmetry, ya know. I did it on 11's.
I cast on and started knitting. Four repeats into it, I hated it. Hated it, hated it. But me being me, I was determined to get farther into it before I ripped it back. I set it down on the desk next to me, put a point protector on the needle, and proceeded to play with it while I was thinking about other things. I looked down right as I was stretching it out for the millionth time… and I liked it.
This is what I saw: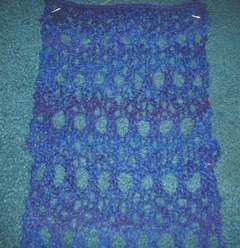 It's beautiful to me, and that's what counts, isn't it?
Why did I think I needed "validation"? I mean honestly, I spin because I *like* to spin. The yarn is a byproduct that I can put to good use, because I *like* to knit.
Now it's finished, at roughly 15 inches wide and 70 inches long, blocked.

I'm at an angle, so it looks wonky. Couldn't back up far enough to not take it at a weird angle.
After I finished it and prior to blocking, I soaked it in steaming water with citric acid (there was residual color bleed). Then I soaked it in hot water and dish soap, and a clean water rinse. I spun it out in the washing machine and tacked it out to dry using T pins to block it out. The hand is so soft, the yarn plush. It looks beautiful, and because of the way I spun it, it fades from turquoise to plum from one end to the other.
It's beautiful.
To all you newbie spinners out there, and all the spinners that get discouraged because you didn't create the "perfectly smooth, perfectly even" yarn that you thought you wanted… please don't criticize yourself. Press on; you'll be amazed at the results.
I'm not a machine. I'm not going to create the perfect commercial yarns… it's just not "possible" to me. But by all the God/desses out there, I'm going to create yarns that are perfect to *me*, for me.
That kind of freedom is to be cherished, and I'm cherishing it.
Much love to you all.
FaerieLady posted at 11:25 PM
4 Speak to the Faerie Queen
4 Comments:
It looks beautiful! You should be proud. Do you know, I haven't even tried knitting with my hand-spun yet? And it's been 7 months since I started! You're braver than I am. (grin).
Your scarf looks wonderful. I took try and make a balanced yarn but realize it can't be "perfect". But am really happy that it is a product that I love.

Your scarf is amazing.
The scarf looks beautiful! And I love the thumb cozy. :)

-your secret pal
I love the color and I think the scarf is beautiful. You are becoming a very accomplished knitter/spinner. :-)
Kate (aka Aeryll/Kathleen)