This is my anniversary present... it's it beautiful?
Specs... 2005 Chevy Cobalt (traded in the s-10). 5 speed standard, silver exterior, gray interior. This car is a beauty, and it runs like a champ! I love it :-)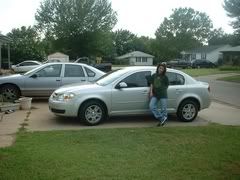 FaerieLady posted at 11:14 AM
4 Speak to the Faerie Queen
4 Comments:
WOW, that is what I call an anniversary present. :)
Sweeeeeeeeeeeeeettt!

Happy anniversary!
that's great! happy anniversary! :)

gorgeous rovings, too :)

[hmmm I can't remember if I emailed you or not, but I did receive the sock yarn I took off your hands a few weeks back... I thought I mailed you, but I fear I didn't. :( thanks! :) ]
Happy Aniversary, and congrats on the new car! Ah, there's nothing like a brand-spanking-new car, with everything all pristine and clean and perfect, and that fab new-car smell... Enjoy!

-your secret pal