First, I received a wonderful little card in the mail from
Michele at Beknitted
Thanks Michele! It really brightened my day :-)
Then, my SP5 struck!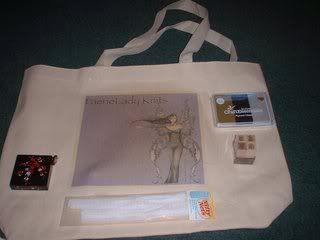 Lookie! She did an iron on transfer of the faerie design of my main blogs! That's too cool... if I ever manage to go to a fiberfest, I'm definitely bringing this bag! There's also a stamp pad, teeny rubber stamps with Chinese symbols on them (good luck, hope, love, longevity), a stamp pad, and a cool measuring tape! I giggled at the "nifty nets"... how'd she know that I sometimes have problems with that?? LoL
Thanks Secret Pal!
Merlin looks to be settling right in...
FaerieLady posted at 8:11 AM
2 Speak to the Faerie Queen
Time to relocate all my current projects to "safe places"....
Say hello to Merlin!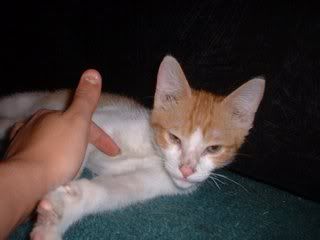 FaerieLady posted at 10:47 AM
3 Speak to the Faerie Queen
YAY! The merino Muppet Guts is officially *off the wheel*. The singles, which are sadly not yet photographed, are currently having their twist set in the mudroom. I'm very proud... the last skein was pretty much balanced. The other two skeins are still kinda twisty, but apparently I'm getting better...
Must be that whole "practice" thing. Who woulda guessed? ::snort::
I also finished the other two oz of brown/black Wensleydale, and am aiming to finish the other 4 oz of pink kitchen sink batts. I guess that means I'd better get a move on, otherwise I'm not gonna get it done tonight. It's not a big accomplishment... the kitchen sink batts are being spun as worsted singles.
When the singles are done setting (muppet guts) I'm going to start the Cobweb Shawl. The black/brown wensleydale will become fingerless mitts and a matching hat. The kitchen sink batts will become something girlie. Not quite sure yet, since I want to felt it.
Laters!
FaerieLady posted at 6:46 PM
1 Speak to the Faerie Queen
Primarily to
KnitSteph
who helped me put all this together. I hope everyone enjoys the new look!
FaerieLady posted at 10:20 PM
1 Speak to the Faerie Queen
I'm going to attempt to change my blog name. If it works, my blog url might change, might not. We'll find out, won't we?
If it works, the new blog url will be
http://faerieladyknits.blogspot.com
.
Here's to hoping it works...
FaerieLady posted at 5:47 PM
1 Speak to the Faerie Queen
When I first read the Harlot's description regarding the black hole of knitting, at first I didn't quite "catch" what she was saying. I thought that maybe she was just exaggerating things. I mean, seriously....
a knitting black hole?
Riiiiight.
So imagine my surprise when it happened to me. Go ahead, insert your favorite string of cuss words
here
.
KnitSteph
found me a pattern for the scarf exchange. I literally *could not make up my mind*. All the possibilities, and to be honest part of the rut that I'm in happens to be indecisiveness. So when Steph offered to help find me a pattern, I decided that the pattern she found would be the one I did... good thing she had pity on me and chose an easy (but very good looking!) pattern!
There aren't many people involved in the scarf exchange so I'm not going to post a picture anytime soon. Main reason: I'm pretty sure because of the weight and color preferences that this particular recipient would be able to guess from the picture that she was my "match partner".
Last night, I found myself deep in the "black hole". Seriously, I knit, knit knit knit... and it didn't seem to grow. I finally placed a safety pin on one of the rows, and after that is when it finally, finally! appeared to be increasing in size.
The Harlot was right. There is a knitting black hole. That will teach me to doubt her ever again. LoL
FaerieLady posted at 7:26 AM
2 Speak to the Faerie Queen
Since last week I've knit maybe six rows on the Shell Socks, spun maybe a quarter oz of merino top, and have otherwise not felt the motivation to do anything.
I'm excited about the Scarf Exchange, so I need to get on top of that pronto. Other than that, I'm not really feeling the "urge" to do anything. I'm in a rut.
Projects stalled right now:
Pi Shawl out of Knitpicks Merino Style in Coal.
Shell Socks
Projects frogged:
Cabled Newsboy Cap
Mystery Stole
What's on the wheel:
Spinning up the last 2 oz of merino top in Muppet Guts.
Like I said... I'm in a rut. I need to find something new, interesting, exciting! That I actually want to finish, anyway... LoL
Laters!
FaerieLady posted at 6:26 AM
0 Speak to the Faerie Queen
I created another blog. That brings me up to 3, which isn't all that bad considering...
I have the
Faerielady Fibers
blog for my fibers. I have this one for my groups, webrings, knitting, crafty shit. But I've never been very comfortable posting about my real life on this blog. This blog was designed for other people, not for me. Maybe I shouldn't have such a hangup about posting about my real life on here... I have done it before. However it just gets harder and harder to post those things on this blog without feeling like the posting Nazis are going to get me.
So I made a blog for me. The real me, not just the crafty me. The real me is sometimes a boring idiot, sometimes a raving lunatic, sometimes a real odd ball (hey, I'm almost always an odd ball), sometimes a total geek, sometimes a nutjob. Sometimes I'm funny, but most of the time I'm not. I'm just me. My new blog will (hopefully) show that.
Faerielady Speaks
is the new blog. Read it if you want to, don't if you don't want to. Hell, I'm not gonna hold a gun to your head and tell you that you *have* to... that's not how it works. But it's there nonetheless.
See ya 'round!
FaerieLady posted at 6:50 PM
0 Speak to the Faerie Queen
Yeah, I know I'm married, but that doesn't mean I can't drool over hottie men, now does it?
What's so surprising is my tendencies towards what I would describe as a "hot man" has no bearing on the man I married. WingNut is 5'11", white with some olive tones to his skin because of Slovac heritage, brown hair, hazel eyes.
My idea of hottie eye candy? Tall, dark, and Asian. Oh my gods, nothing makes me drool faster than a hot Asian man.
I watched Charmed Wednesday night, which is unheard of. I don't particularly like Charmed in the first place. That night was a repeat of the third episode, where Piper falls in love with a ghost. The ghost was played by
John Cho
, who I happened to google after the episode.
Ok, so he's only 5'10". So what? I'm only five foot tall... I think 5'10" is tall... LoL
Hot hot hot! Yum yum... (sigh). Oh, he's the lead singer in a band too...
Left of Zed
. They actually have pretty good music and you can listen to parts of the songs on their website. I really want their CD now. If only I had the $ I would get it. May have to sell some stash... ROFL
But that's the hottie alert from me...
Laters!
FaerieLady posted at 10:22 PM
3 Speak to the Faerie Queen
I've been busy. No excuses for my lack of blogging... I just haven't had the time or energy, really. But anyway...
New things:
Thumbnail is gone. My thumb looks absolutely gross, but that's ok. It doesn't hurt, and a new nail is *finally* growing.
I turned the heel on two socks, the Shell socks out of Lorna's Laces Valentine colorway. They look good. I'm halfway to the toe decreases.
I started another sock, Seaweed Rib, out of Regia banner sock in the gray/black/silver stripe. So far, looks good.
Dyed lots of Falkland wool. That will be up for sale soon. Maybe tomorrow. Maybe not. Hopefully tomorrow.
D is due back Saturday. That explains the wild urge I got to paint her room. Her room is now light purple with light pink trim, a real girlie girl's room. She'll love it. I painted it all today, therefore my hands hurt.
I got a new cell phone because I switched carriers. Cingulair bought ATT, but they were required to sell several "market areas" to other companies to prevent a monopoly. My area was bought by AllTell. This isn't good for me, and add to that the fact that my old cell phone has decided that it no longer wants to dial out. So I have a new phone, free courtesy of T Mobile. It's a Sharp Mega-Pixel Camera/Video phone. I can't play with it until tomorrow. (sigh) The joys of letting it charge.
I'm dead on my feet, so I think I'm gonna hit the sack early. Pictures, etc coming tomorrow...
Laters!
FaerieLady posted at 6:15 PM
2 Speak to the Faerie Queen