First, I received a wonderful little card in the mail from
Michele at Beknitted
Thanks Michele! It really brightened my day :-)
Then, my SP5 struck!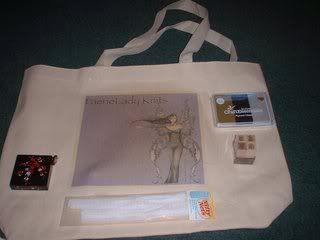 Lookie! She did an iron on transfer of the faerie design of my main blogs! That's too cool... if I ever manage to go to a fiberfest, I'm definitely bringing this bag! There's also a stamp pad, teeny rubber stamps with Chinese symbols on them (good luck, hope, love, longevity), a stamp pad, and a cool measuring tape! I giggled at the "nifty nets"... how'd she know that I sometimes have problems with that?? LoL
Thanks Secret Pal!
Merlin looks to be settling right in...
FaerieLady posted at 8:11 AM
2 Speak to the Faerie Queen
2 Comments:
Glad you like the gifties! I know I'm a bit late in getting started with spoiling you -- sorry about that, I can't begin to describe how busy things got this summer, I'm out of the country every couple of weeks, etc. Gah! Anyhoo, there will be more stuff on the way soon...

-your secret pal
LOL, love the pic of the kitten and your big dog!!! They look like they will be the best of friends. :-)