I've seen Lord of the Rings many, many times. So many times in fact that I no longer have to look at the screen all the time to know what they are doing and saying.
I figured that out this morning, and decided to start knitting on the LL socks. Lookie lookie... they're done! I am soooo proud!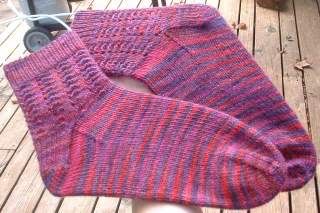 This is the closest that I could come to the real color of the socks.
Specs: 2 skeins LL sock yarn, colorway "Valentine"
Pattern: Seashell socks (I did not carry the pattern down the foot)
Knit on U.S. size 1s
There's enough left over to easy knit a pair of tube socks for D. Tube socks because she'll get more wear out of them and I won't have to worry as much about her outgrowing them so fast. I'll start on those later. My hands hurt. LoL
I shall no longer bemoan my LL socks, because they are FINISHED! Woot!
Laters!
FaerieLady posted at 2:25 PM
2 Speak to the Faerie Queen
2 Comments:
Pretty!! :-)
The socks look great! Nice work!

-your secret pal