You see, I have this small sock problem...
I get to the foot part of the sock, past the heel and gusset and before the toe decreases... and I stall. Boooooring. So I have currently three socks stalled at that point.
See look...
There's two of these, stalled at the same place: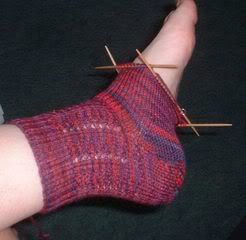 and one of these, stalled just a little further down...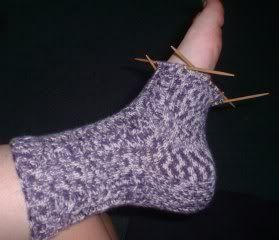 What can I do to bribe myself to finish these babies? I mean seriously, I have the desire to wear them after they're finished... but getting them to that point is slow and boring for me. Ugh. I even put in the cable that can't be seen on the opal sock to add "interest" while I was knitting the foot, but even that's not working.
I love socks, I love knitting them, although I do hate the heel flap part. I need to learn to loosen up a bit when knitting back and forth (I knit loose in the round, tight back and forth).
FaerieLady posted at 10:37 AM
2 Speak to the Faerie Queen
2 Comments:
I like knitting that part of the sock at the movies or while watching a movie. Turn the lights out and bam - magically I am done with the foot at the end. The one with the cable might be a bit of a problem but if it is just Stst a movie or something keeps your mind while the sock keeps your hands busy.
For me it often has to be a good movie for these situations. Tonight I have 2 straps for a felted bag to knit--8' long each. Good thing I have Six Feet Under.
Thank you for the comment:)