A new statue unveiled in Trafalgar Square... absolutely stunning. I love it.
Disability, Femininity and Motherhood Statue and article
Please click on the face of the picture for a full view. I am still in awe.
FaerieLady posted at 10:37 PM
0 Speak to the Faerie Queen
The coordinator for the scarf exchange got back with me. It's all taken care of. Thought I'd mention that. LoL :-)
Also, Jule at
Stoneview
sent me a beautiful origami crane! Thank you so much Julie :-)
FaerieLady posted at 4:42 AM
1 Speak to the Faerie Queen
Ya know, I mailed my scarf out for the scarf exchange on Monday the 17th. I sent it global priority.. around 5-7 business days. I don't expect an instant response... in fact, I know better than that. However the person I sent to hasn't blogged since the begining of August (the 3rd, actually) and emails to her have gone without a response.
Add to that the fact I've emailed the SE persons three times so far (twice enquiring about the person I sent to, once to change my address) and I haven't even gotten a 1 word reply...
Jiminy crickets! I understand busy! I have five journal entries to write (all over poetry in two chapters, assigned today, due Thursday at 930am), well over 50 algebra problems due Thursday, 2 chapters in AMHIST pre-civil war, and my lovely Religious Philosophies of the world homework and chapter summary, That's just the stuff I have to read that was assigned today and due Thursday. Add to that a five year old child and the "man who lives in the house" and you'll see that I just haven't got the time to do much, and what time I do have I want to spend with my (few) friends and D.
But I sure as hell can answer an email with "ok will look into it", or even a simple reply saying that they are too busy... anything would suffice! Even a fuck you.... *sigh*
I just hate to think that I put that work (and believe me, after half the scarf, it was work... the pattern was a bit... boring? but beautiful, and worth the time) into a knitted object, by all that's out there I'd like to at least *know* something.
No more secret scarf exchanges. I might try the next secret pal, but I'm definitely not doing another scarf exchange. I haven't heard a peep from the person sending to me, but I'm still going to try to maintain a positive attitude about that.
Later.
FaerieLady posted at 5:16 PM
2 Speak to the Faerie Queen
Pure Nerd
86 % Nerd, 13% Geek, 26% Dork
For The Record:


A Nerd is someone who is passionate about learning/being smart/academia.

A Geek is someone who is passionate about some particular area or subject, often an obscure or difficult one.

A Dork is someone who has difficulty with common social expectations/interactions.



You scored better than half in Nerd, earning you the title of: Pure Nerd.


The times, they are a-changing. It used to be that being exceptionally
smart led to being unpopular, which would ultimately lead to picking up
all of the traits and tendences associated with the "dork." No-longer.
Being smart isn't as socially crippling as it once was, and even more
so as you get older: eventually being a Pure Nerd will likely be
replaced with the following label: Purely Successful.


Congratulations!



Thanks Again! -- THE NERD? GEEK? OR DORK? TEST
My test tracked 3 variables How you compared to other people your age and gender:
| | |
| --- | --- |
| | You scored higher than 96% on nerdiness |
| | You scored higher than 7% on geekosity |
| | You scored higher than 36% on dork points |
FaerieLady posted at 6:15 AM
0 Speak to the Faerie Queen

Independent yet still part of a large community, frogs are unique creatures known for their distinctive sound and ability to hop. As a frog, you spend your days sitting on lily pads or climbing trees, searching for delicious insects to eat. While there are some frogs that aren't exactly cute, you are certainly not one of those!
You were almost a:
Bear Cub
or a
Kitten
You are least like a:
Puppy
or a
Lamb
Cute Animal Test!
FaerieLady posted at 4:25 PM
0 Speak to the Faerie Queen
*crosses fingers so I don't jinx myself*.
Well, the move. It went ok. No one died and I didn't commit mass mayhem, but it was a clusterf*ck. The man who lives in the house and I aren't getting along too well. Too bad, so sad. Not. I'm not surprised.
I've done a serious amount of knitting in the past few days. Well, when I'm not trying to get situated, that is. I'm into the third skein of Misti Alpaca on the blue cabled scarf for DT. I haven't taken a picture because... I can't find the digital. It's in here somewhere. I think. So, use your imaginations and think of the earlier scarf picture and make it longer, roughly 43 inches. After this last skein, it should be around 60+ inches, and should block out around 68-72 inches.
Hopefully tomorrow I should be able to cast on for the hat. He wears a 7 1/4 in mens hat size... anybody have any idea what that is in inches? I could look it up, but I'm a little on the lazy side this morning.
D is now going to another school. This school is in the area we moved to, and is a part of a much better district than OKC Public schools. She started Monday and loves it! It's a full-day kindergarten program, and every day I can tell that she's learning much more in the way of "new things" than she did at the other school... 4 days there, and she's made more progress than she had during the month at the old school! I'm so proud of her :-). The teacher wants to test her (standard of practice in Mid-Del) for speech, and if she's found "lacking" (she will, she has a major problem with combination consonents and certain single consonants are slurred) she'll be provided with speech therapy classes at the school during the week. Isn't that awesome?
Oh, I have to take part of the blame for her speech issues. Yes, she suffered a large amount of hearing loss when she was a year old, and luckily she recovered from that and has only minor hearing loss (roughly 10% in one ear, 15% in the other). However, the problem with the combination consonents happans to be partially my fault. I am clinically tongue-tied. I hope to have that fixed soon. It definitely interferes with my ability to become fluent in other languages, and when I get excited or talkative I slur my consonents because I can't properly move my tongue in my mouth. Oh, to be clinically tongue-tied means that the frenulum (the webbing that attaches your tongue to the bottom of your mouth) is too tight and goes too far forward on your tongue. I can't stick my tongue out and have it protrude out of my mouth. It's literally not possible for me. People don't tend to think this is a big deal, but just try talking with restricted tongue movement. The tongue is an integral part of sound formation. The good news? It'll only take a few minutes to fix with a local anesthetic and a pair of surgical stitches, and most likely won't even require stitches.
I consider it partially my fault because I am the one she talks to at home, and she seriously imitates my speech patterns.
Ok, enough about all that crap. I need to get ready for school, and D's bus will be here in about 15 minutes.
Laters!
FaerieLady posted at 6:05 AM
1 Speak to the Faerie Queen
My hair was fried from the perm I got in February. After much discussion with a cosmotologist, we decided to cut it back to undamaged hair. This is what I have left...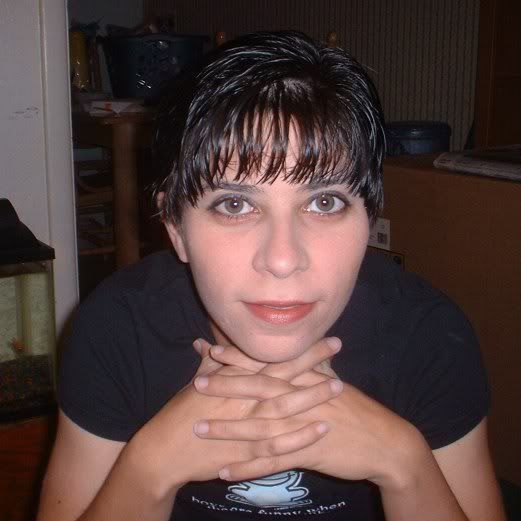 Ignore the bags under my eyes. I'm pretty tired.
Laters!
FaerieLady posted at 9:24 AM
4 Speak to the Faerie Queen
First, a belated thank you to Christina C. for my lovely e-card... I mentioned it on the yahoogroup for FiberRAOK but forgot to mention it here.
On to other news...
I got my final SP5 pressie, and my pal is....
Heide
! What a sweet and thoughtful pal I had! She sent 2 skeins of Koigu KPPPM in variegated greens (to keep me knitting socks!), a small bottle of Kookaburra Wool Wash, 3 WONDERFUL stitch markers (hottie Asian alert!), and a little packet of cards that is just sooo cute... little ball of yarn in a coffee cup. Heide, you ROCK!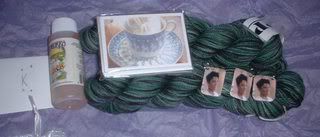 My own pal was Brittany of
Yarn Balls
... a very receptive and sweet recipient, who has restored my faith in the SP process. Brittany rocks too :-)
Stash enhancement and projects
First... a little project and stash enhancement went on recently at Chez FaerieLady, in the form of retail therapy!
First, I bought five skeins of Misti Alpaca chunky (100% baby alpaca), colorway Blueberry for a hat/scarf/mitten set for my mostest wonderful sweetest bestest friend in the whole world... DT. Yes, I know he's in the sandbox. However, it DOES get cold in the sandbox, and DT deserves the best. So. That's that. The pattern for the scarf is the
Good Ole Cabled Scarf
from YarnAGoGo. The yarn is a little deeper than this picture, it was overcast so I had to take the picture inside.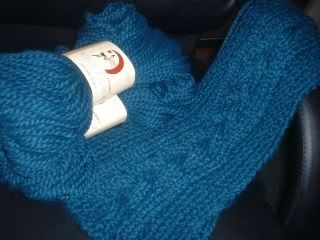 Then... there was a pound of this roving that found its way to my front porch... blue/fuschia swirled targhee roving. I'm sure you can't quite see the fuschia, but believe me it's there....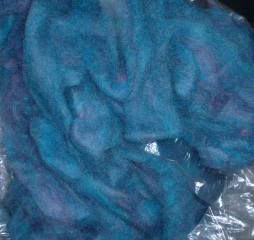 Last, but not least... a pound of gray shetland and 2 1/4 lbs of cream GCNI purchased by DT from The Benevolent Dictator is currently sitting in my computer room....

Ok, that's enough vicarious fiber p*rn....
Laters!
FaerieLady posted at 5:54 PM
2 Speak to the Faerie Queen
My bestest friend in the whole world was on 2 weeks mid-tour leave from Iraq. I'm so glad that I was able to see him and hang out with him while he was here.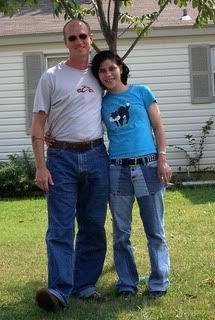 He had to leave Thursday, spent Friday at DFW waiting for a flight out, and is now back over in the sandbox. I miss him terribly. *sigh*
On other news, the house closes on the fifteeth (i.e. Thursday). Only got word of this yesterday. That means I'm going to be away for at least a week so I can pack stuff, stay on top of my homework, and all that crap.
Laters!
FaerieLady posted at 5:46 AM
1 Speak to the Faerie Queen
The rainbow batt is done, and looks like so: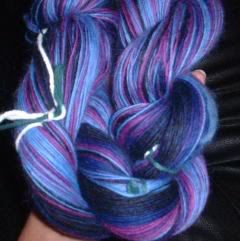 The colors are actually pretty even, the bright blue doesn't actually take over the entire skein. There's approximately 350 yards here, thinking about a lacey scarf. Not quite sure yet. However, it's done and I'm happy, and that's what matters :-)
Laters!
FaerieLady posted at 3:49 PM
2 Speak to the Faerie Queen
Here's the scarf I knit for the scarf exchange. It's not nearly this bright in person... it's actually shades of red and burgundy, not hot pink-ish.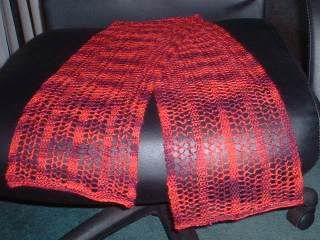 That's all I've really got to say today. Too much homework to do. One of my profs actually said since we're going to have so much "free time" because of the holiday, that she wanted to give us stuff to keep us busy. :sigh:
FaerieLady posted at 6:41 AM
0 Speak to the Faerie Queen
I'm keeping it light here. I'm swamped with bad news, from my own trivial car wreck to the horrendous disaster in NO. So, please don't expect any of that talk on my blog, at least not on this blog. I need a free zone from that, and I won't be talking about it.
When the Benevolent Dictator went to Stitches Midwest, one of the three items she picked up for me was a
Grafton Fibers
Rainbow batt. I'm currently spinning it in stripes, and it looks like so: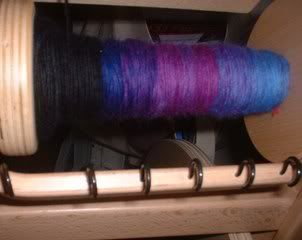 Then, because I did her a small favor,
Stinkerbell
sent me a skein of Opal Rainforest in the Flamingo colorway, a set of Addi dpns size 1, and a 30 cm Addi turbo size 1.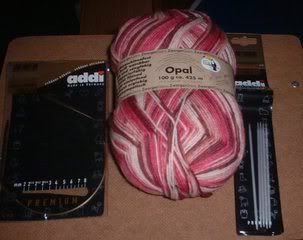 Last, but not least, my best friend got me a pressie... Aruacania Nature wool #17, enough for one of the Adrienne Vittadini patterns.
I also treated myself to a little pressie from
The Silkworker
, a fiber blend called Shell Seeker. I rarely buy stuff for myself, and they usually end up getting made into stuff for other people (I rarely make anything and keep it), but I think I'm going to be keeping this one.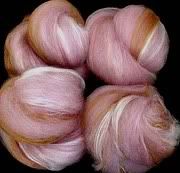 If you notice, it's pink. I don't know what's gotten into me lately... anybody who knows me knows that I normally dislike pink fanatically. Maybe it's growing on me like mold... but I'm finding myself liking the cool pinks. No wonder I couldn't resist this blend.
The silkworker blend I was working with before (Nokomis, couple entries prior to this one) is finished. Approximately 1400 yards were spun out of this blend, and the last two skeins are currently drying. I really love how that blend spun up, and I can't wait to knit with it... however, I have other projects on the needles that I need to do first... like mittenettes for my daughter, niece, and nephews (niece and nephews that way they'll leave my sister's alone). My sister Melida also needs another set of mittenettes that are lined. She wants to put them over her wrist guards that she wears at night (carpal tunnel). I also need to make D a new hat/mitten/scarf set that she can wear this summer (think pink and purple stripes... disgustingly girlie, but she's soooo excited). My mom needs a new scarf (easy peasy). WingNut's sweater (miles of moss stitch), DT's sweater (I need to spin the yarn first, so I figure I'll work on WingNut's and spin DTs, and when I'm done with one, I can start the other).
Gods, I'm tired just looking at all that. Not to mention the Shetland Garden faroese shawl (currently frogged, need different needles), and a stole out of the silk/wool blend I just finished.
I'll get there. Slow and steady wins the race, right?
FaerieLady posted at 10:52 AM
1 Speak to the Faerie Queen
So I thugged a meme from
Danielle
who thugged it from
Rox
.
First Car: 1981 Toyota Corolla 2 Door blue, standard transmission, rack & pinion steering, vinyl interior that would fry your ass in the middle of the winter so just imagine in the summer! I loved that car. About 5 1/2 years ago I was t-boned by a pickup truck that lost control in the rain, and my car was totalled. That Toyota model is a unibody, and the accident caused the entire frame to shift. There was no fixing it. ::sigh::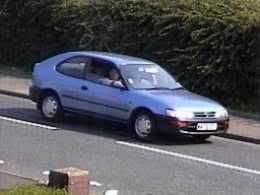 Where was I born: Yokota AFB, Japan.
Where I am now: Oklahoma City, Oklahoma.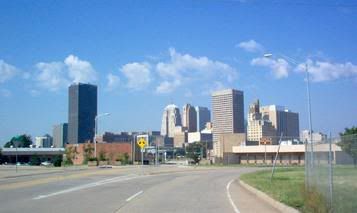 Sidenote: In OKC because of the: AWAC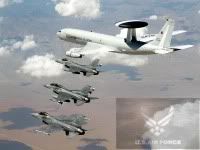 Fave Food: Bulgogi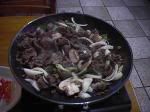 Fave Shoe: Z Coil Freedom in black. These are the best work shoes I've ever had, and I was on my feet 10-12 hours at a stretch. I'm actually considering getting a pair of their work books after my loans are dispersed.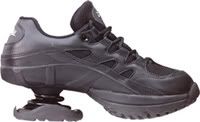 Fave Drink: Coffee!!

Fave smell: see above
I'm so not googling my first name. I know better. LoL
Laters!
FaerieLady posted at 4:07 AM
0 Speak to the Faerie Queen