I'm keeping it light here. I'm swamped with bad news, from my own trivial car wreck to the horrendous disaster in NO. So, please don't expect any of that talk on my blog, at least not on this blog. I need a free zone from that, and I won't be talking about it.
When the Benevolent Dictator went to Stitches Midwest, one of the three items she picked up for me was a
Grafton Fibers
Rainbow batt. I'm currently spinning it in stripes, and it looks like so: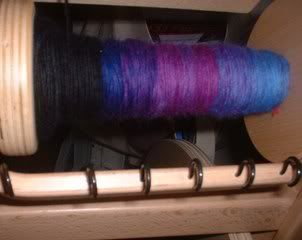 Then, because I did her a small favor,
Stinkerbell
sent me a skein of Opal Rainforest in the Flamingo colorway, a set of Addi dpns size 1, and a 30 cm Addi turbo size 1.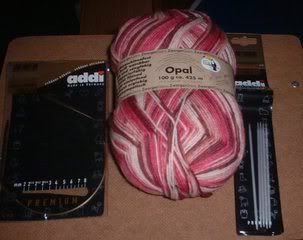 Last, but not least, my best friend got me a pressie... Aruacania Nature wool #17, enough for one of the Adrienne Vittadini patterns.
I also treated myself to a little pressie from
The Silkworker
, a fiber blend called Shell Seeker. I rarely buy stuff for myself, and they usually end up getting made into stuff for other people (I rarely make anything and keep it), but I think I'm going to be keeping this one.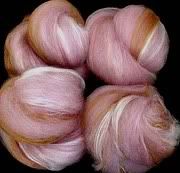 If you notice, it's pink. I don't know what's gotten into me lately... anybody who knows me knows that I normally dislike pink fanatically. Maybe it's growing on me like mold... but I'm finding myself liking the cool pinks. No wonder I couldn't resist this blend.
The silkworker blend I was working with before (Nokomis, couple entries prior to this one) is finished. Approximately 1400 yards were spun out of this blend, and the last two skeins are currently drying. I really love how that blend spun up, and I can't wait to knit with it... however, I have other projects on the needles that I need to do first... like mittenettes for my daughter, niece, and nephews (niece and nephews that way they'll leave my sister's alone). My sister Melida also needs another set of mittenettes that are lined. She wants to put them over her wrist guards that she wears at night (carpal tunnel). I also need to make D a new hat/mitten/scarf set that she can wear this summer (think pink and purple stripes... disgustingly girlie, but she's soooo excited). My mom needs a new scarf (easy peasy). WingNut's sweater (miles of moss stitch), DT's sweater (I need to spin the yarn first, so I figure I'll work on WingNut's and spin DTs, and when I'm done with one, I can start the other).
Gods, I'm tired just looking at all that. Not to mention the Shetland Garden faroese shawl (currently frogged, need different needles), and a stole out of the silk/wool blend I just finished.
I'll get there. Slow and steady wins the race, right?
FaerieLady posted at 10:52 AM
1 Speak to the Faerie Queen
1 Comments:
Good for you! I did the same thing. We all need healthy boundries and if this is healthy for us... well then it's a good thing.

BEAUTIFUL BEAUTIFUL BEAUTIFUL
The yarn you've spun and the fiber. I'm envious.