First, a belated thank you to Christina C. for my lovely e-card... I mentioned it on the yahoogroup for FiberRAOK but forgot to mention it here.
On to other news...
I got my final SP5 pressie, and my pal is....
Heide
! What a sweet and thoughtful pal I had! She sent 2 skeins of Koigu KPPPM in variegated greens (to keep me knitting socks!), a small bottle of Kookaburra Wool Wash, 3 WONDERFUL stitch markers (hottie Asian alert!), and a little packet of cards that is just sooo cute... little ball of yarn in a coffee cup. Heide, you ROCK!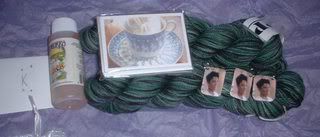 My own pal was Brittany of
Yarn Balls
... a very receptive and sweet recipient, who has restored my faith in the SP process. Brittany rocks too :-)
Stash enhancement and projects
First... a little project and stash enhancement went on recently at Chez FaerieLady, in the form of retail therapy!
First, I bought five skeins of Misti Alpaca chunky (100% baby alpaca), colorway Blueberry for a hat/scarf/mitten set for my mostest wonderful sweetest bestest friend in the whole world... DT. Yes, I know he's in the sandbox. However, it DOES get cold in the sandbox, and DT deserves the best. So. That's that. The pattern for the scarf is the
Good Ole Cabled Scarf
from YarnAGoGo. The yarn is a little deeper than this picture, it was overcast so I had to take the picture inside.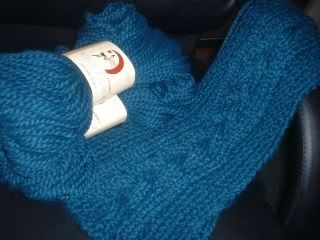 Then... there was a pound of this roving that found its way to my front porch... blue/fuschia swirled targhee roving. I'm sure you can't quite see the fuschia, but believe me it's there....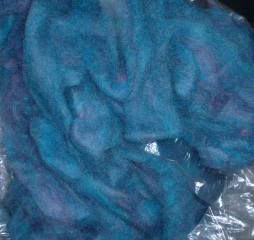 Last, but not least... a pound of gray shetland and 2 1/4 lbs of cream GCNI purchased by DT from The Benevolent Dictator is currently sitting in my computer room....

Ok, that's enough vicarious fiber p*rn....
Laters!
FaerieLady posted at 5:54 PM
2 Speak to the Faerie Queen
2 Comments:
glad to have restored your faith - not something people say about me often. :)
I'm glad the gift got to you, I hope you enjoy it! I have to say, you were a very challenging pal for me -- No sweet tooth, no smelly candly stuff, that was very hard for me!

My own spoiler had bailed out on me completely, so I must admit it took quite a bit of wind out of my sails when it came to spoiling you, and for that I apologize. I hope I wasn't too horrible a pal to you, though.

Keep on socking! :)

-heide, your SP6 secret pal