The rainbow batt is done, and looks like so: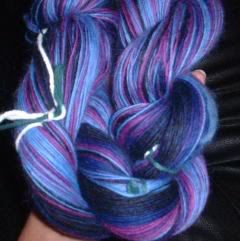 The colors are actually pretty even, the bright blue doesn't actually take over the entire skein. There's approximately 350 yards here, thinking about a lacey scarf. Not quite sure yet. However, it's done and I'm happy, and that's what matters :-)
Laters!
FaerieLady posted at 3:49 PM
2 Speak to the Faerie Queen
2 Comments:
Very Very pretty.
oooo- so much to aspire to! Thanks for the support on my blog (new spinner at Strung-Out)- before I started, I was afraid that it wouldn't "catch" and I'd have to sell my wheel on ebay- but thankfully, my spindle was a good place (although annoying) start to spinning... I felt like a duck to water- ok, maybe not that great, but I've been sooo happy all day!