First, I will say that I am very glad I finally got my scarf. However, having hosted a secret pal exchange in blogland, and several other swaps, exchanges, etc for the past six years, I'm very well aware of how it works. I just have bad swap luck, and always seem to draw the late-showers or no-goers.
I'm just happy I have my scarf. It came in today's mail and is beautiful.
Thanks for your comment on my blog, and sorry that this reply has to go on my blog but there is no email address to reply to.
FaerieLady posted at 2:29 PM
1 Speak to the Faerie Queen
I've been very very bad at posting replies to comments, especially when no email address is provided. If you know your email isn't going to be on the reply, could you add it in your comment? At least until I get around to installing HaloScan commenting.
First, Jerry said: The sock looks great! What yarn is that? I like the way it swirls! Hoping to finish my first sock today.
Jerry, the sock yarn is Elann.com's "Sock it to Me Collection Colori". They don't seem to have any in stock, but it comes and goes in waves from their site. I'll definitely post next time I see it offered.
Norma, yes the tattoo hurt. 6 1/2 hours of hurt! LOL It was very worth it in my opinion, and it's not actually done. The accent work will be done in about 3 weeks, at no cost to me, by the artist. It's a very large piece, actually, taking up 3/4 of the back of my calf.
Rissa, it definitely fits. My bestest friend DT designed it for me, and I am very proud of his work. It epitomizes the rebirth from the ashes of the real me, ready to face the world. I had it done in my two favorite colors, blue and green. I love it!
Major kudos to DT for an awesome design, Boog at Southside Tattoos for awesome linework, and the co-owner of the shop, Steve, for his awesome job with the colors of the tattoo. All of them totally ROCK. Yes, I overuse the word "awesome". LOL
Laters!
FaerieLady posted at 8:18 PM
1 Speak to the Faerie Queen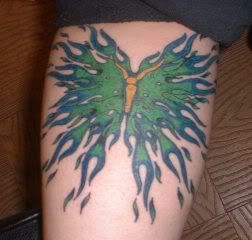 Here's the newest addition to the body decoration.
FaerieLady posted at 11:01 PM
3 Speak to the Faerie Queen
This week is a holy week for my Dad's religion, and part of it includes the exchange of gifts to close (i.e. immediate) family members. Wanna know what my gift was this year?
See it and weep my friends...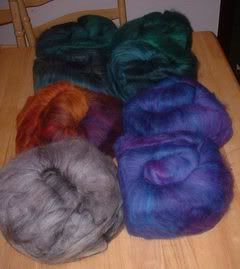 Grafton Fibers batts! 4 of the green in the back, 2 of the blue/purple on the right, 1 that's kinda not pictured well (it's shades of orange and brown, gorgeous!) and 1 that's shades of black, white, and grey.
My parents know me toooooo well...
FaerieLady posted at 8:51 PM
4 Speak to the Faerie Queen
This is the product of sitting half the day with D watching movies... I went from half a cuff down to almost half the foot :-)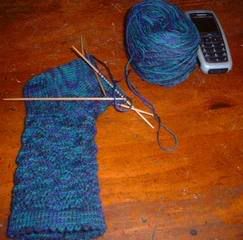 More later... still trying to wake up...
Oh, and *hugs* and thanks from everyone who has offered me advice and support... quite frankly, I've been overwhelmed by the positive thoughts and I want to personally thank all of you but I have been kinda slow responding to my email.
Love to you all...
Me
FaerieLady posted at 5:45 AM
1 Speak to the Faerie Queen
Not necessarily from any particular blogging event, just things have been so crazy that I don't know if I will feel like updating any time soon. I should, I might, depends on how I feel.
My husband and I are going to get a divorce. We managed to talk about it late(r) this evening after the ritual afternoon fight, and come to several compromises, including a non-combatant non-argumentative clause. Said clause is in effect from now until I leave, mainly for the sanity of my child.
She was in tears because she heard part of the fight, and after dinner with Nana and Papa (they took her out to eat) she refused to come in until I promised that Steve and I wouldn't yell at each other anymore. I feel so ashamed and upset that she heard that, and that it made her cry.
*sigh*
Oh well. Shit happens and life goes on. We can only hope to make the best of it, and maybe Steve and I will be better friends after it's all said and done. Who knows?
Laters....
FaerieLady posted at 9:23 PM
8 Speak to the Faerie Queen
Please think positive thoughts for me. No, nothing horrible has happened, I just need the encouragement.
I'm trying to quit smoking. I've smoked for 13 years, at least a pack a day, with only one break of six months or so.
I also currently live with a smoker. No, he's not quitting. No, he doesn't care that I am. Quite frankly, I don't give a damn.
I'm going to go clean out my car, and see if I have the money stashed to have the interior detailed... every little thing that helps me not feel like lighting up is worth it.
I'm not going cold turkey... I'm using a smoking cessation aid.
Laters!
FaerieLady posted at 7:33 AM
4 Speak to the Faerie Queen
Due to comment spam, I've had to add word verification to my blog. Sorry y'all, didn't have much of a choice...
Laters!
FaerieLady posted at 9:22 PM
1 Speak to the Faerie Queen
Two days and several hours ago, I emailed the scarf exchange coordinators about the fact I still haven't received my scarf from the scarf exchange. Now, I'm generally a pretty patient person, but this makes the fourth? I'm pretty sure, the fourth time that I've emailed the coordinators, and the third time that I haven't gotten a response. The last time, I finally got a response (after more than a week) that was a couple lines long, telling me that the person I sent to had indeed received the scarf I sent. However, my own "pal" hasn't stepped up to the plate, and hasn't emailed, etc. So, following *their* directions, I waited until the morning of the 7th, and emailed them. I *still* say that it is not too much to ask for to get a one line email saying that they will check on it.
Basically, I'm expecting the worst, which is to be dropped like a hot potato. If I manage to get a scarf out of this deal, I'll be appreciative, but I no longer expect or even hope that the person who's supposed to send to me will ever step up to the plate.
I must have bad swap luck. Out of three knitting/fiber swaps, I've had two deadbeats (modify this... if the person does send the scarf, I am still going to consider them a deadbeat, because they couldn't be bothered to say hi, or that they were going to be late) who were supposed to send to me, and two deadbeats that I've sent to. So, all in all, I've only had one swap where I received and sent from good people. Sonofabitch. *sigh* Of course, bad swap luck is why I don't quilt anymore. After losing over $100 in hand dyes during a round robin (my fabrics I included totalled well over $100, which is one reason why I think someone kept the blasted thing) and the row robin swap where I lost almost the exact same amount, I can no longer bring myself to quilt. Too many bad memories.
I refuse to do that with knitting... so I think I'm going to really have to think before I engage in any other secret pal or partnered swaps. I don't think I can handle getting shafted again.
FaerieLady posted at 10:03 AM
1 Speak to the Faerie Queen
See, she's hiding in the doghouse...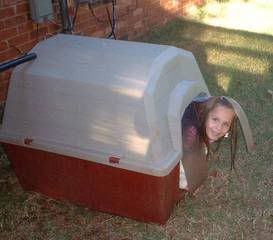 and this is what happens when Momma finds her...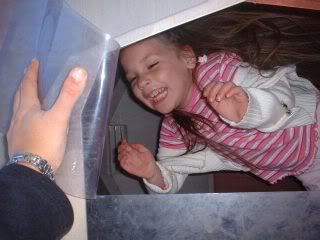 Right now, she's watching cartoons. I told her she could watch them, then the man who lives in the house turned on a movie out in the living room. Hence, she gets to watch cartoons in the bedroom, and to hell with his "standpoint" of her being in the bedroom. He shoulda changed t.v.'s :-)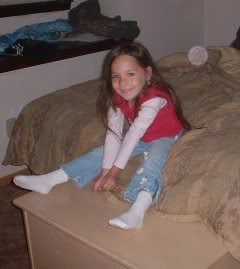 I think I'm going to go join her... might even knit. Who knows?
Laters
FaerieLady posted at 6:48 AM
2 Speak to the Faerie Queen
See.... I do knit!
First, DT's completed hat and scarf. All that I have left to do is block the scarf and knit the fingerless mittens. The hat only looks small because of the angle. Believe me, it's not.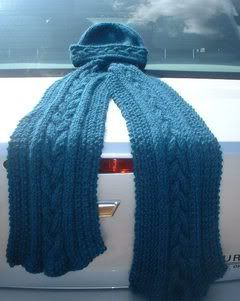 After that... two sweater kits. An aran sweater for a friend of DT's who has a son that's about 6 months old... I'm going to knit the 18-24 month size. D's sweater kit, I haven't taken a photo of. Different pattern, and in purple yarn.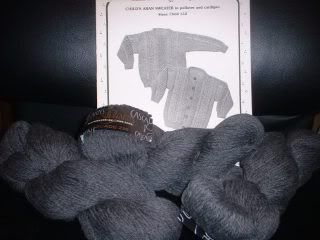 Three new fibers to spin... I've had them a couple weeks, but haven't blogged them. These were the last of my self-indulgent fiber purchases.
First, the Cordovan Silk and Wool blend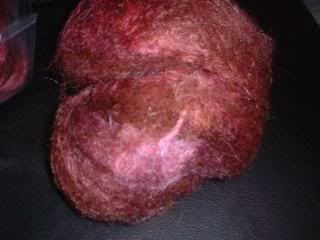 The Thespian Silk and Wool blend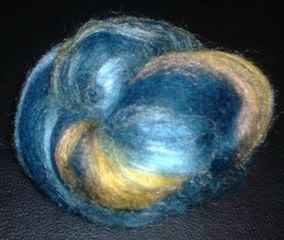 and lastly, but not leastly, the Faerie Wings corriedale and merino blend, with angelina :-)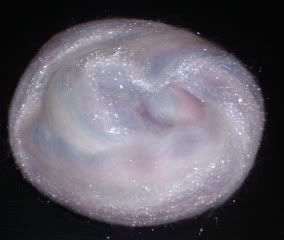 These should keep me busy for a while, shouldn't they?
Just for good measure... a new photo of D :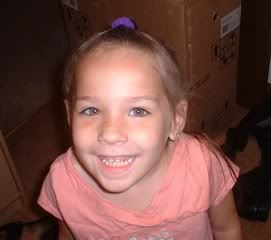 and Merlin in the window: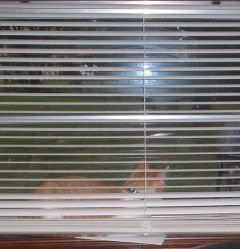 FaerieLady posted at 9:54 AM
0 Speak to the Faerie Queen
Another type of MEME
I caught this meme from
Susan at ZenKnits
1) Being gay is not natural. Real Americans always reject unnatural things like eyeglasses, polyester, liposuction and air conditioning.
2) Gay marriage will encourage people to be gay, in the same way that hanging around tall people will make you tall.
3) Legalizing gay marriage will open the door to all kinds of crazy behavior. People may even wish to marry their pets because a dog has legal standing and can sign a marriage contract.
4) Straight marriage has been around a long time and hasn't changed at all; women are still property, blacks still can't marry whites, and divorce is still illegal.
5) Straight marriage will be less meaningful if gay marriage were allowed; the sanctity of Brittany Spears' 55-hour just-for-fun marriage would be destroyed.
6) Straight marriages are valid because they produce children. Gay couples, infertile couples, and old people shouldn't be allowed to marry because our orphanages aren't full yet, and the world needs more children.
7) Obviously gay parents will raise gay children, since straight parents only raise straight children.
8) Gay marriage is not supported by religion. In a theocracy like ours, the values of one religion are imposed on the entire country. That's why we have only one religion in America.
9) Children can never succeed without a male and a female role model at home. That's why we as a society expressly forbid single parents to raise children.
10) Gay marriage will change the foundation of society; we could never adapt to new social norms. Just like we haven't adapted to cars, the service-sector economy, or longer life spans…
—
Re-post this if you believe in legalizing gay marriage
FaerieLady posted at 4:25 PM
1 Speak to the Faerie Queen
Probably tonight. DT's scarf is done, just needs to be blocked! Woo Woo!
Now to cast on for his hat. I'm going to base the hat pattern on
Coronet
for the hat. After the hat, I'm going to work on designing a set of cabled mittenettes that will match the hat and scarf. BTW, the cable used for the scarf and Coronet are the same one. Interesting how that worked out!
Laters...
FaerieLady posted at 6:08 AM
0 Speak to the Faerie Queen