This week is a holy week for my Dad's religion, and part of it includes the exchange of gifts to close (i.e. immediate) family members. Wanna know what my gift was this year?
See it and weep my friends...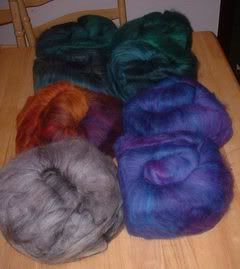 Grafton Fibers batts! 4 of the green in the back, 2 of the blue/purple on the right, 1 that's kinda not pictured well (it's shades of orange and brown, gorgeous!) and 1 that's shades of black, white, and grey.
My parents know me toooooo well...
FaerieLady posted at 8:51 PM
4 Speak to the Faerie Queen
4 Comments:
DEVINE!!!!!!!!!


WOW.
Wowsa! Now THAT'S a gift.
omg. beautifully dyed fibery goodness! I doubt my parents would have any idea how to buy something like that for me.
Now that is just plain awesome!!!!!