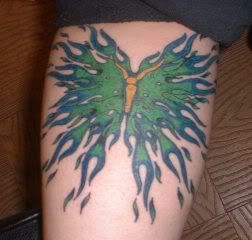 Here's the newest addition to the body decoration.
FaerieLady posted at 11:01 PM
3 Speak to the Faerie Queen
3 Comments:
Very pretty! (but that must have HURT)
It is a time of metamorphosis, so the flaming butterfly is the perfect emblem. :-)
many profanities refering to OUCH come to mind.

while I dont get tattoos, I'll give that it is pretty :)

But DAMN GIRL NEEEDLES POKING YOU!!!