This is the product of sitting half the day with D watching movies... I went from half a cuff down to almost half the foot :-)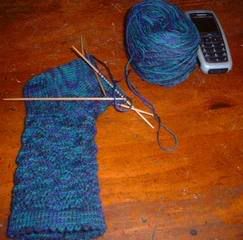 More later... still trying to wake up...
Oh, and *hugs* and thanks from everyone who has offered me advice and support... quite frankly, I've been overwhelmed by the positive thoughts and I want to personally thank all of you but I have been kinda slow responding to my email.
Love to you all...
Me
FaerieLady posted at 5:45 AM
1 Speak to the Faerie Queen
1 Comments:
The sock looks great! What yarn is that? I like the way it swirls! Hoping to finish my first sock today.