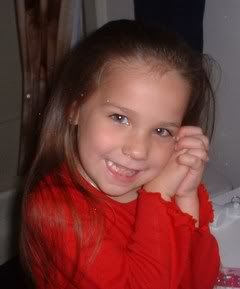 FaerieLady posted at 2:38 PM
4 Speak to the Faerie Queen
The fingerless mitts for the friend of mine (marine reservist) who's gonna be leaving for Iraq soon are done... Actually got him to model them last night. Of course, I won't tell you the hilarity of the posing... lets just say that he was being an absolute goof about it, especially after I explained exactly *why* I wanted to take a picture of my finished object *before* the finished object(s) made their way across the pond and into the sandbox... LOL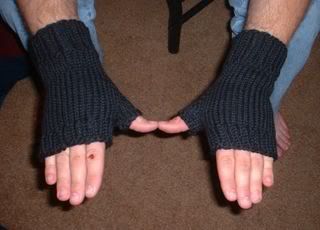 They fit perfectly, and he is very happy with them. That's what counted.
Now, I do spin too. I even have stuff on the bobbin of Vanyel, my Louet. However, Merlin has since settled in and decided to "groom" a little bit of GCNI. Isn't he a cutie??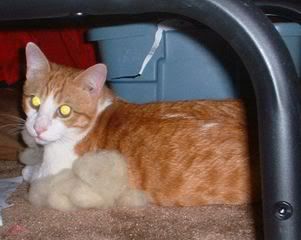 Couldn't figure out how to fix his glaring eyes... I guess I should learn, hmm?
Laters!
FaerieLady posted at 8:59 AM
3 Speak to the Faerie Queen
I'm thankful for my daughter, as I can see what a wonderful little person she is, even though sometimes I want to flush her down a toilet.
I'm thankful for my family and my close friends. Family and friends are the glue that hold me together, and you guys have been there for me and supported me though the last two miserable years, and some of you quite a bit longer than that. You stood by me when I didn't even know my own mind, and gave me shoulders to cry on when I needed them. Some of you I've known my whole life, some for quite a few years, and one of you for just a couple months. I consider myself extremely lucky to have you.
I'm thankful for my space. *My* space, something I haven't had in so long that I've forgotten the sheer joy of it. I don't mean that I don't like sharing space, but actually having the choice to put my things out in the open where I can look at them and play with them and enjoy them.
I'm thankful for all the opportunities I've had in the past few years to start, lead, and participate in many groups of fabulous people, with Pagan, non-Pagan, and crafty groups all included.
I'm just thankful. I hope everyone else is having a wonderful Thanksgiving!
FaerieLady posted at 12:29 AM
3 Speak to the Faerie Queen
You are a Troll!!! Noble, Powerful and Proud, you
are a natural born leader and role model in
your school, community and household. You are
reliable, honorable, and truthful, and expect
everyone else around you to be the same. But
sometimes you can be a bit strict on yourself,
and especially on others. Learn to accept the
imperfections in others, and dont be so hard on
yourself. If you make a mistake, learn from it
and move on.
Which Changeling Kith Best Fits You?
brought to you by
Quizilla
FaerieLady posted at 4:34 PM
0 Speak to the Faerie Queen
In case I don't see y'all around or talk much between now and then, happy Thanksgiving to all the U.S. peeps out there celebrating it. My own family's Thanksgiving won't be until Saturday, when all the various families members can actually be there, including my sister who's driving up from Texas.
Another happy Thanksgiving present that's all mine... My divorce was finalized today in the District Court of Oklahoma County by the Judge! I am SINGLE! Woot!
I got my new drivers' license on my way home. Tomorrow, I go to the bank. Wednesday, I go to the Social Security Administration and start faxing to different places with my reclaimed last name.
I'm so excited and happy and hyper...
Laters!
FaerieLady posted at 9:18 PM
1 Speak to the Faerie Queen
I about slapped myself, I do have a few minutes, otherwise I wouldn't have had time to take AND post that quiz... so I decided to go ahead and write an update. It might be short, it might be long... have no idea right now. I guess we'll see, won't we?
Almost everything has fallen into place at the apartment itself. The power is on, the phone is connected, and the internet is scheduled to be connected on the 21st (Monday) between 5-7pm. Right now, I'm at my parents' house to post this. I have furniture, tho some of it is still in the "some assembly required" stage. I have groceries... I managed to scrape together enough for the basics, the stuff of the poor student (ramen noodles) and real food for D. Merlin is now at the apartment, along with kitty litter and cat food and many places for him to play and hide and generally having a good time.
I'm fixin' to head back over to the apartment with a power drill and have some fun "assembling" furniture. I'm good at that, for the most part. I also enjoy it. Maybe I'm a bit twisted?
Oh yeah, I gotta remember to do my homework. Oops. LOL
Laters... (see, a short one after all)
FaerieLady posted at 5:07 PM
0 Speak to the Faerie Queen
Here's yet another quiz...
You are an Iris:
You are logical, analytical, dignified, and wise.
You are studious by nature and may prefer books
to people. You tend to be a serious person but
are capable of making others laugh with your
dry sense of humor. Friends always benefit from
your advice.
Symbolism: Over the centuries the iris has come to
symbolize faith, wisdom, hope, and promise in
love.
Which Flower are You?
brought to you by
Quizilla
FaerieLady posted at 4:52 PM
0 Speak to the Faerie Queen
I think the Naked Sticks knitalong is a good idea, but I have no clue how I'm going to do that or even if I will... time is fast becoming a precious commodity, and I don't want to apply any more pressure than necessary. I still have a book to finish and write an essay over for American History Pre-Civil War and the final paper for English. I also figured out that somehow, somewhen, I got behind in algebra and need to pay a visit to the math lab.
Did I mention that this weekend is D-weekend, when the vast majority of my crap will be set up in my new-to-me apartment? Or the fact that I get to spend tomorrow at DHS (human services, not homeland security, thanks)? How about the fact that I'm essentially brain-fried? Or that my divorce should be final on Monday?
So I just sit here and sing to myself. Not in a bad way, mind you... but I'm still singing to myself. Currently, and for the last three weeks, it's been Zippity Do Dah. I know all the actual words, so I'm counting myself as a weirdo. LOL
Still working on the lace socks. I need a hat. A friend of mine deserves a small pressie before he gets shipped out to Iraq. At least DT's stuff went in the mail last week. D needs a hat and scarf too. Ignore the idle ramblings of the deranged mind...
So, who wants to trade me a few hours of uninterrupted spinning and knitting time?
FaerieLady posted at 2:34 PM
0 Speak to the Faerie Queen
Riiighhhhhttt..
The Fairy Princess
You are youthful, cheery, and exuberant with a
sunny disposition and a mischievous sense of
humor. You are very lively and are always up
for a good bit of fun. You have a deep love of
nature and animals.
Role Model: Titania
You are most likely to: Convert a pumpkin into a
useful mode of transportation.
What Kind of Princess are You? - Beautiful Artwork (Original Music is BACK!!!)
brought to you by
Quizilla
FaerieLady posted at 7:40 PM
0 Speak to the Faerie Queen
Mercury retrograde be damned (knock on wood), I got the apartment! Signed the lease today. YAY!
The electric has been transferred to my name, which is gonna hurt when I pay the deposit... never had the electric in my name before, and it's gonna cost $135 just for deposit. Ouch! But that's ok, I have it. Barely, but I have it. *sigh*
The phone and internet people are going to get back with me this week to schedule the appointments... the orders are in and being processed. Again, more "ouch" factor because of the deposits. *sigh* I'll make it, I have to. It'll be ok.
*hugs* to everyone for their good wishes... and much love.
FaerieLady posted at 2:29 PM
1 Speak to the Faerie Queen
You Should Get a PhD in Liberal Arts (like political science, literature, or philosophy)

You're a great thinker and a true philosopher.
You'd make a talented professor or writer.
FaerieLady posted at 7:24 PM
1 Speak to the Faerie Queen
Haven't been around much to blog. I'm usually not the type to apologize for not posting, but sometimes things get weird and wild, and I haven't been thinking about blogging, much less actually doing it!
Shit hit the fan last week, Thursday to be exact, and I no longer live at Steve's. Believe me, it's the best for all involved. The good news is we are still going to do the no fault no contest divorce, and after I take D to school this morning I'm going to file the paperwork. Hopefully all goes well today and tomorrow I'll get the copy of the petition to him, along with the waiver of process and response papers. Those should be notorized tomorrow, and the title to the car signed over to me. That will leave only the 10 day wait before the finalization.
This has seriously affected my knitting time! I'm in the middle of the second lace sock, I need to cast on another pair which means I *have* to finish these (I need the needles, can't afford to go out and buy another set of birch 1s). I need to cast on and knit a project for my ex's stepbrother James before he's deployed to Iraq in December (yes, the sandbox is claiming another of my good friends, damnit), I need to mail out some stuff to Iraq to DT that I've knitted along with his snacks, etc etc.
Things just seem to be piling up with no end in sight.
I did enroll in my classes for next semester. Two online "distance" courses through Rose State, and two in class evening courses, for a total of 12 credit hours. Online courses are Health and Wellness and Personality Theory, and the in person classes are College Algebra and Human Physiology with lab. I enrolled in evening courses because I plan to be working and need my days free for a job. Thank goodness for my parents; they have offered to pick D up from daycare and watch her until I get home from class. One evening class is Monday/Wednesday, one is Tuesday/Thursday. It's gonna be tough, but things will work out. They always do.
I'm going to finish getting D ready for school... More later.
FaerieLady posted at 5:55 AM
4 Speak to the Faerie Queen
| | |
| --- | --- |
| | You scored as Pissed at the World Cat. And here we have the next serial killer. Try having some cotton candy, it'll make you feel all warm and fuzzy inside, Psycho. |
FaerieLady posted at 3:40 PM
1 Speak to the Faerie Queen