The fingerless mitts for the friend of mine (marine reservist) who's gonna be leaving for Iraq soon are done... Actually got him to model them last night. Of course, I won't tell you the hilarity of the posing... lets just say that he was being an absolute goof about it, especially after I explained exactly *why* I wanted to take a picture of my finished object *before* the finished object(s) made their way across the pond and into the sandbox... LOL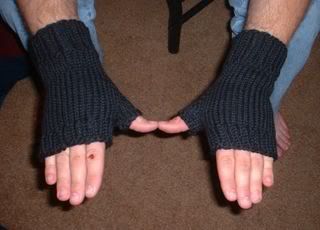 They fit perfectly, and he is very happy with them. That's what counted.
Now, I do spin too. I even have stuff on the bobbin of Vanyel, my Louet. However, Merlin has since settled in and decided to "groom" a little bit of GCNI. Isn't he a cutie??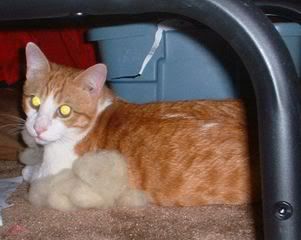 Couldn't figure out how to fix his glaring eyes... I guess I should learn, hmm?
Laters!
FaerieLady posted at 8:59 AM
3 Speak to the Faerie Queen
3 Comments:
They look great on him...even if he was being a difficult model. :-) I wish him well on his tour.
nice mitts...Merlin is such a helper!
The fingerless gloves look great...may I ask where you got the pattern? I've been looking for some that would fit me and those look perfect! I wish him well over there, and a safe return home to his friends and family.