Well whaddya know, there's going to be actual *photographic contents* located in *my* knitting blog! Photographs of yarn! Knitting! Spinning! Woo Hoo and Wow Whee, who keeled over and put my camera in charge?? LOL
Well now, what should I start with? How about the chunky knit hat for D (in pink of course). Misti Alpaca Chunky, two strands held together, on 10 1/2 inch needles. Why yes, I really *don't* want her head to get cold!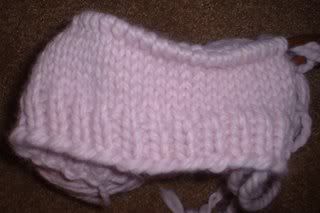 Or what about these nifty cabled wristwarmers, knit in a pattern reminiscent of the Irish Hiking Scarf (but I detest knitting wristers, socks, hats, etc flat, and will only knit them in the round). The yarn is Emu Superwash DK, which when knit up this particular colorway reminds me of camoflauge. I've seen a lot of camo, and it really does. This mitt is up to the beginning of the thumb gusset.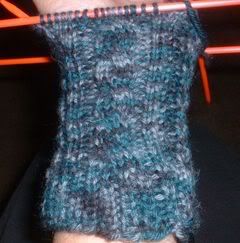 This next project pretty much *proves* that I'm out of my ever lovin' mind... Why? Because it's a "Christmas Knit", and I started it three days ago. That night, I made it twelve repeats (12 inches). Then I discovered a heinous mistake in the foundation rows and ripped it back to the beginning and started over. Last night, I made it back to 12 inches. I have until the 22nd to finish it. *sigh*.
The yarn is
Optim DK in "plum"
, and two nights ago it looked like this: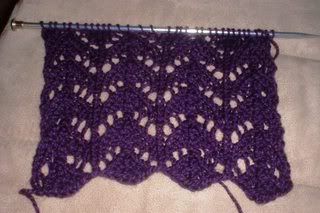 Imagine it slightly double that size, and that's what it looks like now. Pattern:
Fishtail Lace Scarf
in plum Optim DK on size 8 needles. Recommended needle size is a 6, and I went up 2 sizes for the lace. Of course, with me it's more like *3* sizes because I'm a loose knitter.
But don't take that loose comment the wrong way *wink*.
Ok, gotta get D to school, which means doing something about this mass of hair on my head that is currently rebelling against the current regime...
Laters!
FaerieLady posted at 6:01 AM
1 Speak to the Faerie Queen
1 Comments:
You have been busy, haven't you? :-) Looks great. I love the purple of the lace scarf!

You asked me about the heel turns on my socks. I have no idea which heel I do LOL! I should learn these things. I use this pattern though http://www.burninghand.org/sockpattern.html

What kind of heel is that?