I think I've mentioned before that I dye for therapy purposes. You see, when FL is feeling down and out, I dye something bright and cheerful. When I'm feeling wicked sick, I dye something rich and colorful. When I just feel blah, I dye whatever color comes into my hands first, and in doing all of this, I've come up with beautiful color combinations that are pleasing to my own eyes, as well as the eyes of other people.
Normally if I don't like it, I don't dye it. However after years and years of dyeing, both protein and cellulose (and synthetic) fibers, I've learned that just because I don't like it *right then* doesn't mean I won't like it ever... just that I will like it *better* when spun, and usually even MORE when it's knit. Yeah well. Anyway.
So, take this scenario. I get a message from the Benevolent Dictator asking for a custom colorway. First off, I only DO custom colorways on rare occassions and ONLY for certain people. Not because I don't love doing them, but they usually make me feel stressed out. Does that make sense? Anyway, customs for her never stress me out, although I'm not quite sure why. So using her color choices, this is what's currently steaming.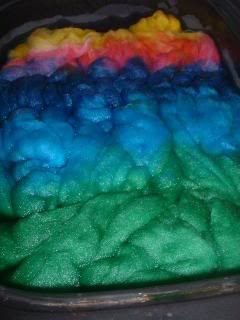 100% Falkland 56s, absolutely wonderful wool top. I love this top, and it is one of three that I carry on a regular basis. We shall see what it looks like when it comes OUT of the steamer, now won't we?
Oh, and
Cassa
, the next time you call your chatterings "non-sensical", I might have to poke you with a DPN, ok? LOL Nothin' but love hon...
Laters!
FaerieLady posted at 7:32 PM
4 Speak to the Faerie Queen
4 Comments:
omg that is so lovely! i can't wait to see your finished product! beautiful!

ps your blog template is great!
Aubrey is a one lucky ducky. :-) She gets custom colorways *and* first dibs! I am soooo jealous. LOL

Oh and Allena is right about your template. LOL
That looks so pretty, I bet that's going to look like rainbow candy-canes when it's spun up.

And I simply don't know what you're talking about, non-sensical ramblings are often the best kind.
VERY VERY nice....can't wait to see it out the steamer to...