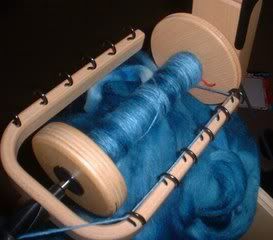 Isn't it purty? Merino/silk 80/20, dyed with spruce acid dye that I broke using a heat method. :-)
I'm kinda preoccupied right now, spending time with a friend who won't be here much longer, so I've not been around much to talk or post.
Benevolent Dictator, should you happen to read this before 6pm Monday the 2nd, I'm planning on being there and trying to convince a new person to join along...
Laters :-)
FaerieLady posted at 8:32 PM
0 Speak to the Faerie Queen
0 Comments: