I started this sock last night. Knitting it so fast isn't at all something to be thinking I'm speedy over... it's worsted weight. This yarn is a worsted weight dye your own yarn that I dyed in the ToT technique I'd developed for my sock yarns. I don't know if you can see the ToT graduations in the sock, but it is definitely visible in person. I love it!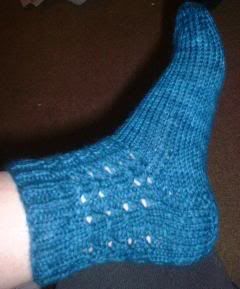 It's the
Bell Lace
sock pattern, which I liberally changed (well, not per se liberally... I didn't change the lace pattern). I eliminated the six rows of stockinette between the pattern rows and the heel flap, substituted the half hankerchief heel, and reversed the directional decreases (they leaned the wrong direction for me) on both the gusset and toe decreases. The cuff is 5 inches, because I didn't want to risk running out of yarn for the second sock.
Laters...
FaerieLady posted at 7:27 PM
1 Speak to the Faerie Queen
1 Comments:
Sshhhh, you supposed to just let us think you're using a lace weight yarn and knitting it at warp-speed :-) That shade of blue is luscious!!!!