If you'll ignore the time stamp, it's actually a pretty decent morning... even if it is before 5 am. I woke up at 4, a full 30 minutes earlier than normal, and have been lazing away. I'm taking the moment now to do this because I know I won't have the *time* at work to do this. *shrug*
I've been taking my Jaywalker sock with me to work. My breaks are 15 mnutes and my lunch is 30, so I usually don't work on it during my breaks but do work on it during lunch. It's not a whole lot of time, but slow steady progress is better than no progress, you know? I hope to have this sock completed by Sunday night and the second sock cast on.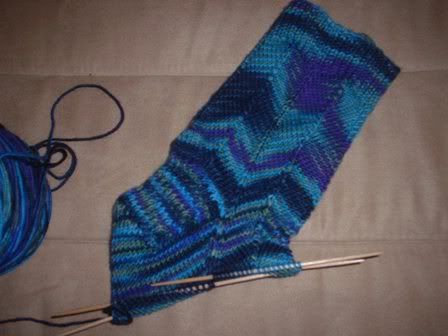 The only problem I had was snapping the tip off one of my Birttany Birch size 1 needles. I was pretty pissed about that, but I don't have a spare needle, so I will continue to use the needle and just flip it around so I'm not trying to knit with the broken tip. I won't be able to send it back to Brittany until I get another set of 1s... I have no intention of not knitting socks because of this tip, and size 1s are my primary sock needle size.
Other than that, school has started for this semester and I'm *lovin'* it. My math prof, while he is from Northern Italy, prides himself on his English and is easier to understand than most of the born-'n-raised redneck Okies around here. My online classes are all professors that I am familiar with, having taken other courses taught by them. All in all, I think this will be a great, if busy, semester. I just have to make sure I wear earplugs to keep my brain matter between my ears... if they ooze out, I can't replace the waste!
I still haven't found the missing lace patterned sock. If anyone feels like sending me "find that sock" whammies, I'd very much appreciate it. I want to finish that sock so I can have the needles... as soon as I get the sock yarn from Knitpicks, I'm dyeing up a skein and starting on the 2006 sock list ;-)
Laters.
FaerieLady posted at 2:57 AM
3 Speak to the Faerie Queen
3 Comments:
this is EXACTLY why I don't use Brittany needles for socks (use the Skacel instead) anymore.

Hope it all works out (and the sock... it be pretty :)
Buy Two Sets.

I lost one needle between yesterday and the day before. Somehow, even though the socks have not left the couch and it is not hiding in some dark corner (that I could find).

Isn't that how it always is? My advice to myself is buy two sets you silly goose. 'Cause you'll lose one and goodness knows when you'll need a full set.
Hey Kae,
I was just at SWAK in Guthrie and they are having a 25% off sale on their entire inventory. It might be worth it for you to go and build up your knitting needle supply. They didn't have the 00 addi turbo circs for my socks but I enjoyed wallowing through bins of yarn.