Yes, the FaerieLady has finally fallen off her rocker. Those of you who know me in person know that, for me, the fall is a very short one, considering my ability to hover only a couple inches from the bottom of the cliff *anyway*, however this should prove it to the masses. See pictures below...
Current socks in progress, from left to right:
Blueberry Waffle Socks
, yarn is Elann's Peruvian Baby Cashmere held doubled, knitted on U.S. 3s. Three repeats until I turn the heel. Next up, standard cuff down st st sock in Knitpick's Sock Garden in the Hollyberry colorway, knit on U.S. 2s. This sock is FAR more garish in person, however the striping is rather cool. This sock is ready to have the heel turned. Last sock is a lace patterned sock in Elann's Sock It To Me Collection Colori in Highland colorway, second sock about 2 repeats from the toe, knit on U.S. size 1s.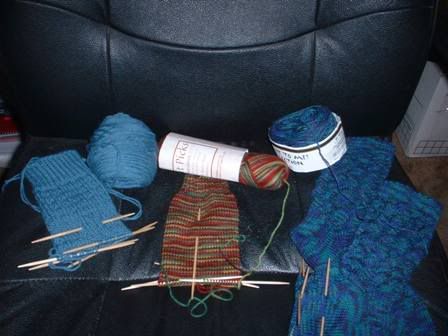 Next up has already been planned... have to finish one of the pairs already started before I can start either of these two...
The red yarn is for the
Red Hot Sizzlin' Socks
knitalong. I succumbed to that instead of the knitting olympics. That's KnitPicks merino style, needles are casein U.S. size 3s, a gift (RAOK) from Danielle at
Poetic Purl
many moons ago. The other is the creamy brown Sock ToTs yarn, and that will be knitted up on my fave needles of all time, Brittany Birch, in size 1s.
See, I'm crazy. Completely fruit loops. Tis all good though... LoL!
Laters!
FaerieLady posted at 8:30 PM
5 Speak to the Faerie Queen
5 Comments:
Wow-those blueberry socks look really warm!

And it's all good-I don't think you're crazy. Does this mean much coming from someone who's usually considered crazy?
How are those Caesin needles? I've seen the swallow brand but haven't bought any in fear that I'd snap them. Do they have a metal rod inside as reported?
I don't think you're crazy - if I had the attention span, I'd be working on at *least* 3 different socks at a time.

Nope, not crazy - just perfectly normal from my point of view! *g*
hey that looks like my line up only add a few other must be finished projects into the line up :)

But the socks look so pretty!
Hey chicka!! Guess what?? I just started knitting in the last month. I totally love it. I'm having some issues with knitting too tight and also having pain/numbness in my hands. I must be doing something wrong. I've only knitted dishcloths so far, but for my next project I want to do a poncho. I will just *have* to go buy some more yarn for it. :-)