And four of them didn't make it through the evening, as I promptly dug them out and dyed them. I was aiming for tone on tone colors, which seems to have worked just fine.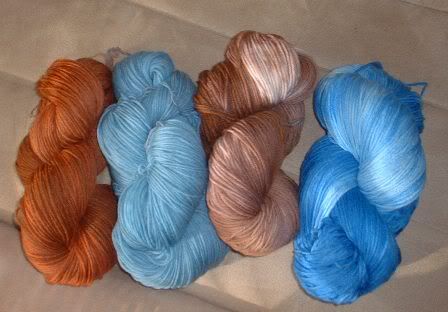 The Benevolent Dictator made mention of hawking my sock yarn at Rendezvous here in May, but I have no clue if this stuff would sell. Honestly! I am not a business person. I am a psychology major, not a business major. I am not the type of person to be asking if something would sell or not. Opinions?
Other than that, it's been a quiet weekend over at Chez FaerieLady... I'm gonna go over to my parents' house to do laundry and let my kiddo play with her Nana and Papa, considering that when they are around Momma should be classified as not worthy of her attention when they are around... LOL
Oh, and I'm definitely making a trip to the 24 hour post office. I have to mail two way overdue boxes. Bad FaerieLady, no biscuit!
Laters...
FaerieLady posted at 7:51 AM
3 Speak to the Faerie Queen
3 Comments:
I think you have a great sense for color...it might be that we have similar tastes in color. I would encourage you to try some. If you make things that you like I think others would like them as well.

my two cents!
I wanted to let you know that although I bought the sock-yarn from you on an impulse buy, I got it home and unwound the skein...it is freakin' gorgeous! If you offered it, it would sell. After all, you left early tonight, and if I recall, you sold three skeins on your way out of the door!
I imagine it would sell...it is beautiful. People are still very into socks and always stocking up on sock yarn. :-)