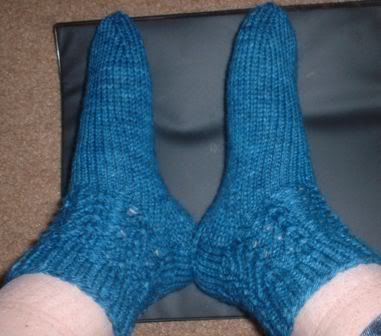 These socks, with the mods I wrote about in the entry about them, were actually quite fun and fast to knit. With the exclusion of the stockinette stitch rows (6 of them) they don't have that funky st st look between the cuff and foot. I could have made the socks a wee bit longer, about a 6 inch cuff instead of a 5 inch, if I wanted to, and have yarn left over. However, I'd rather listen to my gut and make it a bit shorter than run out of yarn!
FaerieLady posted at 2:29 PM
1 Speak to the Faerie Queen
1 Comments:
Great socks! I'm so scared to try socks :( I think I would screw them right up.