Spoiled rotten, that is!
I have the most wonderful, outstanding, absolutely AWESOME Secret Pal for the SP7 Exchange. I'm sure that some who still read this lamentable blog know about my prior ordeals with the secret pals exchange from all the angles in which I'm participated (i.e. sending, receiving, and hosting). I've had several very good, sweet, nice, partners... among them the Knitting Diva, Margene, and Heidi. However, I've also been shafted with partners that never emailed, never sent, and never mentioned receiving their goodies.
For me the joy usually resides in the giving... and when you have a shitty recipient, there's not much you can do to make the love spread. However, this time is so different for me as the recipient that I have no clue where to start.
Wanna see?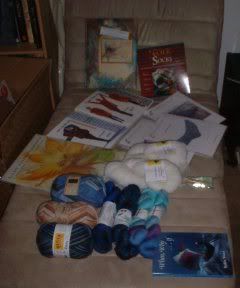 ">
OMG. Do you see that?? I couldn't *believe* the size of the box that it all came in, and am so overjoyed that I actually almost fell up the stairs in my hurry to get it inside and get it open! This is the wonderful caring sweet and awesome stuff that came out of that box...
SOCK YARN! Lookit all that sock yarn! *Two* skeins of Opal! How did you know that I have been lusting after that brown? It's called Eule, or Owl, in Opal Rainforest (excuse me if my german is off). I have been lusting after this, and I'm not usually the browns type! The other Opal looks to be a blue self striping, but I can't tell which line it comes from :-) One skein of Regia Strato Color in shades of blue and gray. One skein of Fleece Artist in "Deep Sea Hornpipe" which is a beautiful handpainted yarn in deep blues and grays. Then there's a skein of Cherry Tree Hill in Super Glitz in "Moody Blues", which is blues, black, and has a silver metallic thread running through. Then there are 2 skeins of Lorna's Laces shepherd sock in River, shades of blue and purple.
That's just the sock yarn! There are three sock patterns, the Cabled Glitz Sock, Putting on the Glitz, and Glitzy Lace Sock patterns!
Then two skeins of sportweight Cormo yarn, perfect for dyeing! Total yardage, around 750 yards! Wow!
THREE books! The Knit Stitch, The Purl Stitch, and Folk Socks! All three of which were on my Amazon wish list! Then The Pressed Fairy Book, which is absolutely *hilarious* and "When Why If" by Robin Wood and Lady Cottington's Pressed Fairy Calendar.
C'mon, you know, you KNOW that I am absolutely spoiled rotten.... and I love EVERY SINGLE THING.
Aninocentangel, you are the bestest most wonderful Secret Pal. I can't believe that you ever thought for a second that I would be anything other than completely, totally overjoyed at receiving this box.
FaerieLady posted at 9:15 PM
5 Speak to the Faerie Queen
5 Comments:
Wow! YOu are very lucky! I won't call you spoiled though :)
that is awesome! it's good to be spoiled!
Wow, that is one sweet haul.
I'm very happy your enjoying this round of SP, myself and the other hostesses were really hoping this round would go alot smoother.
Your SP7 hostess, Tammy
That's a fantastic package you got there, lots of goodies and your joy is coming through my monitor :-) The Pressed Fairy book is awesome! I got one a while back and love it :-) Can't wait to see what you'll do wiht the yarn you'll dye.
Woohooo! What a haul--lol. A friend of mine (the tattoo artist who did my tattoo I was talking about) has one of those pressed fairies from that book tattooed on his right butt cheek. It's really funny. Enjoy your new yarn and stuff!