First, imagine bright pink and purple splotched roving. Hard to imagine, hmm? Well, there's a picture for your viewing pleasure. Please shield your eyes, as this sucker is BRIGHT. Seriously. It may look a little faded out in the picture, but it's definitely bright.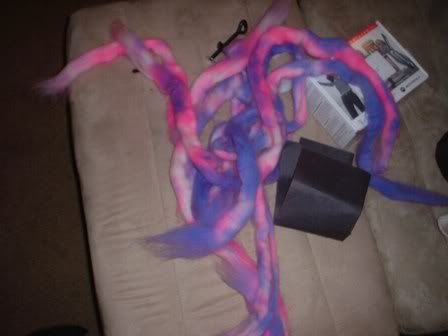 Tonight, after the first judicious use of the drum carder... it looks like so...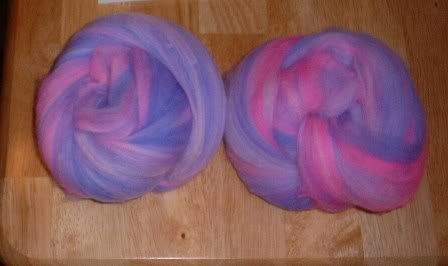 Absolutely scrumptious!
Ok, going to bed now before I stay up waaaay too late playing with my new toy...
FaerieLady posted at 9:14 PM
6 Speak to the Faerie Queen
6 Comments:
Ooooh! Nice! See, I told you that you would be good at this stuff! Yay to a good end to a bad day!!!!
WOW! Those are gorgeous colours! Will you spin it as is or add a bit of metallic to it?
that is pretty! it reminds me of cotton candy! yummy!
It really looks incredible after being carded. :-)
yowsers, that turned out beautiful!

(as always)
Hmmm . . what will that turn into???