The merino/silk blend that I spun... here's the pic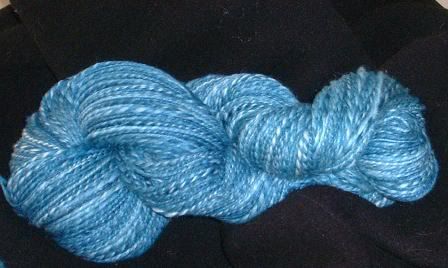 Specs... approximately 500 yards of two ply light worsted weight. Thinkin' good ol'
Clapotis
would look great in this. I might fall victim, a year after the fact, and knit myself one. I think it will show off the beautiful color and shine of this handspun.
Laters!
FaerieLady posted at 8:18 PM
4 Speak to the Faerie Queen
4 Comments:
I second that!
That is a GORGEOUS colour! Have it at!! It should turn out beautiful!
It really is beautiful Kae! :-)
it would be perfect fo the olympics