My FaerieLady blog has found a new home... on my new domain :-)
http://faerielady.faerieladyfibers.com
is up and running for your viewing (dis)pleasure! Feel free to wander on over there, and please blogline/blogroll that blog, as while this one will stay up (have you SEEN what happens to blogger blogs that are closed?? Can we say horrible, horrible stuff...).
I don't want to lose the great people I've come to know through this blog... so please, please update your links!
Love and hugs,
The FaerieLady
FaerieLady posted at 8:08 PM
0 Speak to the Faerie Queen
Just life. Two tests (one today, one tomorrow) followed by an algebra exam next Tuesday, have rendered the FaerieLady almost incomprehensible and unable to coherantly string together more than 5 words in a simple sentence. LOL
However, there has been some progress over here at Chez FL...
First off, I re-started the Jaywalker sock, using Opal Rainforest sock yarn in Owl on U.S. size 1s (2.25 mm). I am already diggin' this sock, as I did the substitution for picot and like it a TON of a lot better than I do the ribbing that I worked on the other...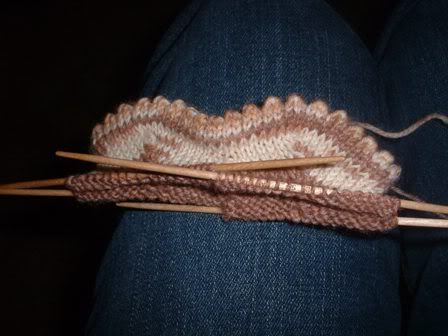 I've also been blending just a teeny bit, and using my carder some. I am also dyeing more Sock ToTs yarns. Other than that, I'm just staying busy and staying sane :-)
Talk atcha laters...
FaerieLady posted at 3:59 AM
2 Speak to the Faerie Queen