Just life. Two tests (one today, one tomorrow) followed by an algebra exam next Tuesday, have rendered the FaerieLady almost incomprehensible and unable to coherantly string together more than 5 words in a simple sentence. LOL
However, there has been some progress over here at Chez FL...
First off, I re-started the Jaywalker sock, using Opal Rainforest sock yarn in Owl on U.S. size 1s (2.25 mm). I am already diggin' this sock, as I did the substitution for picot and like it a TON of a lot better than I do the ribbing that I worked on the other...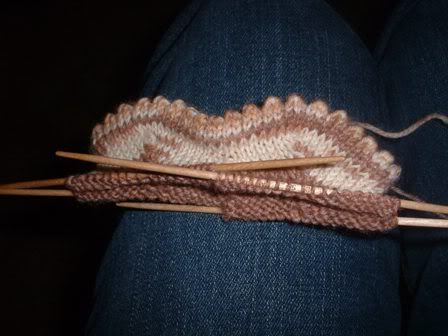 I've also been blending just a teeny bit, and using my carder some. I am also dyeing more Sock ToTs yarns. Other than that, I'm just staying busy and staying sane :-)
Talk atcha laters...
FaerieLady posted at 3:59 AM
2 Speak to the Faerie Queen
2 Comments:
Awesome . . . good luck on all those exams.

What's with everyone and their jaywalkers???
The picot edge looks fab! I tried to omit the rib on my green ones but it was rolling so I frogged and had to put the ribbing. I would have liked a zig zag top but oj well. Yours are going to look great! That's a nice colourway!

Good luck on your tests!